With 2.93 billion monthly active users as of 2023, Facebook stands as the unrivaled social media platform. For businesses, establishing a presence on Facebook is an enormous opportunity to connect with customers, promote products or services, and increase brand awareness.
In this article, we delve into the benefits of Facebook marketing based on user behavior, drawing insights from a survey-based study.
The research, conducted by Passport Photo Online, a service that allows you to take a passport photo at home, decided to poll 900+ Facebook users and shed light on the benefits of Facebook for business.
1. Facebook users like engaging with brand pages
Facebook has become an integral part of consumers' lives as they actively engage with businesses by following their pages. Most Facebook users (56%) follow an average of 5 to 20 business pages.
Moreover, only 2,5% of people on the platform say they don't follow any Facebook page at all. This shows that Facebook has become a key channel for businesses to reach and engage with their target audience.

Among the top industries followed on Facebook, entertainment takes the lead with 25%, followed by technology (18%) and beauty (11%). This data highlights the potential reach and impact of Facebook marketing for businesses in various sectors.
But – it's important to note that these industries are not the only ones that can thrive on Facebook. Other sectors, such as fashion, photography, and more, also have the potential to cultivate a dedicated following on the platform.
When it comes to engaging with the brands they have "liked" on Facebook, our survey revealed that a mere 4% of respondents claimed to never interact with the content.
This implies that the majority of Facebook users actively engage with the brands they follow in some capacity.
The survey results showcased a range of interaction frequencies, with a significant 26% of respondents engaging with their subscribed businesses multiple times a day. This level of engagement speaks volumes about the impact and influence that companies can have on their Facebook followers.

2. People find Facebook pages essential for businesses
Your Facebook page is not a waste of time at all. In fact, even creating a page on Facebook can have a significant impact on how people perceive your brand.
According to the survey respondents, 74% of Americans believe it is important or very important for businesses to have a presence on Facebook.
And that's not all. An overwhelming 82% of Facebook users reported feeling a stronger bond with the brands they follow on the platform compared to those they don't.

Still not convinced? It turns out this stronger connection translates into increased customer loyalty and a higher likelihood of making purchases from businesses with a strong Facebook presence.
This means that having a strong Facebook presence is not just a matter of preference but something that directly impacts business outcomes and sales.
3. People want to keep up with your brand
Understanding why users choose to "like" a business page is crucial. The primary reason why users follow a company page is to stay informed about its new products or services (28%). Additionally, 20% of respondents expressed an interest in learning about a company's values and social responsibility.
What does it mean for you and your brand? If you want to build an engaged community and loyal customers, providing informative and socially responsible content is essential.
This will allow you to engage and retain Facebook followers, which will ultimately benefit your brand's growth and success.

4. The Power of Informative Content on Facebook
Informative content holds a pivotal role in Facebook marketing. The survey results showed that the majority of users (34%) want to see more informative content from the businesses they follow on the platform. Why? Informative content provides real value and helps people make informed decisions.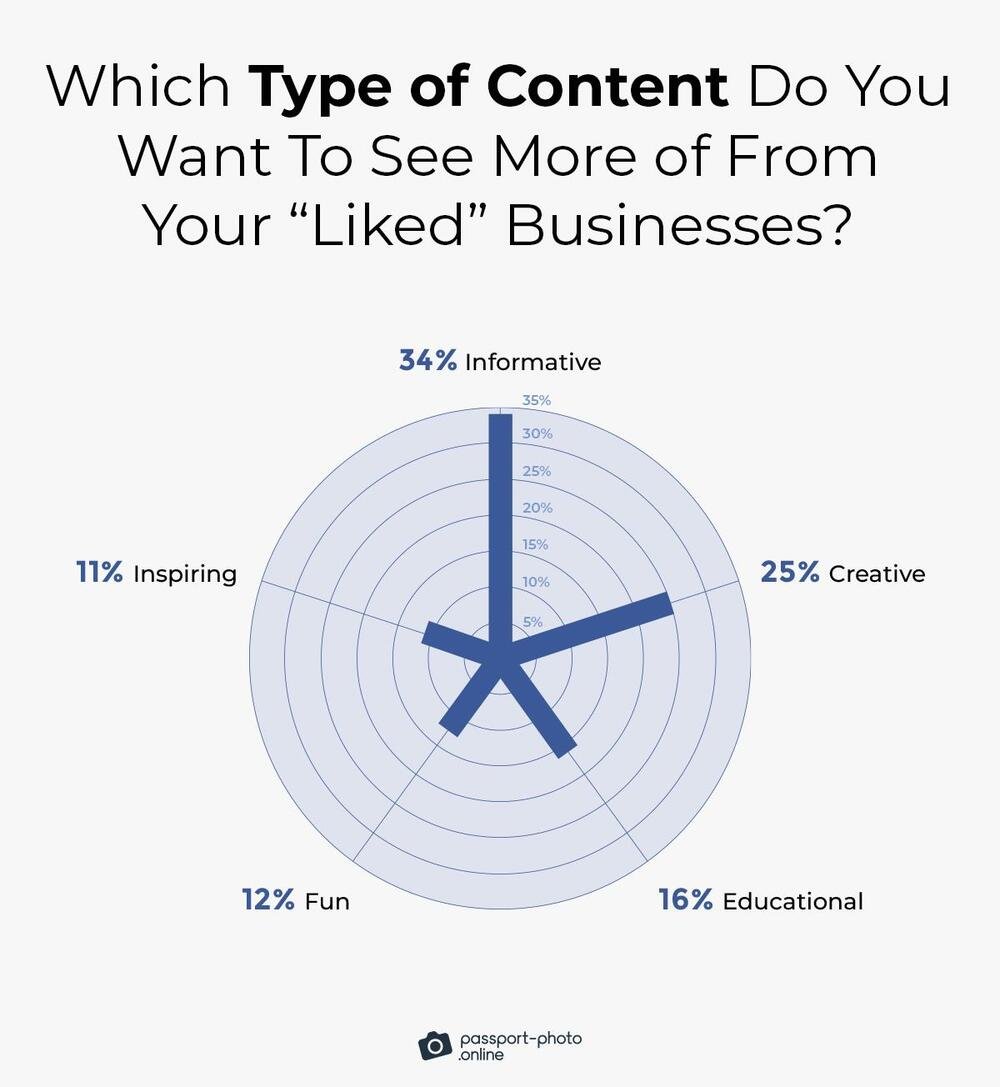 This emphasizes the need for brands to create posts that provide valuable and helpful information to their audience.
Businesses that focus on delivering high-quality, informative content can effectively capture the attention and interest of potential customers that browse through Facebook.
5. People buy from brands on Facebook
30% of Facebook users hit the "like" button after seeing a post from a brand they follow. Of course, that's great for spreading the word.
But – it turns out that 14% of people actually made a purchase upon running into a company's post. It's pure evidence that Facebook marketing might be a direct driver of sales and revenue.

Facebook is an excellent platform for discovering products and services. The survey revealed that 63% of Facebook users had found products or services on the platform within the past three months.
What's more, roughly 3% of respondents said they have never found any products or services through the platform.
This highlights the potential for businesses to showcase their offerings to a receptive audience and drive conversions through Facebook marketing.
Furthermore, an impressive 67% of people on Facebook admitted to making an impulsive purchase on the site at least once in their lifetime. This demonstrates the powerful influence Facebook can have on consumer behavior.

Conclusion
The benefits of Facebook marketing based on user behavior are undeniable. By leveraging user behavior data, businesses can tap into a vast audience, foster stronger customer connections, and increase brand loyalty.
The receptiveness of Facebook users to brand pages, combined with their active engagement and a high tendency for impulsive purchases, presents significant opportunities for businesses to grow and succeed in their marketing strategies.
To succeed in the Facebook marketing landscape, companies should focus on creating informative and engaging content, understanding their audience's preferences, and utilizing user behavior data to tailor their marketing strategies.
With Facebook's immense reach and the insights provided by user behavior analysis, businesses can unlock the full potential of Facebook marketing and thrive in the digital era.
About the Author!
Martyna Inkielman is a content writer at PhotoAiD. She enjoys writing about traveling and social media. In her free time, Martyna can be found exploring new cuisines, painting, or taking analog photos.