A start-up is bound to bear high costs, including marketing cost, mobile app development cost, cost of system upgrades, website development cost, and the never-ending list goes on and on.
Every year, start-ups and well-established businesses put exertions to satisfy clients, but what if their clients don't even know about their existence?
It sounds super crap, but still the most relevant question for the start-ups who are looking forward to making the mark in the chosen industry.
No matter how much you are investing in the business, the first thing always starts with the image that you deliver to the customers.
Now the question that must be hitting your mind is how you can deliver a positive yet remarkable image to your clients? The answer is obvious. Definitely, your visual branding can communicate it effectively.
Okay! To make it a bit more practical, let's take an example of all the significant brands from Apple to FedEx to Nike, each of the mentioned brand has a memorable visual identity, a logo that is impossible to forget.
Start-ups need a strong identity so that their targeted audience may know about their existence. For this good reason, every start-up looks for a visual representation that can inspire millions of customers and can convey what business stands for.
A logo is a lot more important for your business than you think. It does not only gives you an identity but, also plays a crucial role in communicating your entire vision to the target audience.
You may be dealing in an entirely different industry. Still, a logo is necessary for every start-up, regardless of the industry or nature of work. However, the type of logo may vary, depending on the market you are dealing with.
You can use different forms of the logo to represent your business, including an icon, text, or a mix of both. Keep in mind; it is imperative to research your competitor's branding strategy.
It helps you to get a better idea about what is running in your market because a logotype that works perfectly well for one business may fail for another.
 
What type of logo you want to select for your business is entirely up to you. However, there are some basic guidelines that every company must follow if they wish their branding efforts to be succeeded.
Below are the few tips that you can follow to design a creative logo that truly represents your brands.
Tips for Designing a Creative Logo for Your Brand
#1. First Figure out Why You Need a Logo

Start from the strong research and analyze your business needs. Ask yourself why you need a business logo. What is your vision that you want to reflect in your logo? Once you are all clear about your needs, then take a look at your competitors' logo and analyze how they all are different from each other.
Once you get an idea about the market, then hire professional designers who can come up with something great that can uniquely represent your values to the customers. If you have something in your mind, then tell the designer what you exactly want, otherwise, give him all the details that you have researched, including your business vision.
Note: A good way to identify your business vision is determining the purpose of your existence. Why did you get to start? The answer will help you to add the business vision.
#2. Select the Logotype You Want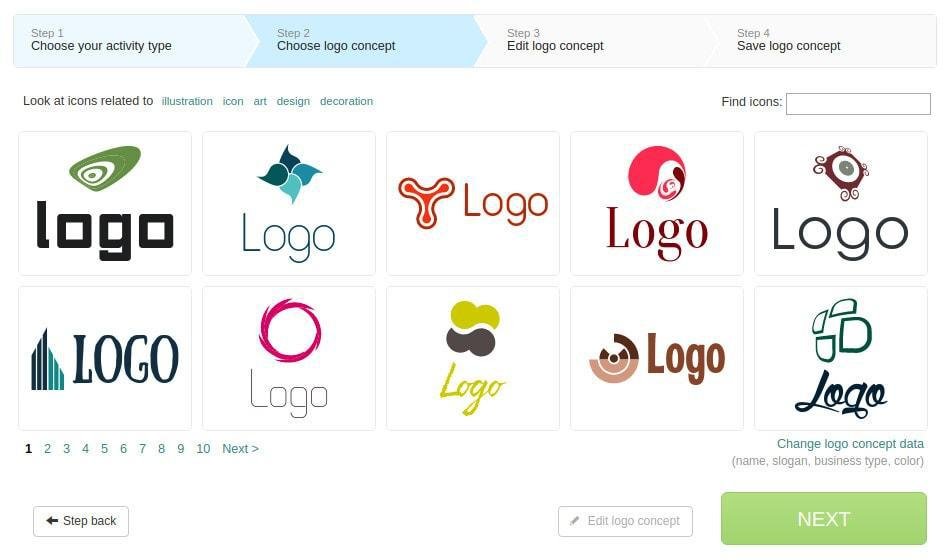 Once you are all done with the basic research, the next step is to select the type of logo that you want to represent your business. In this process, you have to decide whether you want your company name in a specific font type or text, or you want a single word to represent it.
A lot of companies select a unique and attractive font style for their company name; a good example is Disney.
Apart from Disney, there are more brands like Coca-Cola, Google, and Facebook; all these brands utilized a custom font as a part of their brand recognition strategy.
Companies are required to show their logo everywhere, even on the stationery. In case, if you are not a fan of the custom font idea and, you think it's too space taking, then there are more text-based solutions available for you.
 
You can also utilize the initials of your company instead of the full name. Some successful examples are HBO, CNN, and P&G.
Moreover, if you think that both of the ideas are not what you were looking for, then, be more creative. How about the combination of both ideas?
Now, if you are thinking about how you are going to do that, then we have another example for you.
Get inspired by the world-famous brand McDonalds. The brand not only shows its creativity with the food thing but its creativity also visibly reflects in the logo.
McDonald's effectively utilizes both strategies for its recognition. The logo of the brand is clear, simple, and combining creativity with clarity.
#3. Select the Right Color for Your Brand

Colors have the strongest power to communicate a message with emotions; therefore, carefully decide the most appropriate branding color that matches exactly with your brand image.
Every color has a meaning and emotions associated with it. Bold and bright colors may be attention-grabbing but may lack sophistication; on the other hand, muted tones are sophisticated but may look dull.
Therefore, before selecting the logo color, carefully read the psychology of colors in designing a logo. A few of the colors and their meanings are given below:
Red
Red is a color that represents energy, power, and dominance. It is an extremely blood, energetic, and sexy color.
Yellow
Yellow is a very bright and sunny color. It is one of the most attention-grabbing colors. It shows extreme optimism and considered as an inventive color.
Orange
Orange is another vibrant color. The color is extremely youthful and can represent funky emotions. Orange color is quite friendly and creative too.
Green
Green color represents growth and can be used for organic products. It's a versatile color and can be used by many brands.
Black
There is no power color than black. It is an extremely luxurious color. If you want to go simple, then a black and white logo is all you need.
Blue
Blue is a highly professional color and a great choice for businesses dealing in industries like medical, financial, and technology. It's a color that represents trustworthiness and maturity.
White
White color represents purity. It is a simple and clean color. You can mix it with other colors to give your logo a touch of simplicity with youthfulness.
Purple
Purple can be both bold and muted, depending on the shade. It can be a perfect color for businesses related to beauty products, chocolates, and perfumes.
Pink
Pink is a soft color and can be a great choice for girly products. Pink can give a feminine look to the logo. Different shades of pink will provide a more feminine look to the logo, including pastel rose, millennial pink or neon magenta.
#4. Get the Right Typography
Typography adds magic to your logo only, if used strategically. Appropriate typography adds a personality to your design. There are three types of fonts that you can select to create a unique look for the logo.
Serif Font
Serif font gives a traditional look to your logo, and it's a classic, formal, and sophisticated font that is widely used in books and magazines.
Brands that want to give a trustworthy impression and are long way established may use serif fonts in their logo.
Serif typefaces date back to the 18th century, and that's the reason that companies who utilize these fonts in the logo look more established and trustworthy.
Sans Serif Font
Sans serif fonts don't comprise projecting lines at the ends, and that's the reason which makes them look so simple, sleek and clean. These fonts are a great option for modern brands.
Display Fonts
If you are willing to add all the bells and whistles into the logo, then display fonts are the best fonts for you. Display fonts set the reader's mood and often used in billboards, book jacket, and magazine advertisements.
Script Fonts
Script font gives a personal touch. These fonts are similar to the handwriting fonts and calligraphy. Script fonts are available in a wide variety and often used in greeting cards, headlines, and expressive texts.
#5. Write a Clear Creative Brief

Up to this point, you have got all of your style points, and this is the time to communicate your ideas to the designer. A clear and creative brief will help you to clearly communicate all the information to the designer.
If you want your design to come out perfectly, then make sure to provide each and every detail about the company and your chosen style. It will help designers to better comprehend your ideas and will design something unique for you.
About the Author!
Usman Ahmed works as the Digital Marketer. He is an experienced marketer and passionate about the latest technologies. He comprises a broad experience and frequently writes on topics related to Mobile apps, Blockchain technology, SharePoint, E-commerce, and others.