20 Useful Pinterest How To Articles for Business
Pinterest has attracted the marketer's attention today. A study by Shareaholic in January showed that Pinterest drove only a fraction less referral traffic than both Twitter and Google, and more than Google+, YouTube and LinkedIn combined. And it makes Pinterest has become the fastest growing website ever, now with nearly 12 million monthly users.
Of course this opportunity, can be use for laveraging brand presence on Pinterest. Here, we have collected 20 helpful tips and tutorials to promote your brand with Pinterest.
How to Get Started with Pinterest

by Rachel Kim
Pinterest is currently one of the hottest sites on the internet, exploding in users and fans since its inception in March 2010. Regardless of whether you're a newbie or a seasoned 'pinner', the following tips can help you quickly get right in the midst of Pinterest.
Pinterest: Everything You Need to Know in This Massive Post
by Francisco
In this article, I'll give you everything you need to know about Pinterest and a bunch of resources so you can decide if you or your business are ready to join the hottest trend online.
Pinterest Basics for Bloggers

by Yang
Does your world only revolve around Facebook and Twitter? Now it's time to move on: in case you haven't heard, Pinterest is the new rising star of social media! In this article you'll find a basic pinterest guide and 6 tips to kickstart your Pinterest campaign.
Everything you need to know about Pinterest [Invites]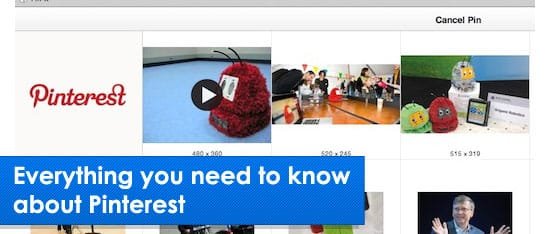 by Nancy Messieh
Whether you're just getting started with Pinterest, or have been using it for a while, we've put together the ultimate guide to all things Pinterest. We've put together a list of all the basic things you need to know about the site, while also giving some power user tips for the more experienced users.
Pinterest: 13 Tips and Tricks for Cutting Edge Users

by Stephanie Buck
For many users, Pinterest serves as a comprehensive wish list of sorts. Users (a.k.a. Pinners) post Pins to Boards that they organize by topic or theme.For many users, Pinterest serves as a comprehensive wish list of sorts. Users (a.k.a. Pinners) post Pins to Boards that they organize by topic or theme.
And if you're still getting used to the network like many of us, take a few minutes to review our tips and tricks for Pinterest.
8 Strategies for Launching a Brand Presence on Pinterest
by Charles Nicholls
Many marketers have heard of Pinterest, but despite this, most brands have yet to hop on the hottest new social network. In this article, we'll look at why Pinterest is important to brands and provide seven simple steps for leveraging brand presence on Pinterest.
How Brands Are Using Promotions to Market on Pinterest

by Lauren Indvik
After launching branded profiles on Pinterest, many businesses are now developing promotions on the platform, encouraging users to follow the profiles of individual brands and pin items from their websites. See how to their action here.
8 Best Practices for Food Brands on Pinterest
by Janet Helm
Food is one of the major niches or shared interests on Pinterest. In fact, food lovers were among the first on Pinterest; they saw the benefits of pinning instead of clipping recipes.
Here are eight tips and best practices to get you started.
How Pinterest Can Turn Your Brand Red-Hot [INFOGRAPHIC]

by Jeremy Cabalona
If your brand isn't on Pinterest, you could be missing out on a growing stream of potential customers. With this infographics you can learn more about brand strategy with pinterest.
5 Interesting Pinterest Marketing Campaigns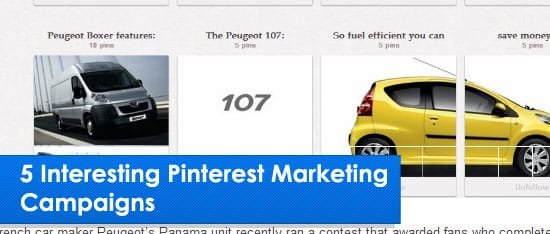 by Todd Wasserman
Pinterest is so new that a lot of major brands still don't know what to make of it. However, there are a few outliers who have found creative ways to exploit the potential of the new social media destination.
How To Use Pinterest To Direct More Traffic To Your Website

by Isaiah Cisneroz
Wouldn't it be great if the things you did in your spare time directly affected the amount of traffic driven to your website? Like true 21st century people, a majority of us spend our time either tweeting, blogging, or poking each other on Facebook. Now you may believe that all of this time spent through various social media may be wasted but there are sites that are not only fun to use, but valuable in promoting yourself.
10 tips to get the most out of Pinterest for your business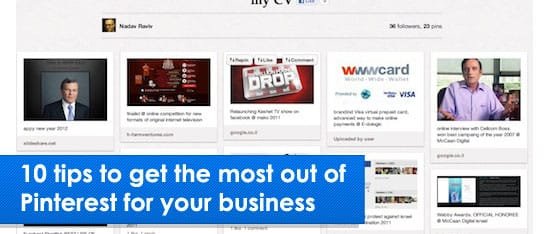 by Nancy Messieh
Pinterest is a perfect fit for museums like the San Francisco Museum of Modern Art and lifestyle magazines, like Modern Ink, but there are brands from a ton of other industries that have set up a page for themselves on Pinterest – from travel agencies to dog spas, and everything in between.
So what are the ways you can use Pinterest to boost your business? Take a look at the list below.
Free Ebook: How to Use Pinterest for Business

by HubSpot
In this free ebook, you can learn how to increase traffic, leads and sales by reaching more than 11 million people on Pinterest.
The Marketer's Guide to Pinterest
by Neil Patel
HGTV. Nordstrom. West Elm. ModCloth. Those are some of the big name retailers who are using Pinterest to drive significant traffic to their retail websites. But what exactly is Pinterest? And how do you use it to promote your business or brand?
Well, this guide will help you get started.
26 Tips for Using Pinterest for Business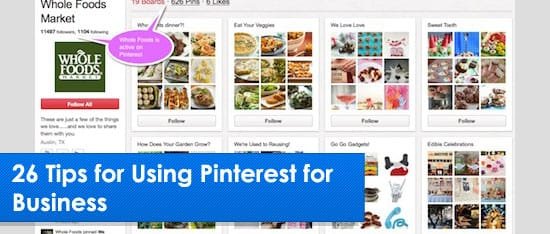 by Debbie Hemley
Are you wondering how your business could use Pinterest? What follows are 26 tips, an A-Z guide for creating a business presence on Pinterest.
The Marketer's Guide to Pinterest [INFOGRAPHIC]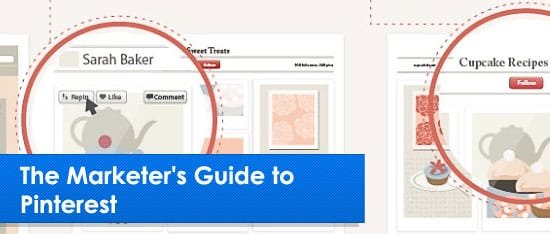 by Zoe Fox
This infographic explains some Pinterest basics, such as explaining what a Pin, Repin and Board are, and provides five tips to optimize your marketing strategy.
Can Pinterest Help Your Freelancing Business

by Laura Spencer
In this post, I'll take a look at Pinterest from a freelancer's perspective. I'll explain what it is and also take a look at some benefits and drawbacks of the site for freelancers.
Pinterest for Brand: 5 Hot Tips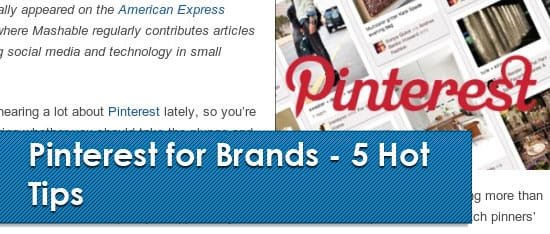 by Lauren Drell
Here are some tips for navigating Pinterest, along with a rundown of how various companies are already using the visual social network.
5 Ways Brands Can Use Pinterest to Boost Consumer Engagement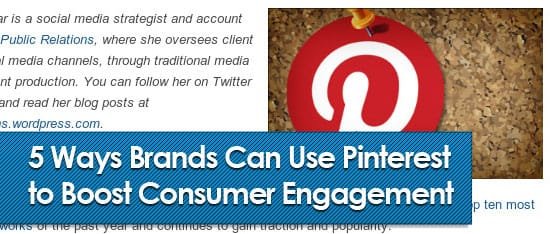 by Constance Aguilar
How can brands and companies utilize Pinterest to their advantage? Here are five ways to jump on the Pinterest bandwagon to reach an already established female audience and a rising male audience.
5 Ways to Use Pinterest for Recruiting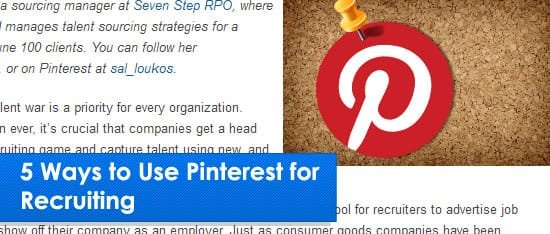 by Saloua Loukos
Pinterest also presents an opportunity to reach talent first, since headhunters have yet to make the complete transition onto this platform in the same way they have with other social networks like LinkedIn, Facebook, and Twitter. Here are some tips on how you can use Pinterest to find your next hire.