As the pandemic has shifted consumer expectations of how they consume goods and services, businesses have found themselves focusing more on digital marketing over more traditional marketing strategies, such as magazines, and newspapers.
While this trend is rather old news, slowly happening over the past few decades, the pandemic was a unique event that accelerated this push.
Consumers were suddenly forced to avoid public places out of their own safety and utilize the various devices they have at home, in particular mobile phones and laptops, to live out their daily lives, whether it's working from home or taking online courses in the confines of their bedroom.
The increased budgets on digital marketing have allowed marketing teams to aggressively approach and be approached by various external clients for a variety of marketing projects and strategies.
With such a large portion of their interaction with external clients now being digital/online and less in-person, cybersecurity has become more important than ever with exponential increases in damages predicted in the next few years to come.
In this article, we'll go over some considerations on cybersecurity for digital marketers as they work with both external and internal clients on various projects.
What Cybersecurity Strategies or Ideas Should Be Communicated Within Digital Marketing Teams?
Ways Data Can Be Stolen
The best way for any employee, even beyond the marketing team, to be aware of security issues is to be knowledgeable about the various strategies bad actors can use to access secure data.
These types of hacks could be anything from an unlucky click on a simple phishing email to a long-term strategy of staking out and waiting for the opportune moment to access a company building.
Every member of the team should be always alert as hacking attempts may come at any given moment. This includes both digital and physical attacks. We'll go over some ways below.
The first is email phishing. One of the most well-known but easily still catches many people off, even if they are aware of it.
Email phishing is the strategy of creating a realistic email that produces either some kind of urgency or looks realistic enough to click on. Urgent emails could be telling employees they won an internal contest and to click to find out how they claim their prize. Consider Living Security's phishing training for your team to avoid losses and improve your security.
Realistic emails that are not urgent could be emails from HR regarding updating their personal information whenever it is convenient for them. These types of emails are meant to potentially install various attachments to steal data (e.g., malware) when clicked on.
USB keys are another easy way to gain access to any company. By adding a program onto the key, the moment the key is inserted into a device, the hacker has full control over the device.
These keys could come from anywhere – on the ground outside or even from marketing conferences they may attend as freebies or from supposed other "companies". If you have no idea where the USB key is from, NEVER insert it into your laptop. Always check with IT on its contents.
With many employees now working remotely, it is very common for many to work in public places, like coffee shops or airport WiFi's. Unsecured WiFi's are extremely dangerous and could already have been breached or set up by a hacker to look real.
You should never be inputting personal information when on one and if possible, avoid them at all costs. If you can hotspot yourself as that is much safer.
With data breaches constantly happening around the world, it is likely your information is somewhere on the internet. It is common for people to reuse passwords for various accounts, including both personal and work-related accounts.
By reusing passwords, hackers could easily brute force their way into your work account. Remember – they have various programs that can scan email and password combinations and try them on your work emails.
It does not take much effort for hackers to figure out your work login information. Armed with a leaked password, they can programmatically try various combinations until they're in. Think of thousands of different passwords attempts in seconds! Remember to always use completely different passwords for your various accounts.
Working With Cybersecurity and IT Teams on Best Practices

Security teams in any organization should be setting up and communicating best practices throughout an organization. Here are some common strategies that help mitigate cybersecurity risk in any organization. Remember, these are not foolproof practices but pave the way for stronger security practices.
Setting up two factor authentication (2FA) is almost a standard in any organization or website you have access to these days. While cumbersome for many, an extra authentication step on a different device is rather simple, but is proven to deter most unauthorized attempts to your accounts.
2FA could be tied to another device such as a mobile phone or another email. Remember, if that other device is compromised, then it could present another point of attack for hackers. Ensure employees are using devices they are confident are not compromised.
A virtual private network (VPN) allows marketing teams to access secure data from public networks as if they were on private networks. Just like 2FA mentioned prior, a VPN is rather simple from a user point of view but provides excellent security against unauthorized users when you are accessing or transferring sensitive data.
Nearly every organization now has a VPN strategy in place, especially those who have various work from home or remote teams. It is vital to set one up and best yet – they are relatively inexpensive compared to other software and tools to purchase.
With marketing teams having more devices than ever, this introduces various potential avenues of breaches. Companies should limit the number of devices an employee could use to access company data. For example, disallow employees to check work emails on personal laptops and mobile devices.
For companies that have mostly remote workers, then they can limit the amount of unique devices by allowing employees to select from an approved list of the best work from home laptops that meet the company standards for remote work. This allows IT teams to better manage devices across the organization.
Digital marketers are now, more than ever, advertising on various platforms throughout the internet. Facebook, Instagram, TikTok, YouTube, Twitter, and LinkedIn are just some of the popular platforms most medium and large sized companies operate on.
Just like limiting devices mentioned prior, each one of these accounts presents an opportunity for a hacker to infiltrate your company.
Ensure each social media and other public-facing account information is distinctly unique to one-another. The password and login information should be different for each one of them. If they were all the same, a hacker could seize all forms of communications to the public for a company in an instant.
Moving Away from Traditional Training to Engaging and Fun Training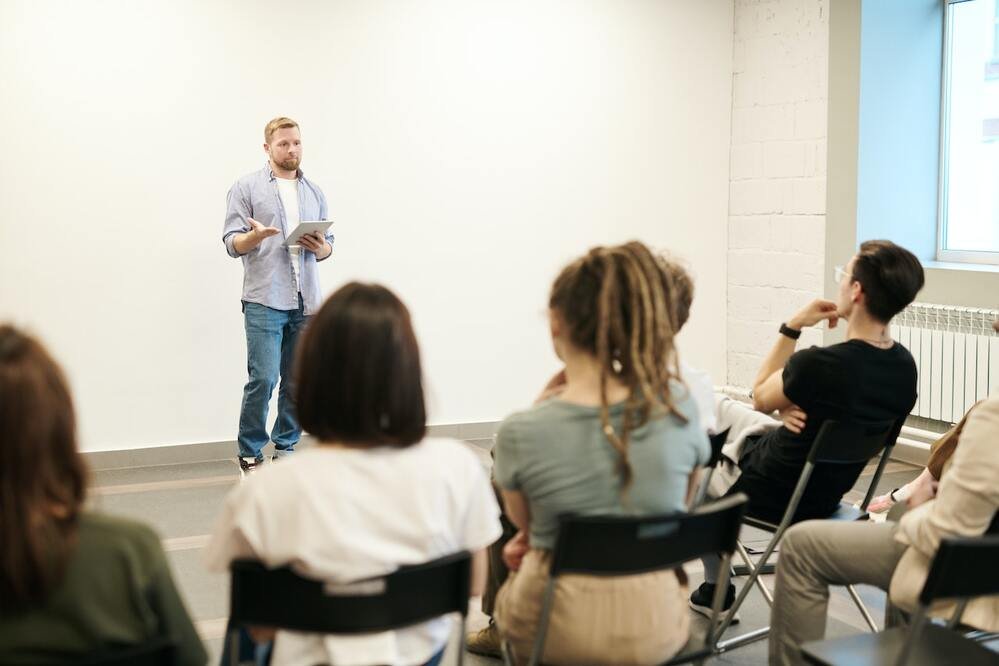 When you think about corporate training, you traditionally associate it with boring PowerPoint or dull HR videos about cybersecurity, racism in the workplace, and other related topics.
Rather than choosing the easiest path to providing training for your marketing teams, consider choosing training platforms that are more interactive and fun that ensures employees will better retain the information you want them to learn.
There are various approaches to training your teams. The first would be knowledge training. Rather than typical videos and PowerPoint presentations, consider having speakers come in and provide real-life examples of actual incidents that cost companies millions of dollars in damages.
Having incentives in these kinds of sessions, like prizes for answering questions correctly is a great way for employees to stay motivated and engaged.
Training goes beyond the classroom and employees should practice what they learned. IT teams could set up various simulated "attacks" on random times throughout several months to ensure employees are properly trained in identifying bad actors.
Simulated attacks could include things such as fake phishing emails designed to look like the real thing, leaving random USBs for those in-office, and food delivery services for penetration testing in physical offices.
Employees should be made aware if they have "passed" or failed immediately then be provided further training if needed.
By providing these simulated attacks, IT security teams will be able to analyze the data and results of how well employees performed, allowing them to better tailor and customize future iterations of cybersecurity training to patch up areas of weaknesses.
Remember, any form of security awareness training is key for your business, so ensure you have one setup for employees to learn and be aware of potential risks.
Conclusion
Cybersecurity has become much more important than ever, with record amounts of lost data and database breaches occurring in the news on a near weekly, or less, basis.
Ensure you've educated yourself on some of the strategies mentioned above and work with a cybersecurity professional on how to best protect company assets and data for your unique business.
With the rise of remote work and working from home trend, marketing teams, more than ever before, have a multitude of areas that they can easily be penetrated, whether its public WiFi networks or the use of multiple devices to communicate with external clients. Cybersecurity is just as important to marketing teams as it is to any other team in any organization.
About the Author!
Kevin Nguyen is part of the new generation of work from home (WFH) professionals. He is an expert in helping plan your next life experiences, especially in travel, home living, and working remotely. Find him at KevinNguyenExperiences.com.