Why Small Businesses Choose NetSuite Enterprise Resource Planning
This article is intended to reflect why small enterprises are preferring NetSuite ERP for the development of business. We are going to project the features, challenges, advantages, implementation, and price offered by NetSuite.
In the end, we will explore the key insights that make small enterprises choose NetSuite ERP. For a quick review of NetSuite ERP, please go through this Netsuite ERP Modules blog, which explains all the ERP modules and assists you in choosing the correct module for your firm.
It's understandable why millions of small businesses rely on entry-level software like Sage, Excel, and email contact apps to manage their enterprises.
They may be set up and ready to use almost instantly, provide the majority of the services a small business requires, and are cost-effective in many cases.
However, as a small firm grows, a disconnected set of applications can lead to unreliable, out-of-date data that is time-consuming and costly to maintain.
As a result, many people opt to upgrade their software to NetSuite Enterprise Resource Planning (ERP), which is a more comprehensive solution.
NetSuite ERP is the best solution for businesses looking to future-proof their software since it scales by design, is built for rapid expansion, and can extend abroad.
NetSuite Enterprise Resource Planning
NetSuite ERP is an exclusive cloud business management solution that automates basic operations and provides real-time visibility into financial and operational performance to help businesses run more efficiently.
NetSuite ERP provides firms with clear visibility into their data and better control over their enterprises by combining accounting, order processing, inventory management, manufacturing, supply chain, and warehousing operations into a single, integrated suite of apps.

Making Appropriate Decisions
Access data from across the enterprise, including financial, operational, and transactional data. Visual analytics, reports, and dashboards can be easily customized to provide a high-level overview or a detailed account of business activity.
Make Your Enterprise Simpler
Operations, distribution, Accounting, inventory, and more may all be managed through a single application. Automate manual procedures to save time and money so you can better serve your customers, spot new opportunities, and stay ahead of the competition.
Running a Business across the Globe With Ease
With a single ERP solution, you can easily manage several subsidiaries, legal entities, and business units.
Standardize business operations across all divisions and subsidiaries by gaining real-time visibility at the local, regional, and headquarter levels.
NetSuite ERP is utilized in over 200 nations, supports over 27 languages, and 190 currencies, and can easily handle your international business.

Benefits of NetSuite ERP:
Automate Financial Processes: Increase the efficiency and productivity of your financial processes.
Gain Inventory Visibility: Inventory levels should be monitored, carrying costs should be kept to a minimum, and orders should be delivered on time.
Supply Chain Optimization: Control the movement of goods from suppliers to customers along the value chain.
Flawless Order Management: Make sure your order management and procurement are error-free.
Increase Warehouse Efficiency: Minimizing the picking errors by optimizing the putaway procedure.
Features of NetSuite ERP
By automating enterprise operations, boosting operational awareness, and providing businesses more control over their resources, NetSuite ERP provides a wide range of benefits.
Software Accounting
Transform your AP automation, streamline tax management, general ledger, and optimize AR. Get a full view of financial performance and cash flow.
Managing Finances

Accelerate the financial closing process and ensure compliance by expediting daily financial activities. From a consolidated level down to individual transactions, get a detailed, real-time insight into your enterprise's financial performance.
Managing Global Business
NetSuite OneWorld enables businesses to manage worldwide operations across countries and subsidiaries, including various currencies, taxation standards, and reporting needs, all while offering real-time financial visibility and consolidation.
Managing Inventories

Inventory management can be automated. Maintain low inventory expenses while satisfying customer delivery expectations.
NetSuite provides features for tracking inventory across several locations, establishing reorder points, handling replenishment, and optimizing safety stock.
Managing orders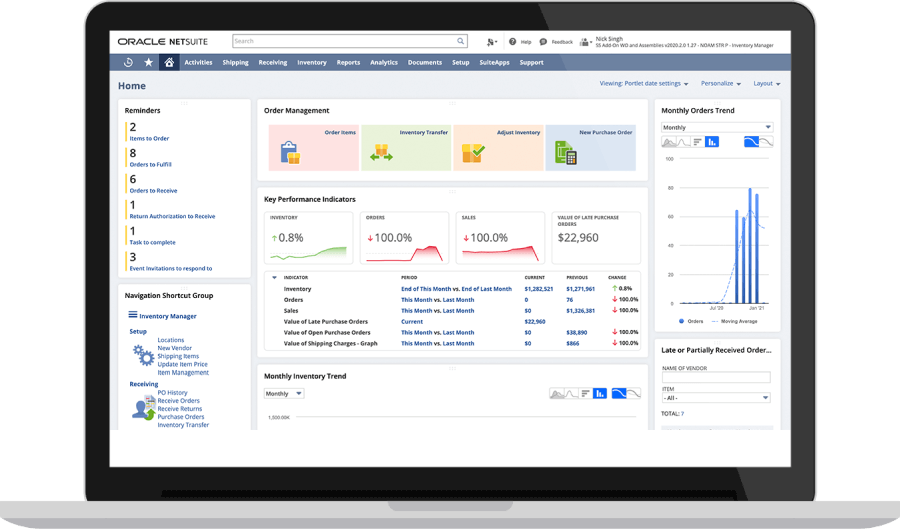 Simplify order processing by removing manual bottlenecks, preventing errors, and ensuring a smooth transition from sales quote through order fulfillment. The outcome: timely payment and invoicing.
Managing Supply Chains

The site of a product's manufacture or storage should not prevent a company from meeting customer requirements. The practice of moving commodities or materials through an extended supply chain is made easier with NetSuite.
Managing the Warehouse
Customize, user-defined strategies and sophisticated abilities like cycle count planning, real-time inventory updates, wave management, cartonization, and shipping system integrations drive RF-device-directed putaway and picking jobs to optimize warehouse operations.
Challenges resolved by NetSuite ERP
The following challenges will be solved by NetSuite ERP.
Manual Processes: Manual operations that consume time and resources can be automated and streamlined.
Data Accessibility: Access real-time data across the organization quickly and conveniently.
Data Integrity: Offer timely and accurate financial accounts, inventory reports, and other reporting to stakeholders.
Meeting Expectations: Deliver on-time delivery, order accuracy, and cost savings as promised.
Balancing Demand and Supply: In the face of rapid change, increased costs, and evolving buyer behavior, handle supply chains.
Inventory Insights: Planning and balancing inventory for meeting demands.
Quicker Worthy Time
NetSuite has packaged the lessons learned from tens of thousands of global deployments over the last two decades into a set of best practices that lay out a clear route to success and have been proven to bring immediate business impact.
You go live in a predictable period with NetSuite – smart, phased implementations start with sales and span the whole customer lifetime, ensuring continuity from sales to services and support.
What Is the Price of NetSuite ERP?
NetSuite has been adopted by organizations of all sizes, from early-stage startups to fast-growing enterprises. Are you looking for a more efficient way to manage your business but are concerned about the cost?
NetSuite has an annual licensing cost that users must pay. The core platform, extra modules, and the number of users are the three primary components of your license.
There is also an implementation fee for a one-time initial setup. The advantage of cloud software is that you can easily activate new modules and add users as your enterprise grows.
Key Insights of NetSuite ERP
We'll look at why so many small businesses use NetSuite ERP and why it might be appropriate for you in this post.
1. Cloud-based NetSuite
Working from home has become the 'new normal' in recent years, therefore the requirement to function from the cloud has become crucial. NetSuite ERP may be run entirely on the cloud, providing your staff access to the data they require at any time and from any location.
This also has a lot of scalabilities, which is ideal for small businesses. You may quickly add and remove licenses as needed, allowing you to meet demand while only paying for what you need.
2. Full Customization With Netsuite Enterprise Relationship Management
NetSuite ERP, with its unlimited customizability, provides a system that can be tailored to your small business's specific needs and objectives. You can choose whatever NetSuite modules you require and customize them to fit your business.
Advanced Revenue Management, SuiteBilling, Accounting, Advanced Financials, and other financial management modules are available to organizations.
Similarly, a firm can use NetSuite's warehouse management system or the Procurement and Demand Planning modules if it needs an established inventory management solution.
The bottom line is that you may choose the modules your company needs, no more and no less, and you can always expand your NetSuite capabilities in the future with more modules.
3. Simple Integrations with NetSuite ERP
NetSuite's Application Programming Interfaces (APIs) are another significant benefit for small enterprises.
These allow you to 'tap in' to other vital software applications that can add a significant amount of value to your enterprise. This can be accomplished either directly or through the use of an integration platform.
Connecting Salesforce and NetSuite, for instance, is a popular small business integration. Many consumers wish to keep using Salesforce CRM while also benefiting from an ERP. Fortunately, NetSuite's APIs make all of this feasible, and it's relatively simple to do so.
4. Enhanced visibility with NetSuite Enterprise Relationship Management
Small businesses frequently store data in various, disparate systems, making data collection, analysis, and decision-making time-consuming and error-prone. However, with NetSuite ERP, you have a solution that puts all of the information you require at your fingertips.
Reporting, analytics, Built-in, and real-time dashboards are all available with NetSuite Business Intelligence. This allows you to receive immediate visibility to detect opportunities, trends, and issues and take action as needed.
Conclusion
We have successfully explored NetSuite Enterprise Resource Planning. We have learned and understood how NetSuite ERP assists in making better decisions by simplifying your business process to run and manage the firm globally.
The features like accounting software, finances, business, inventories, sales orders, and warehouse management are comprehended. The details of implementation cost and benefits were also discussed.
The key insights of NetSuite ERP such as cloud-based support for accessing data from any location, offering unlimited preferences that suit the business objectives, support of integration like connecting Salesforce and NetSuite, enhanced visibility options for collecting, analyzing, using information for decision making greatly benefits the small scale industries in planning the resources.
About the Author!
Karna Jyoshna, Working as a content writer in HKR Trainings. He have good experience in handling technical content writing and aspire to learn new things to grow professionally. He is an expert in delivering content on the market demanding technologies like Netsuite Training by HKR Trainings, cloud computing, Arcsight Training, Looker Training, etc.