11 Helpful Photoshop Tutorials & HTML Design Tips for Better Email Newsletter
One of powerful method to informs users about yours, your site, your product, and helps you build an unique relationship with your costumers is email newsletter. But to attract people to buy a product is not so simple as to send a notification. There are several fundamental rules you should be aware of.
In this post I've collected a helpful resources that will help you in designing email newsletter, start from designing in photoshop, then convert to HTML with very useful advice for effective and memorable email newsletter.
You may also want to take a look at the following related articles:
Tutorials
Design an Email Newsletter in Photoshop

Creating an Email newsletter is just like creating a website. We design the final product in Photoshop and then it is delivered to readers through HTML. This first part will cover the design process of creating an email newsletter.
How to Create a HTML Email  —  Photoshop (1 of 3)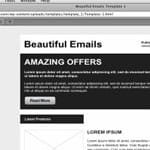 This is part 1 of a 3 part series on how to cre­ate a HTML email. In Part 1 within Pho­to­shop, we'll start by design­ing the email tem­plate.
Here for Part 2 and Part 3.
HTML Design Tips
Getting Started with HTML Emails

Today, I'm going to walk you through the process of creating simple HTML emails.
6 Easy Ways to Improve Your HTML Emails
In this article, I'll list six methods that will immediately improve your email layouts.
10 Valuable Tips and Tricks for Designing HTML Emails

Email Direct Marketing Campaigns (EDMs) are becoming an increasingly popular method of communication and, assuming you are not a business selling male enhancement products, they can be very effective. But before you start coding an HTML email, there a few things you should be aware of.
10 Design Lessons From HTML Email Templates That Actually Sell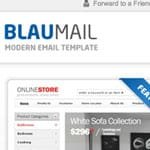 Today we'll take a look at some of the top-selling email templates from Themeforest and see if we can decipher what their designers did right so you can mimic these basic principles in your own designs.
13 Tips For Better HTML Emails

The output of HTML in email apps is still much more limited than in web browsers, which means that you have to adapt the way you are designing your email templates. Following are a few tips to improve the HTML of your newsletters.
10 Tips for Designing HTML Emails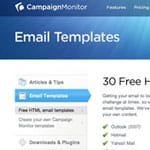 Today we'll look at ten quick and easy tips to get beginners started on the road to creating beautiful and functional emails.
The Principles of HTML Email Design

A thorough examination of how to properly build HTML emails. These can be a little tricky so be sure and bookmark this article in case you're ever tasked with creating one!
HTML E-mail Design Techniques Part 1 [Video Tutorial]
In part 1 of this series, you'll learn techniques for dealing with e-mail clients that disable images by default.
Useful tips for an effective and really memorable email newsletter

Today we are going to feature several fundamental rules for creating an efficient, easy to understand and memorable newsletter.
Free and Premium Email Template
PSD email template in 3 colors (free)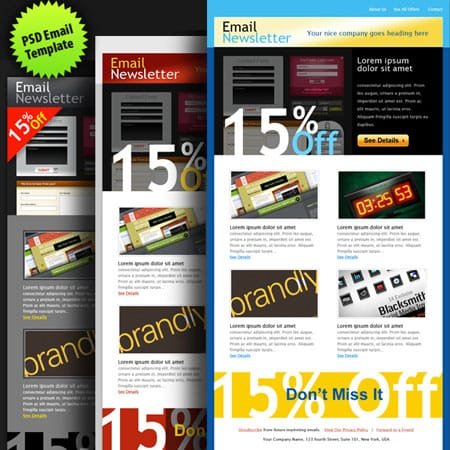 Freebie: e-Commerce Newsletter – PSD Template

Versatile Email Template – 7 layouts + 5 colors ($12)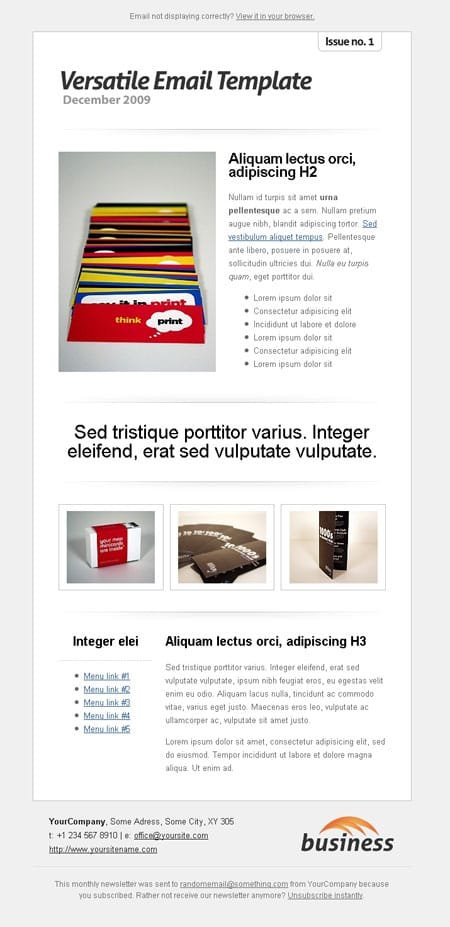 Rich Typography Email Template ($9)

TechOffers – Multipurpose Minimalist Newsletter ($10)
Holiday 2 – HTML Email ($17)

Cielo Newsletter ($10)