13 Best Website Templates to Optimize Your Brand for Mobile Users
The trend today is customer wants equally delightful browsing experience on their mobile device, because it always carry with us no matter where we go. And this lifestyle is absolutely crucial that you do not fall behind and lose traffic on your website because your competitors get ahead in this mobile website race. If your website is not available on mobile phones then there are chances that you will miss a huge chuck of visitors.
In this article, we have 13 Best Website Templates to optimize your brand for mobile users. We hope this collection can help you pick the right solution for your website.
[afiliasitn3gallery]
Joomla Templates
HotCake for Joomla — Retina Mobile Template


by indiqo
Hot Cake for Joomla, a best jomla template that provides a convenient way for your customers and visitors to gather information about your business and products on the go.
Screenshot

Joomla Mobile Dark Theme


by rblalock
This Joomla 1.5 template will help get your site optimized formobile users! Includes detailed instructions, a logo PSD , and great mobile styling.
Screenshot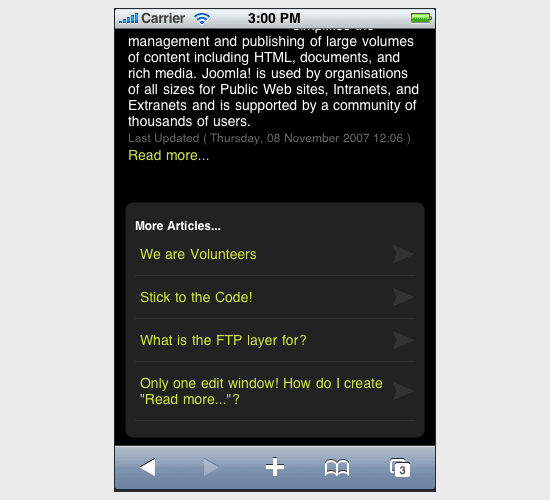 WordPress Themes
Simple Mobile


by kubasto
Simple Mobile is a WordPress theme designed for mobile devices, especially iPhone.
It can be used parallel with another theme and presented to mobile users only.
Screenshot

WpMobb – WordPress Mobile Template


by nishantpatil
Wpmobb is flexiable multipurpose wordpress mobile theme with ready 8 ready categories i.e. corporate, cafe, feminine, medical, personal, travel and general for all. It can be used to build almost anysite. Aimed to enhance mobile web experience by solving key usibility issues. This theme significantly improve user experience and satisfaction, which makes a positive impression. So leave that horrible web site experience when user try to use sites designed for computer screen and let them enjoy mobile site when they see on mobile.
Screenshot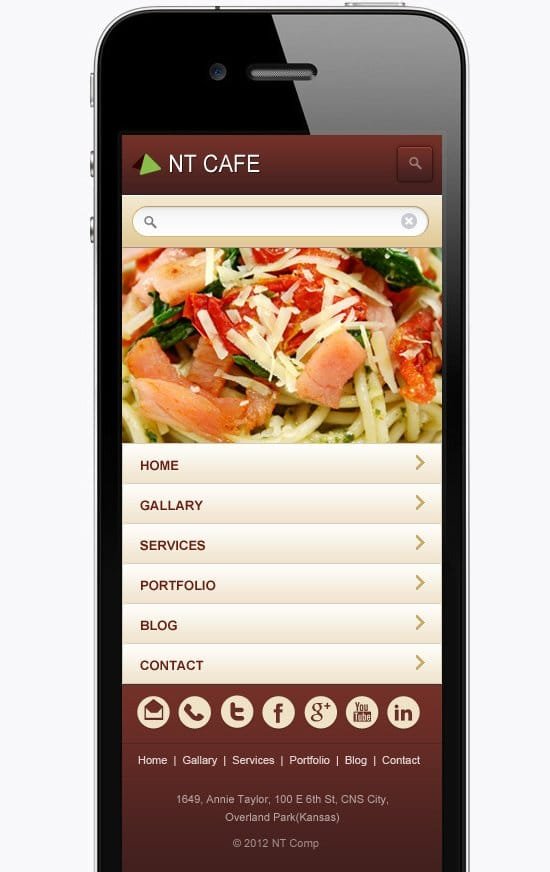 WOW! mySite WordPress Mobile Theme


by realdesigns
WOW ! mySite is a WordPress theme optimised for mobile devices. With WOW ! mySite you design your own mobile website with nine customisable preset colour schemes, powerful theme configuration options and multiple page templates. Add your own high resolution logo, custom fonts and shortcodes and fine tune with WOW ! mySite's unlimited colour options whilst maintaining the style and branding of your desktop website. It is suitable for both corporate and personal use and for non-technical users with very limited WordPress experience and for programmers with technical know-how. WOW ! mySite is easy, simple and fun to use… The only limitation is your imagination!
Screenshot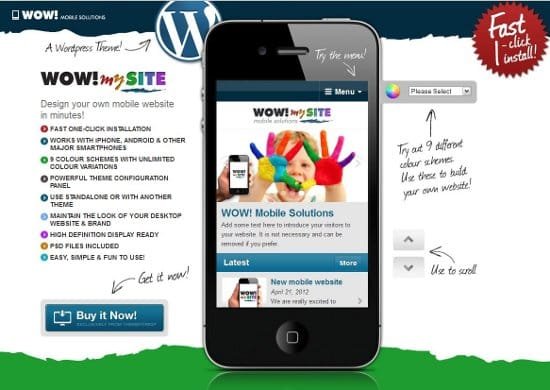 Stacker – Responsive WordPress Theme


by xRicrdx
Features:
Working Ajax contact form with inline validation.
Retina display ready!
Support for every mobile resolution/platform
Custom mobile navigation
Post formats for blog and portfolio
And more…
Screenshot

Touch Mobile & Tablet WordPress Theme


by 22lines
Touch Mobile & Tablet is a WordPress theme built with HTML5 and CSS3 for mobile and tablet devices. It is a fluid design that will adjust to screen size and orientation of the device and is suitable for business and personal sites.
The theme has been built to feel like a native app with slide transitions between pages. It includes lots of shortcodes and a theme options page which together enable complete customization of colors and layout.
Screenshot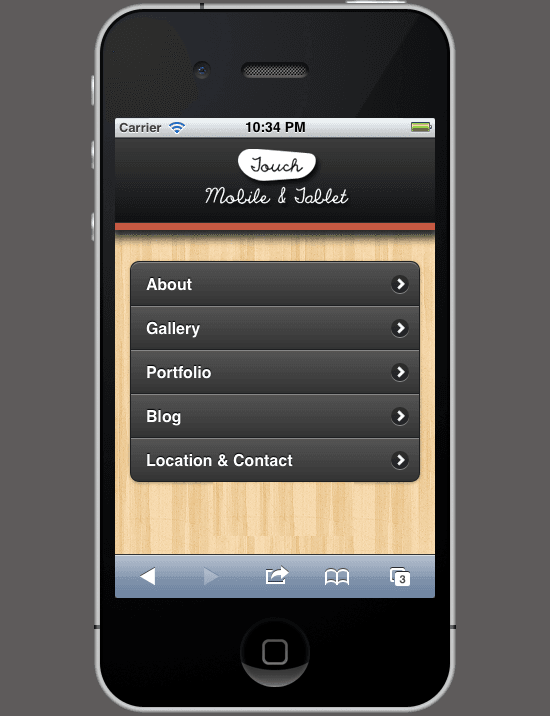 HTML CSS Templates
MobileWeb Mobile Theme (Touch Slider) 4 Color

by alukasik
MobileWeb Mobile Theme is a HTML /CSS Touch optimized Theme for Smartphones and Tablets. The touchpad navigates the portfolio slider intuitive.
This item includes layered PSD file HTML files CSS files JavaScript files
Screenshot


HotCake — Mobile Business HTML Template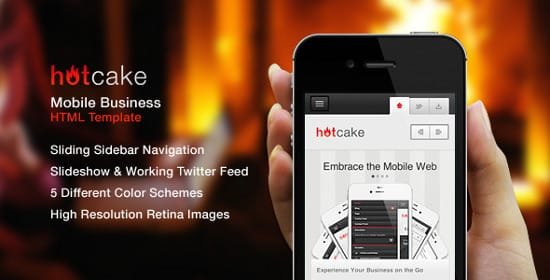 by indiqo
HotCake is a Mobile Business Template written in HTML5 & CSS3 which provides a convenient way for your customers and visitors to gather information about your business and products on the go.
Make sure your visitors can see relevant business information or product details from wherever they are, whenever they need to, by creating a mobile version of your website using this template.
Screenshot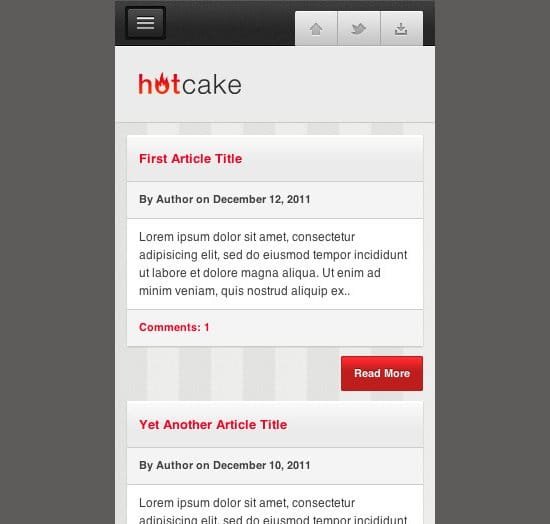 Leon Mobile Web Theme


by Webbu
Features:
Awesome Design
Fully touch optimized
Touch swipe gallery
PHP contact form
Premium navigation menu with jQuery effects
Just potrait mode support
And more…
Screenshot


Touch Optimized Mobile Template (CSS3 & HTML5)

by erkangiris
Features:
Retina support
Ajax PHP mail form with Validation
SEO friendly and clean code
Touch optimized layout
Easy to use tabbed contents
Easy to use toggle contents
And more…
Screenshot


Bakery Muffin Retina-Ready Mobile Template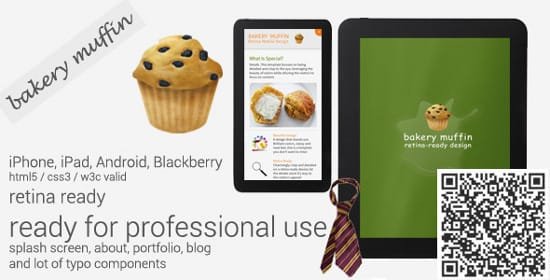 by rv_designer
A ready mobile template with touch optimized. The template is ready for business and corporate websites, smooth and fast page loading and very easily skin-able to use professional and corporate colors.
The other features:
Photoswipe Gallery
Perfect Landscape & Portrait Mode Support
Flexible Main Menu Structure (menu will resize as per item count)
Fully liquid HTML5 and CSS3 design
Supported Most mobile Devices
And more…
Screenshot


IMGRo Mobile Retina | HTML5 & CSS3 And iWebApp

by Enabled
Imgro is a new style of mobile template, that includes full retina high definition icons, and some awesome fast moving elements! Try it out!
Screenshot