15 Useful Design Tips Articles to Create a Great Resume
Have a great resume, will help you to get a job. Because it can attract people first impression then they will look your portfolio, otherwise If your resume is poorly presented, chances are that nobody will bother to read it.
In this article, we've collected 15 very useful design tips articles that can help you to create a great resume.
How To Create A Great Web Design CV and Résumé?


By Kat Neville
The economy is bad. No one's job is really 100% safe, so it's time we all bucked up and got our recession bags packed (just in case!). Your portfolio is already gorgeous, but have you created a drool-worthy résumé?
This flimsy one-page document is more important than many people think: the résumé is the first portfolio piece that potential employers see, and if they're not impressed, chances are they won't look at the rest of your portfolio.
Resume Basics for Freelancers, Part One: Get Objective about Objectives

By Kristen Fischer
why would you need a resume? Two reasons: Resumes can help you get freelance gigs and they offer a quick profile so potential clients can assess you.
That said, I realize many freelancers don't know the new rules of resume writing. And yes, there are some new tricks. So I've put together this three-part guide to help you compile a winning resume, even if you never intend on applying for another job again.
Resume Basics for Freelancers, Part 2- Wording Your Resume Right


By Kristen Fischer
If you're hanging in with me and considering having a resume—yes, even though you freelance—the next step is to make sure your resume is written well.
Here are some tips to help your resume stand out when it comes to wording and spreading the word about what you have to offer!
Innovative Graphic Design Resume CV and Portfolio Tips

By Jacob Share
Many companies and recruiters prefer the simplicity and speed of one page resumes. As a designer, how can you have maximum impact with only a single sheet of paper? The answer…
Getting your foot in the door


By David Airey
Lee Newham is was a senior designer at London-based consultancy P&W. He received three or four CVs (resumés) every day, and here he offers some tips on how graphic designers can get to the top of the pile.
The Graphic Design Resume Guide

By You The Designer
I have talked with many art directors, designers and read an array of articles on the topic of resume design and you would be surprised at how the smallest glitch could sink your chances. Below I will go over everything you need to know regarding putting together a successful graphic design resume.
Avoiding the CV-jeebies. Follow these simple guidelines and keep your curriculum vital


By Eye Magazine
Here are some simple ideas / rules that I think will give you the edge.
CV or not CV

By Periscope
Whatever your situation or frame of mind, we thought you might appreciate a bit of friendly advice. We never write CVs for you, but we can give you a few rules of thumb which might just help you get started…
Resume-Writing Dos and Don'ts


By The Creative Group
A good resume is hard to find, but questionable resumes aren't such a rarity. In fact, in a recent survey by our company, hiring managers provided some examples of unusual—and less than effective—tactics job seekers have used to grab their attention.
Resume Style File

By The Creative Group
The following tips can help you create a document that will accentuate the positive:
The 7 deadly sins of résumé design


By Chanpory Rith
When it comes to résumés, both non-designers and professional designers commit some almost unforgivable sins. Here are the 7 deadly sins of résumé design and how to repent:
How to Create a Resume – Perfect Guide for Designers

By Tayyab
So what is a good CV? Here, you'll learn the two methodologies of creating a resume in two sections "What to Write" and "How to Design".
7 Tips For Creating An Online Resume – CV


By Chris Creed
Having an online resume can be a great way to advertise your skills and availability for work to potential employers. However, many people simply move their "traditional" paper version online – this can be a problem as the typical layout and design of a paper CV is not necessarily well suited to the Web.
CV Layout – Tips for the Format & Design of your Curriculum Vitae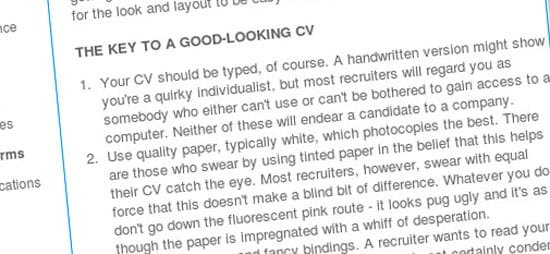 By infinete ideas
If your CV is poorly presented, chances are that nobody will bother to read it. Here's some tips on how to present your CV both professionally and attractively.
Resume Writing Guide – 10 Guaranteed Tips to That Winning Resume or CV


By Trish Mullen
This article is aimed at helping those of us who struggle constantly with writing that winning resume. First of all, it is not the resume that gets you that dream job; that is down to YOU, the winning resume will only get you to the interview stage. In all my experience, I have never known anyone get a job straight off the back of a resume.