55 Examples of Light and Clean Resume / CV Designs
Have a creative resume is important, because it will speaks your capability and cretivity. And clean design it will give a professional, clean impression to employer.
In this showcase article we have collected 55 examples of creative resume with clean design style, I hope they will inspire you in designing your own creative resume that represent yourself.
Joshua Taylor CV

SuperMaryAnn Resume
Loubna Aggoun CV

Curriculum Vitae by Verine
Personal Resume Draft by Steven Duncan

Curriculum Vitae by AkiDesign
Curriculum Vitae by 802.11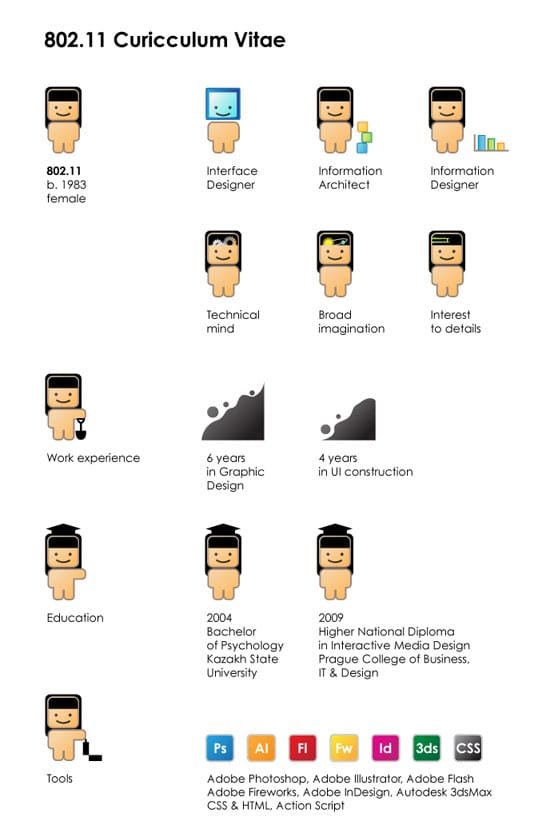 Timeline Resume by Robert Berg
Work Resume by Yingzhy Luqiu

TLS Resume 2008
Resume by xiruxiru

Resume by zxcxvxc
Resume by brazilnut

Typographic Resume by mac1388
My Resume by darthkix

Resume by KevinPire
Resume by Kyuzengi

Resume by heydani
Resume by twolapdesigns

Resume by Akashrine
Resume Espanol by rogaziano

Resume by bdechantal
Curriculum Resume by toromuco

Resume W.I.P. by AchisutoShinzo
Resume by LordGabsta

My Resume by littlearashi
Resume by Giemax

Resume by Johnnywall
Curriculum Vitae by Uito2

My curriculum vitae by flaterie
Resume by Balazy

Latest CV by xchingx
Hello my name is C.V. by RichardTheRough

CV 2010 by waelthepro
My CV by ChellyTots

Portfolio 2010 Concept by ardcor
Resume by naveenmamgain

My Resume by montia
A Resume by duhkine

My Resume by L Hollis
KenjiBoy Resume by kenji2030

Resume by srtcynthia
CV 2009 by faratiana

Resume 2010 by DragonLadyCels
My Resume by JuDesIgnEr

Resume by starbeams
Resume by zakovska

Resume by Valmont-Design
Chevaughn Resume

My Resume by Pau Morgan
Resume the Creative Dork by pyrotensive

Newest Resume by pixelprop
Nice Resume by Exeivier

My Resume by eshriner
Resume Design by MegaBoneDesigns

Resume by s1206