Must Read Articles to Grow Up your Business with Twitter
Twitter is become the new big thing today, from making a new connections to promote your business. If you don't optimize it, you are missing out on a prime opportunity. But how do you get there? What strategies should we use?
In this post, you'll find some of very helpful articles from the expert that can help you to grow up your business.
Useful Articles
HOW TO: Build A Twitter Strategy for Your Business


by Megan Berry
You know your business can't just wing it on Twitter, you need a strategy. But how do you get there?
How to Use Twitter to Grow Your Business

by Michael Stelzner
This article reveals how bestselling authors and business professionals use Twitter to grow their businesses and reveals ideas you can employ to achieve Twitter success.
How to Make Twitter More Useful for Your Business


by Amy Porterfield
What if I told you there was a magical place that could easily be your one-stop shop for all your Twitter needs? Yes, this place really does exist. It's called OneForty.com, the Twitter equivalent of the Apple App Store.
20 Must Read Beginner Twitter Tips for Small Business Owners

by Mark Hayward
After our very long discussion and Twitter run through, I thought that perhaps there might be other business owners out there who are beginners on Twitter and could use some help. Here are the 20 tips that I passed on to my friend:
10+ Tips For Using Twitter To Grow Your Freelance Business


by Brian
In this post I will share some basic transferable principles I have discovered that could help you not only get your feet wet with Twitter, but quite possibly could open doors you thought were locked to you and your freelance business.
50 Ideas on Using Twitter for Business

by Chris Brogan
I'm going to offer 50 thoughts for people looking to use Twitter for business. And by "business," I mean anything from a solo act to a huge enterprise customer.
8 Useful Tips To Become Successful With Twitter


by Paul Boag
So how do I use Twitter? I guess the first thing to say is that I am not a huge Twitter success story. However, Twitter is turning into the third facet of my online presence, alongside my blog and podcast. With that in mind, let me share a few tips that have helped me better use this interesting new tool.
Twitter For Freelancers (A Basic Overview)

by Laura Spencer
As an overview, this post won't cover the literally dozens of Twitter add-ons and utilities that are available around the web. We will, however, give you some basic suggestions on how your freelance business might be able to benefit from using Twitter.
Use Twitter for your Business the Right Way


by Aira Bongco
Here are some tips to rub your Twitter followers the right way. Soon you'll find out how loyal and supportive these people can be if only you took the time to get to know them.
How to Market Your Business With Twitter Lists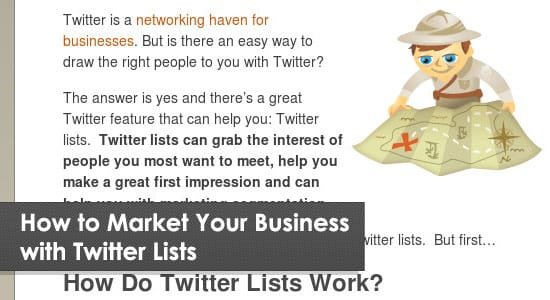 by Cindy King
Twitter is a networking haven for businesses. But is there an easy way to draw the right people to you with Twitter?
5 Uncommon Ways Your #Business Can Use Twitter


by Jason Drohn
Social marketing is a raging phenomenon and Twitter is the darling of the group. In fact, there are a number of ways I've coached clients to use Twitter. Some more successfully than others. Here's the shortlist of the most successful:
How to Really Use Twitter to Find More Freelance Work

by Laura Spencer
In this post we'll discuss the how to make the most of Twitter as a job hunting and networking tool. If you're interested in wasting time, I think you can figure that one out on your own. 😉
Ebook – Twitter Up Your Business | $8


by rockablepress
In this Rockable* Mini-Book, author Maneesh Sethi takes a look at the social networking phenomenon Twitter from the perspective of a business owner, and explains how to make the most of the service to boost your company's brand, popularity, and – of course – sales.
Beautiful Twitter Background Templates
Side Note Twitter Background | $2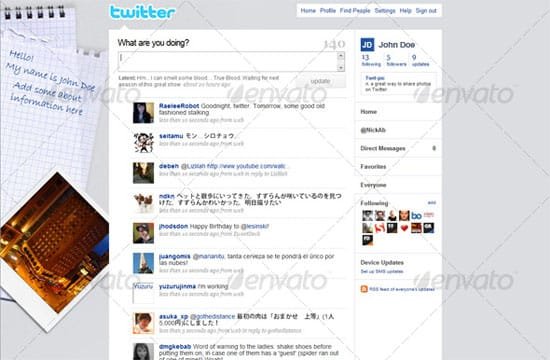 by DarkoAb
Bored with default twitter background? Replace it with this beautiful back and stand out from the Crowd. This twitter background comes with help file that describes customization in few easy steps.
Sticker Twitter Background | $2


by triworks
Features:
All Customazible Twitter background.
1 All Layered PSD
1 High Resulotion Jpg
1 Texture File
1 How to Personalize.txt and css file
Daydreamer Twitter Background | $2

by Tamixes
A fun casual Twitter background in Photoshop with sticker styled clouds and soft fluffy grass. Profile pic fits into a curved pocket 'freshly cut' from the sky. Choose from either a portrait or landscape profile pic. Move the clouds, profile pic and bio around to your hearts desire – have some fun with the layout! I've used non destructive layer styles for the clouds and sky to allow you customize this summer styled Day Dreamer layout.
Twitter Light Rays | $2


by triworks
Black/dark grey, carbon texture and light rays. Possibility of adding a logo graphic for your name/logo. This graphic is on the .psd file.
Twitter Background | $3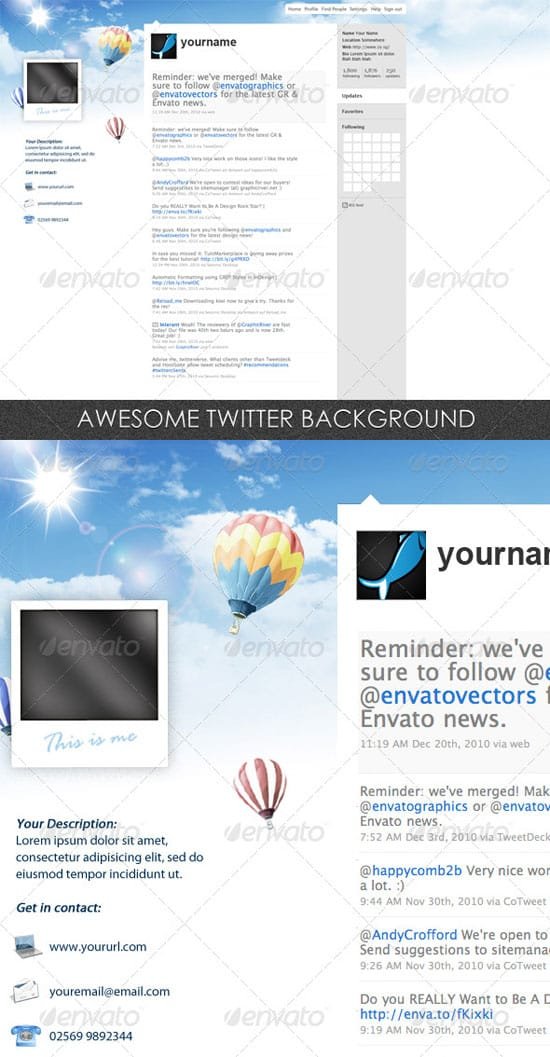 by Foos
Nice Twitter Background created in Photoshop CS3. Package with: 1 All Layered PSD and 1 High Resulotion jpg.
Modern Retro Twitter Background | $3


by robie
A very nice modern retro background for your twitter homepage. It contains 3 PSD ( 1 PSD file in high resolution ), ready to use jpg fiies ( 1280×1024 and 1024×768 resolutions ) plus 1 help file.
Freebie: Nature Theme Background

by Yahya
The theme is look beautiful with the profile and profession name on left side that easy to change with yours. Package with 5 beautiful color schemes: bright green, dark green, orange, red and green gray.
Freebie: Diagonal Color Lines Twitter Background


by Yahya
Perfect for personal or your business and corporate. And package with 6 beautiful color variations Blue, Green, Pink, Orange, Red and Grey.
Freebie: Bokeh Effect Twitter Background


by Yahya
A high quality twitter background psd template with style bokeh effect and gray color. Plus beautiful desktop wallpaper with various sizes as a gift from us, enjoy 🙂
Any Twitter strategy is a perpetual work in progress. And the key is to keep experimenting. Do you have an experiences to grow your business with twitter? We'd love to hear that, please share in the comments.