Top 15 Photoshop Tutorials for Designing a Stylish Portfolio
The main function of your portfolio is to showcase your work and your skills for your potential clients. So your portfolio must be professional, usable and nice looking design.
In this post, we have collected some really creative and helpful, with various styles portfolio layout like, minimalist, using texture background, modern, grunge. We hope these tutorials will help you on designing your own portfolio and improve your photoshop skills.

Create a Stylish Portfolio Site Design in Photoshop
By Chris Spooner
This first of a two part tutorial series will go through the process of building a simple and stylish portfolio website design. We'll begin by designing the concept in Photoshop and fleshing out every little detail before cutting up the design and building it all into a working website next week.

Design a creative portfolio in Photoshop
By Piervix
We love share our passion for graphic and web design through our blog. The objective of our tutorials and articles is not just the explanation of practical techniques to realize nice illustrations or clean web layouts. We'll be really proud if, after red the tutorial, you will be able to apply some of our advices in your future works.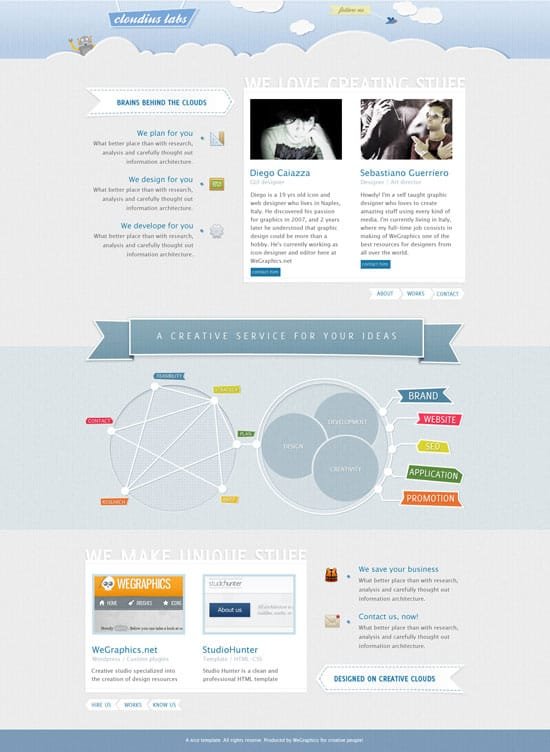 How To Create A Professional Portfolio Layout in Photoshop
By trendyTUTS
In this tutorial I will show you how to create a modern portfolio layout (psd template) using Photoshop.

Create a Grungy, Translucent Web Portfolio Design
By Ryan Scherf
Not only have watercolor brush strokes become a popular trend in modern web design, but so have advanced layers of transparency (or what I call, translucence). The new Envato design has received a lot of kudos for using this effect, and this tutorial will show you how to create a similar effect, while combining it with other popular web trends.

Design a Sleek Textured Portfolio Design
By Tom
Learn how to create an awesome textured background, used a basis for a sleek and professional portfolio design.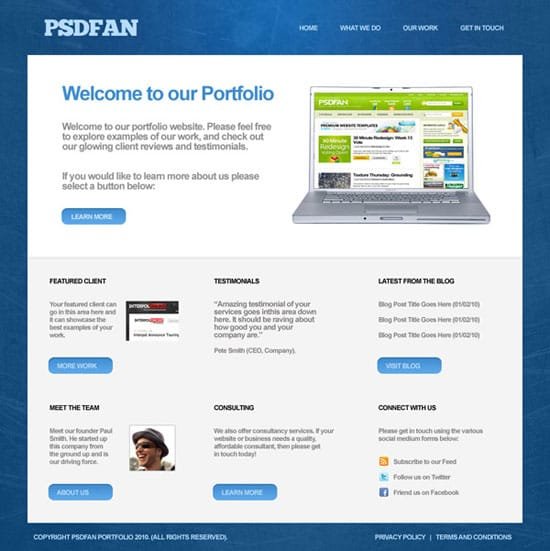 How to Create a Killer Portfolio in Photoshop [Very Detailed]
By Valters Bergspics
In this in-depth tutorial, I will show you how to create a portfolio in Adobe Photoshop CS4. If you have never tried a site build in Photoshop then don't worry because I have explained everything so that even noobs can continue with this tutorial. So what are we waiting for? Let's start.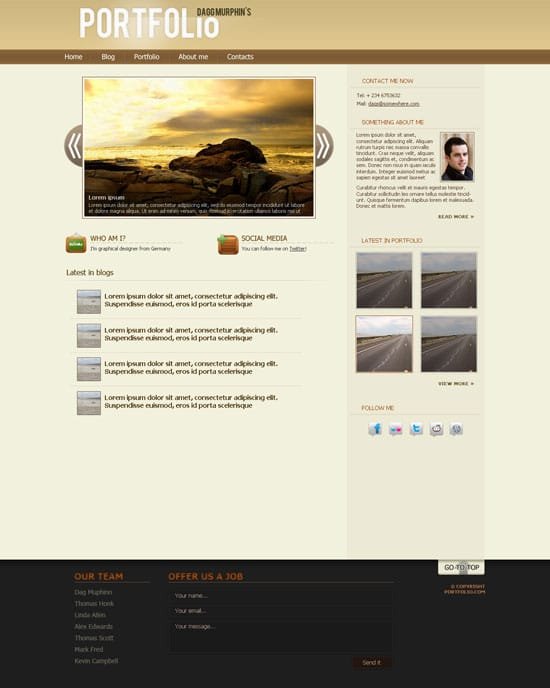 Learn How To Create An Awesome Portfolio Layout In Photoshop
By trendyTUTS
For today I will create a soft portfolio template using some warm colors. This psd layout can be used not only for a portfolio, but in the same time can be used to showcase your product (an ebook, a script, a software, etc)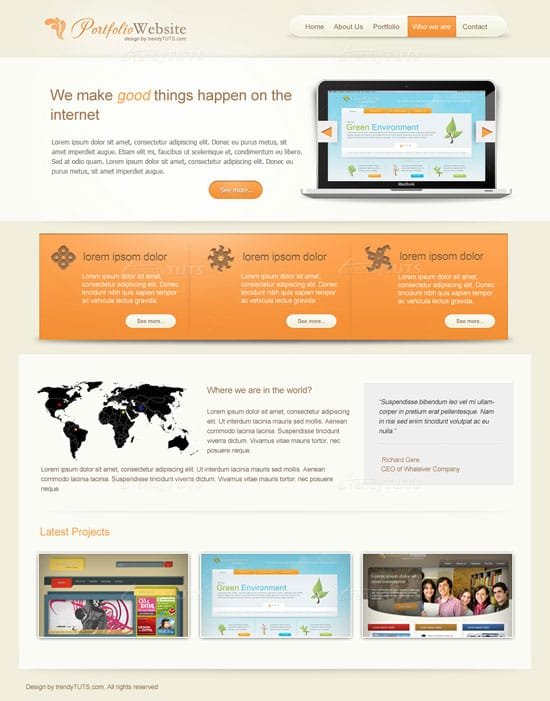 How To Design A Freelancer Portfolio Website
By Chris Creed
This template has a clean design and is primarily aimed at freelancers who want an online portfolio to showcase their work. In this tutorial I will show you how to create the frontpage of this theme in Photoshop.

Create A Web Design Portfolio Layout In PhotoShop
By Marcell Purham
Portfolios can be very hard to create when you don't have inspiration or are just beginning in the web design field. In this tutorial you will be exposed to simple techniques as well as a few more complex skills.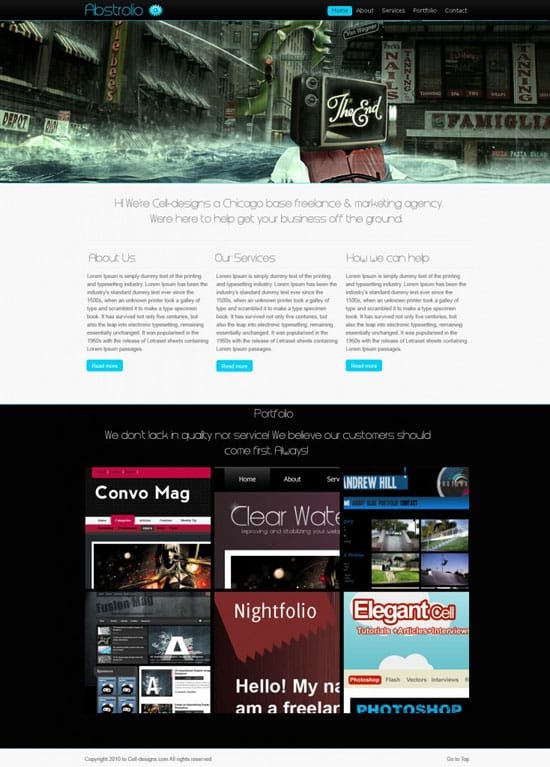 Design a Super Clean Blue Portfolio Website
By Tom
Learn how to use guides and rulers to create a well structured, organized clean web design. You will work with layer styles, gradients and basic design theories to create a unique, professional layout.

How To Design A Clean Single Page Portfolio Website
By Chris Creed
In this article I'd like to show you how I designed the single page portfolio template in Photoshop.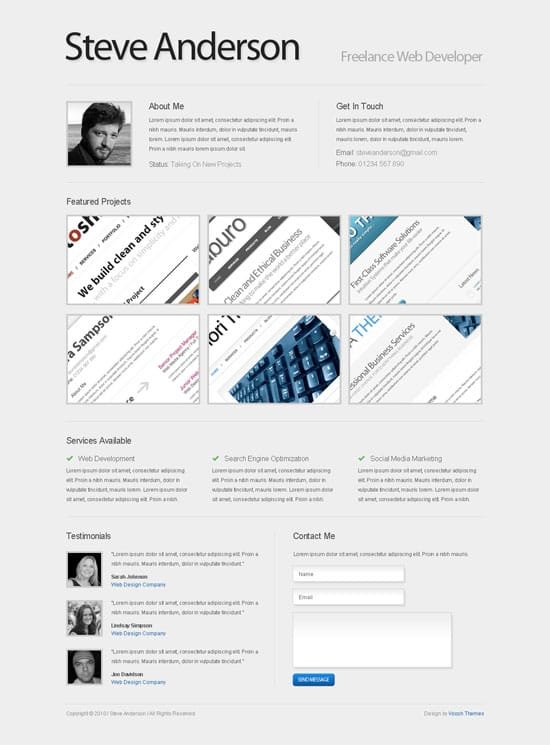 How to Design a Portfolio Site in Photoshop, Plus Free WordPress Theme
By Steven Snell
In this tutorial you'll get step-by-step through the process of designing the front page in Photoshop in case you would like to see how it was done.

Create a Very Simple Portfolio Web Layout with Photoshop
By Reece
In this web design tutorial, we will be creating a minimalist, dark-themed web layout that's perfect for a portfolio site. We'll only cover the creation of the basic parts of the layout and leave it up to you to apply your own finishing touches.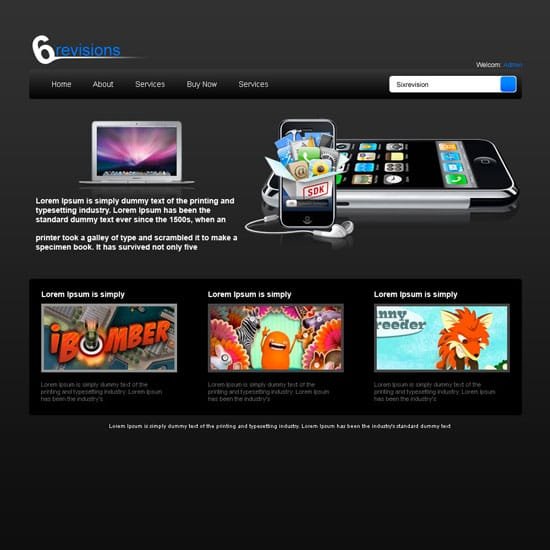 How to design a simple and sleek web Portfolio
By Razvan
In this guest tutorial Narendra Keshkar will show you how to create a very beautiful portfolio layout.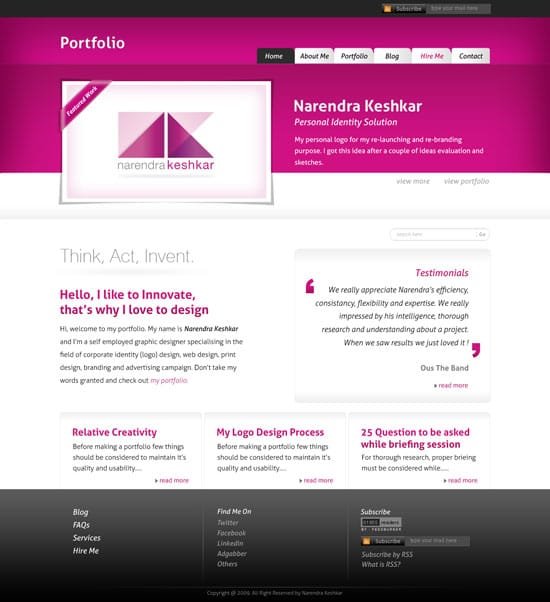 Design a Textured Portfolio Site Layout Using Photoshop
By Steven Snell
Today we'll go through the process of designing a portfolio homepage in Photoshop. The design will use a large textured background, which is easily created with a photograph. At the end of the tutorial you will be able to download the original PSD