15 Best Premium WordPress Themes for Travel Blog
Previously I have published a great collection of travel agencies and agents wordpress themes, today I have the exclusive list of wordpress themes for travel blog. To help you the travellers share the experience and telling a story of your travel adventures.
The theme that I choose below are by hand, based on quality and beautiful design, popularity and impressive functionality to please the most demanding users. Let's check them out!
Ness – Minimalist Photo Magazine WordPress Theme

by cubell
Ness is a modern minimalist personal photo magazine theme for WordPress that can be used on any WordPress blogging niche, but perfect as a personal blog theme. It is responsive, HD (retina-ready) and has unique features to ensure this personal blog theme has great readability. Full-screen image embeds with no shortcodes, parallax featured images, beautiful full-screen gallery post type that is touch-friendly (and portrait-image friendly too), which all leads to a wonderful user experience on all devices and screen sizes and gives your personal blog that personal touch.
More Info & Download | View Demo
Travelista – WordPress Blog Theme
by bloompixel
Travelista is a blog theme designed and developed for travel bloggers. But its simple and clean design can be used for any kind of blog.
Travelista supports 9 post formats (Standard, Gallery, Link, Quote, Video, Image, Status Audio and Aside). It also provides an easy option to choose 9 different layouts for blog and archive pages and 3 different layouts for single pages.
More Info & Download | View Demo
Journal – Elegant Responsive WordPress Blog Theme

by kraftt
Journal is a perfect modern theme for blogging in style. Take advantage of Journal's clean, aesthetic and straightforward functionality to ensure your blog stands apart from the rest in modern sophistication. It's packed with essential features such as different post formats, useful shortcodes, widgets and a great design, this theme is for those who just want to write. Journal also provides you a pure reading expereince with a feature called Reader Mode. Click the reader button, sit back and enjoy your best reading experience.
More Info & Download | View Demo
Your Journey – Travel Blog WordPress Theme
by wiloke
Your Journey is a modern theme that perfect to share your great travelling journey in simple and elegant way. There are 26 different homepage demos, included location-based homepage style that pins your posts on a map. Start to share your amazing stories today!
More Info & Download | View Demo
Explorable WordPress Theme

by ElegantThemes
Explorable is a location-based theme that pins your posts on a map. Listings become part of a journey, and exploring your website has never been so fun. With the ability to create location-based listings, the theme becomes a great tool for building travel blogs, local business directories, travel guides and more. Combined with user star ratings, a full fledged blog and a fully responsive design; the possibilities are endless!
More Info & Download | View Demo
Share – A personal blog theme for sharing stories and experiences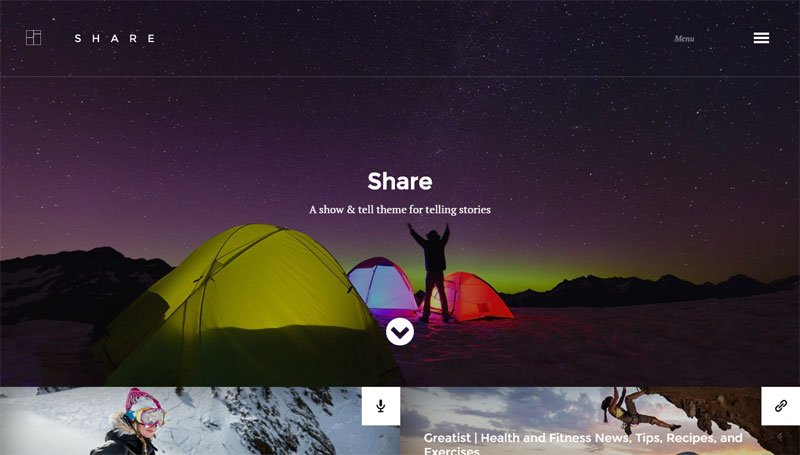 by chrismooney
Share has been designed for those that want to share amazing stories and create lasting memories.
Whether it's an inspirational blog post, a gallery of wonderful imagery, a song written on the road or an amazing video, Share adapts for the type of experience you want to share with enhanced post format support.
Why just blog when you can Share?
Share is a great theme for collecting and sharing memories, whether you're a keen adventurer, writer, poet, explorer, philosopher, blogger, musician, diarist or all of the above – Share is for you.
More Info & Download | View Demo
Travelogue – Travel Blog WordPress Theme

by modeltheme
Travelogue is a unique and elegant WordPress theme with modern design. It works properly on all browsers and devices. Each page has a specific transition effect that gives this theme a unique feeling.
Travelogue is the best choice for personal blogs, journals, photographers portfolios, travelers but can also be used for any type of portfolio.
For the blog page we used outstanding headers consisting in images or videos. The whole look and feel of the theme is very friendly and allows the users to be creative.
More Info & Download | View Demo
Silvio – WordPress Travel Blog Theme
by silocreativo/
Silvio theme is a modern and clean layout for sharing travel photos and stories. The theme was created with travelers, explorers and adventure related businesses in mind helping you build a travel blog quickly and with ease.
Made with modern responsive design (it adapts to your style as well as the device it's viewed on), travel agencies are welcome with this theme. Furthermore, this WordPress Travel Blog Theme is developed with SEO in mind, as well as for fast page loading and security.
More Info & Download | View Demo
Evoke – Photo Stories WordPress Blog Theme

by matchthemes
Evoke is a WordPress photo blog theme for writers and for those who like to share their stories in a simple and elegant way ( travelers, bloggers, photographers etc. ). The theme has a clean and modern design, using all the browser screen space. It comes with a widgetized homepage and 7 layouts for displaying articles.
The theme is fully responsive and it looks great from desktop to mobile devices.
More Info & Download | View Demo
SATURN – A Personal/Travel WordPress Blog Theme
by phpface
Clean, contemporary, and rock solid, SATURN excels as a straightforward blog theme ready to take on any niche you can dream up. From stunning video display to an engaging gallery slider and more, SATURN offers a host of post formats to elegantly showcase your content in beautiful simplicity. Whatever the subject matter, SATURN's bold features and fresh design are here to deliver.
More Info & Download | View Demo
Photoblog WP Theme Photoline

by Dinev Themes
Photoline is a minimalistic WordPress theme created for photobloggers. It can be not only photographers. The theme will be suitable for photo blog, travel blog, food blog or a blog about lifestyle and adventures.
More Info & Download | View Demo
WPVoyager – Travel Blog WordPress Theme
by purethemes
WPVoyager is a Premium Travel Blog Theme for WordPress with a bold modern feel that warms the heart of the weary traveller…step inside and see for yourself.
More Info & Download | View Demo
Travlog – A Traveler Blogging Theme

by gbobbd
Travlog is a blog designed for travelers who wish to share their stories in a simple and effective way. You can choose between the classic blog or the full width page layout, change the main color of the theme, left or right sidebar and much more simply through the customizer. Some special features includes a featured slider where you can post your most important moments at the top of the blog and custom widgets such as the instagram widget. Travlog is built with WordPress coding standards and has also passed the Theme Check plugin test with no errors.
More Info & Download | View Demo
Adventure THEME – Share The Journey!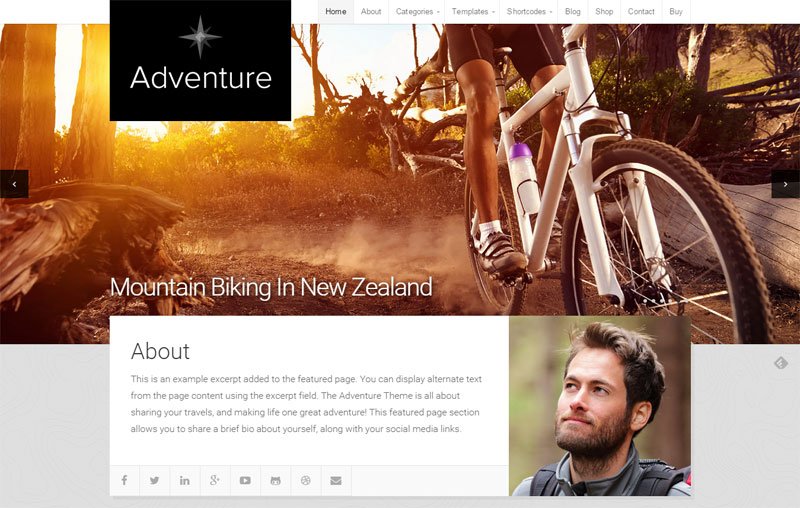 by Organic Themes
Adventure is designed for travelers, explorers and adventure related businesses.
Whether you're a casual weekend explorer, an eco-tour business or a travel enthusiast living abroad — Adventure is an excellent solution for sharing and funding the journey.
More Info & Download | View Demo
Amoeba – Blog/Portfolio Parallax Responsive Theme

by mpc
Amoeba is a simple WordPress theme made for every creative person out there. If you are a designer, photographer, bloger or maybe a traveler this is a theme to get. It has very simplistic design with the main focus on content.