26 Useful Brand and Business Tips Articles of July 2011
This is our monthly series were we share useful brand and business tips articles all from the previous month. We hope this series can help you in building your brand and growing your business.
If you would like to be kept up to date with brand and business resources, you can follow us on Twitter or by subscribing to our RSS feed.
How to create a Web page that will boost business and build your brand


by Jacob Cass
Last week I was approached by a New York Post journalist, Faye Penn, who found me by Googling 'graphic designer NYC', of which I am fortunate enough to have the #1 search position for. Faye wanted to interview me for her next article on the topic of building a web business.
The secret power of personality

by Paul Boag
The design of your site should communicate something of your organisations personality as well as make a connection with users. Knowing who you are and how you communicate is a vital for a successful site.
Speak to me (self promotion online)


by David Bushell
This is the basics of self promotion we all learn when starting out online. It's about creating a face—a brand, if you like—that represents you.
10 steps to a perfect logo

by Jacob Cass
The logo is one of the most important parts of a business but just how do you create an effective one? In this article you will learn some vital tips from expert logo designer Jacob Cass, who covers the basics, the design process, the pricing of your work and much more, while providing you with some handy resources along the way.
How and Why to Build an Online Presence


by Kriste Bradley
The following are the top three reasons why freelancers should take advantage of online marketing opportunities.
4 Golden Rules Of Naming A Brand Or Business

by Yogesh Mankani
Naming of business is the key to any venture, whether the business is small or large – you have to do a lot of brainstorming while finalizing the name of your business or brand. So, in this article, I am here with the 4 golden rules of naming a brand or business to create a distinctive but effective brand image.
A Logo Is Your Image


by Richard Larson
Your Brand, and Possibly Your Future. No matter what type of business you have or are thinking about starting you need to have a great logo that will represent you and your company.
6 Ways to Build Your Brand Using LinkedIn

by Yenlik Baimukhanbet
For some, LinkedIn is just a way to find your past and current co-workers, for others it is a way to find a job. One thing is a definite: LinkedIn can be utilized as a solid tool to help you build your brand, whether personal or business. Here's how:
What brands do college kids Like on Facebook? [Infographic]


by Courtney Boyd Myers
Our friends at iStrategyLabs have cooked up this juicy infographic about what the average college student "Likes" on Facebook. While they're all likely fueled by energy drinks, pizza, gadgets, and partying — which brands do they actually prefer?
5 case studies on global brands' Facebook campaigns

by Niall Harbison
These 5 video case studies show how the brands and agencies went about creating the campaigns and how they reached out in to multiple platforms.
Top 10 Fast Food, Luxury, Soft Drink & Retail Brands Compared


by Jacob Cass
Below you can see an infographic comparing the value of the top 10 brands in these categories, and then all of the brands compared together. The infographic also shows how each brand's value has changed since the previous year.
Meet the top 20 brands on Facebook

by Niall Harbison
Have a look through the pages at your leisure because these are the biggest and best pages out there so you should be able to pick up some great tips…
10 Tips to Create Effective Social Media Conversations for Your Brand


by adrilling
Before creating a social network account, make sure to establish what you need to know before entering the social media world. The following ten tips will help you start an effective conversation using social media.
6 Daily Habits for Facebook Marketing Success

by Amy Porterfield
Facebook marketing, when done right, is an extremely powerful tool. It can increase your leads, attract highly targeted prospects and position you as a sought-after industry leader.
To reap these business-building benefits, the key is to develop daily habits.
The secret to success on Twitter: Link sharing


by Lauren Fisher
Brands' approach to Twitter is in many ways more of an unknown than Facebook. With the way that Facebook Pages have developed, there is a very clear structure to how you run your business presence on Facebook. With Twitter, it's not so straightforward.
8 Ways to Maximize Your YouTube Marketing Results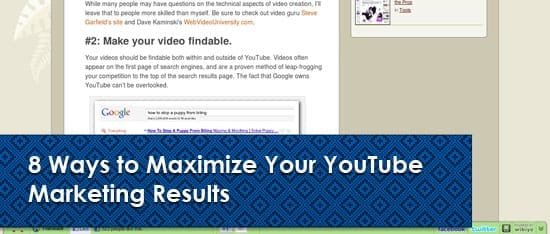 by Rich Brooks
Are you on YouTube? Are you getting the results you hoped for?
In this article I'll share 8 actionable tips to enhance your YouTube marketing.
10 Tips for Better Startup Marketing


by Scott Garber
Many aspiring entrepreneurs foolishly believe that all they need to do is sign up for a Twitter account, blog about special offers, and hand out a flashy looking brochure, whereupon leads will come pouring in. This couldn't be further from the truth. I asked a panel of successful young entrepreneurs about the types of promotions they have used to build their companies' buzz and sales.
10 Marketing Tips for Every Startup

by Brad McCarty
The fact remains that if nobody's using your product, it's going to be pretty hard to move forward. We'll cover that here with 10 actionable steps that you can take toward marketing yourself better.
5 Tips for Running Successful Cause Marketing Campaigns


by Zachary Sniderman
How do you run a successful cause marketing campaign that reflects well on your brand and also does some serious good? We've got five tips for you:
Tip: Growing a Business Globally With Corporate Web Design

by Roxanne Peterson
We all know that the web is the home of business growth. But how does that growth happen? Web design company strategies that increase the appeal of your business in every direction can help you tap the marketing potential of the web to best effect.
Orman Clark and the Business of Free, Video Interview


by Sean Hodge
This week we look at Orman Clark and the Business of Free by Freelancejam. Can you give great stuff away and expect to make any money? In this video Orman Clark discusses how he does it on a daily basis through his site Premium Pixels.
How to Build a Business By Supporting Bloggers: a Case Study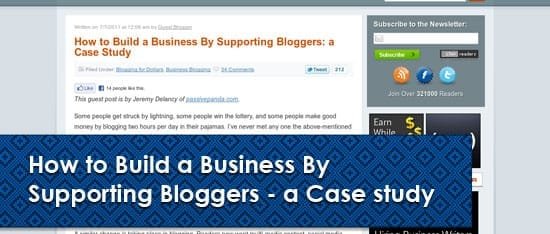 by Jeremy Delancy
The possibility exists to create an additional income not by starting your own blog, but by helping other bloggers build a loyal readership, increase blog traffic and monetize their blogs. I'm starting to do just that and I'll analyze the steps that I've taken so far.
How To Grow Your Business With Content


by Sean Hodge
his week we look at How To Grow Your Business With Content by Michael Stelzner. Are you wondering why your business needs content? When you produce high-quality content, it's a gift to your audience that they appreciate.
10 Simple Website Changes that Will Increase Your Freelance Sales

by D Bnonn Tennant
Is your website delivering new clients on a regular basis? Is your site's sales funnel optimized? Have you been meaning to make changes to your site that improve your bottom line? Realistically, how effective is your freelance business website today? Here are ten quick website changes that will take you no more than 30 minutes each to implement.
Finding Your Passion For Your Ideal Business


by Lori Meyer
Most online entrepreneurs create squeeze pages and blogs that target desperate niches and people who are looking for answers to their problems. But how many of those entrepreneurs are truly passionate about what they're doing?
14 Ways to Create a Memorable Business Card [PICS]

by Stephanie Buck
Memorable business cards are either all about minimalism or maximum creativity. If you've decided to avoid the American Psycho-esque, off-white, watermarked business card and flex your artistic muscles, here are 14 ideas that will help to inspire you.
Conclusion
In this article, we've collected the best and very useful brand and business tips articles, fresh from July 2011. We hope it can help you in building your own brand business.
Finally, we'd love to hear your feedback. Do you have another great brand and business tips article? Or do you have another useful tips based your experience in building your brand? Please share with us in the comment below. Thanks.