Giveaway: 3 Premium WordPress Themes from ThemeFuse
The ThemeFuse consultants want to share 3 WordPress themes licenses with our loyal readers. Today we are offering a free giveaway to show our appreciation.
Today's winner will receive a free download of the WordPress theme of their choice from ThemeFuse. If you run your website using WordPress then you will love our helpful themes!
Today we will be giving out 3 vouchers. Here is what you have to do to get one:

Enter the giveaway
Post a comment here and tell us exactly where you will be using one of our great themes if you win.
Share the news of this contest on Twitter: Win a free copy of @ThemeFuse #WordPress Theme http://bit.ly/UQrA2k via @ibrandstudio (RT to Enter).
Then "Like" us on our Facebook page.
Don't go far because we will be announcing the winners of this contest in one week!
Here are some reasons why you will want to join in:
ThemeFuse offers the very best WordPress themes for every kind of website creator. No matter what type of website you are creating, ThemeFuse has got the perfect theme option for you!
With ThemeFuse you will receive more than just cool designes and amazing looks. You will also get carefully created source codes and a configuration interface that is easy to use and loaded with neat features.
ThemeFuse is also available to help. You will have access to our FAQ section and Support Forum to find answers to your questions. You will also be able to access additional information regarding your theme of choice.
Here are some great examples of some of the themes we here at ThemeFuse can create: WordPress templates
#HomeQuest – Real Estate WordPress Theme
This WordPress theme is designed to help professional Brokers and Real Estate Agents build credibility and convert clients in today's competitive market.
#Freshfolio – Minimalist WordPress Theme
Whether you want to showcase your designs, photos, illustrations, artwork or paintings, this totally original and efficient theme will allow you to do so.

#Creative Juice – Portfolio WordPress Theme
This WordPress theme was crafted to help web agencies and small design firms professionally showcase their design portfolios.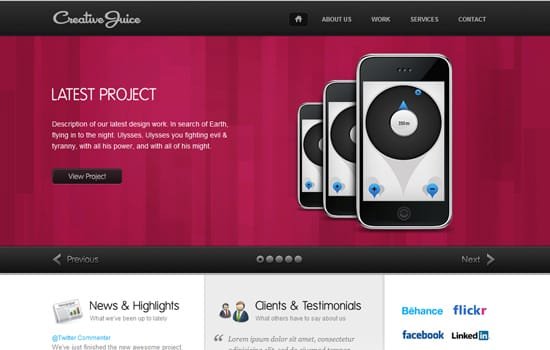 #Envision – Business WordPress Theme
This is one of ThemeFuse's most complex and interesting WordPress themes. There are 5 different sliders, plenty of shortcodes and a number of amazing features. If you are looking for it- this theme has got it!

#Just Married – Wedding WordPress Theme
Easy to use, stunning and enjoyable are the best ways to describe this 'ready to be married' WordPress theme.
#Welcome Inn – Hotel WordPress Theme
This is the perfect WordPress theme for hotel owners. It even includes two flavors: spa resort and ski resort for complete individuality!

Getting a free wordpress theme from ThemeFuse is super easy. All you have to do is sign up for our contest and then sit back and wait to see if you are one of our lucky winners!