Mega Design Bundle – Over 1000 Design Elements
VectorPack.net and the FanExtra network are putting now at your disposal a great Mega Design Bundle which contains over 1000 design elements. The bundle is worth $446, but this week you can have it for only $29. The offer is limited to this week, so make sure you purchase it now.

The Mega Design Bundle Contents
The Mega Design Bundle contains the following elements:
12 Photoshop Brush Packs which amount to 137 Photoshop brushes which are to come in handy for any designer
Floral Bundle Pack 1, which is a collection of 6 floral stock vector packs
3 Month FanExtra Membership which will give you access to the entire FanExtra network of sites
Bundle Pack 2, which is a collection of 5 vector packs. The 55 stock vectors in these packs have similar design features which make them combine perfectly for numerous types of designs
Silhouette Bundle Pack, a collection of 5 silhouette vector packs illustrating people dancing, people on the beach, graduation, business people and urban silhouettes
Grunge Mega Pack, a collection of 6 unreleased vector packs
4 Unreleased Floral Vector Packs containing 44 vector elements
5 T-shirt Designs with a very special look
2 Unreleased Vector Packs gathering vector clipart illustrating Japanese buildings and weddings related elements
The Mega Design Bundle Preview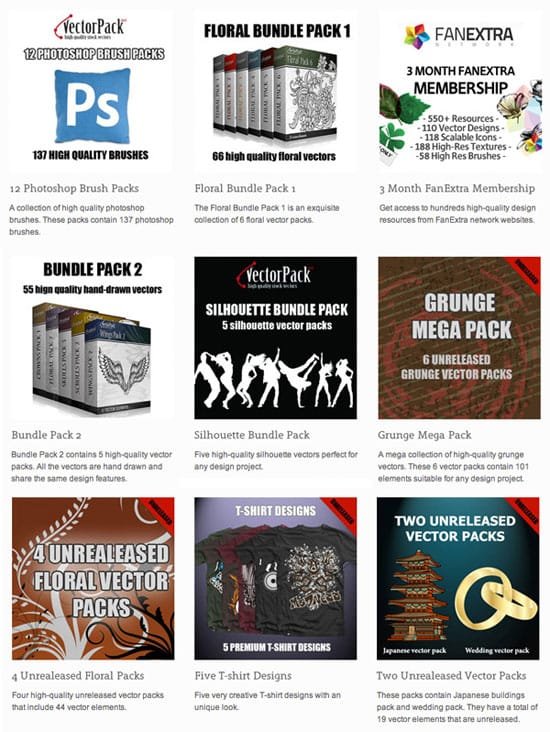 This Mega Design Bundle contains special elements which are absolutely mandatory for any designer. So don't wait any longer and miss out, make sure to purchase it now and take advantage of this incredible price.
Head over to VectorPack Mega Design Bundle to check out the bundle for yourself before this deal disappears!