Designing Beautiful vCard Website – Useful Tips and Photoshop Tutorials
A vCard is a mini one-page website that basically acts as an online business card, with just basic information like about, social media profiles, portfolio and contact. And most of them build with javascript animation effect like sliding, lightbox, fading and tab navigation.
In this post we have collected useful tips and photoshop tutorials to help you in designing your beautiful vcard website.
vCard Template Tutorials in Photoshop
Tutorial + Psd: creating a professional Vcard in a few steps


by sarah
Today it's the time to put into practice what we learned, trying to create a captivating VCard for our fictional client…so let's waste no time, open Photoshop and let's get started!
How to Create a Stylish Blue vCard Layout in Photoshop


by Yahya
In this Photoshop tutorial we're going to create a cool blue-looking VCard layout. As we go through with 10 steps, and we also included a PSD file as a resource file.
Tutorial: Personal vCard


by Richard Carpenter
In today's 3 part tutorial il be showing you how to create a personal vCard. In the second installment il be talking you through the process of coding it into a live working template.
Design a personal vCard


by Chris
In this tutorial you will learn how to design a personal vCard.
Design an impressive vCard mini site design in photoshop


by Twistereli
Designers, and other entrepreneurs on the Internet are getting their own vCards. That is a website with just a small rectangle on it (usually) displaying the most important information about that person in a compact way.
It gives a visitor a calm impression and most people are more tented to click on tabs to see what's below, than read a long page full of text.

Tips in designing vCard single page website
6 tips to create better one-page websites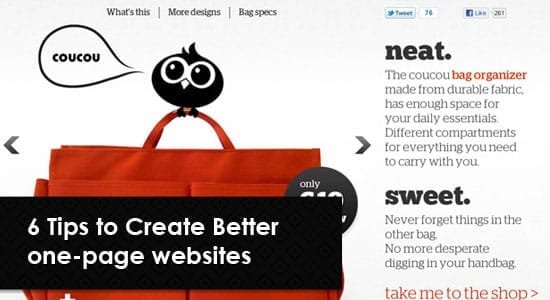 by Kendra Gaines
One-page websites are hot and popular — no doubt about that. But they aren't for everyone or every business. It's easy to want one because they're popular; and if done correctly, yours could be a hit. But make sure you're project qualifies first.
If you qualify, make sure your website hits the mark. There are always certain things you have to follow through on when making any website, but the points below are especially critical to single-page websites.
10 Expert Tips for Designing a One Page Portfolio


by Joshua Johnson
A portfolio website is becoming an essential marketing tool for every designer and can be the single biggest impression upon which you will be judged and hopefully, hired.
This article contains several tips and examples to help you create an amazing single page portfolio.
Designing a successful one-page portfolio

by Preston D Lee
There are countless approaches you can take when creating your own design portfolio. Every designer is unique and should, therefore, have a unique portfolio. But when it comes to designing a successful one-page portfolio,
there are a few key ingredients you'll want to be sure to include.
9 Essential Tips For Creating A Single Page Portfolio Website


by Chris Creed
Below are some important tips that you'll want to consider when designing single page sites – most of these also apply to all types of web design, but they are particularly relevant with one page sites.
The One Page Graphic Design Portfolio Guide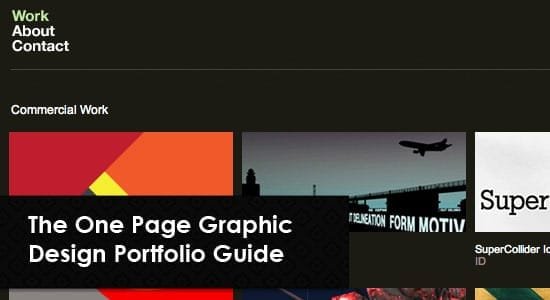 by Gino Orlandi
I have been doing extensive research on portfolio sites lately and what I've noticed and I'm sure a lot of you have noticed is the growing popularity of one page portfolio websites. I know some of you might be "anti trends", but I think this portfolio website format is great for several reasons and I will give you tips on how to create your own one page graphic design portfolio and how you can market it for free.