15 Mandatory Tools and Resources for Any Logo Designer
The huge majority of the designers considers that the pen and paper won't ever die. No matter how many and powerful software options we would have, nothing can be compared to the pen & paper binomial. Altogether, nowadays, every designer uses more tools than pen & paper.
Logo design is part of design, therefore this situation is valid in this area, too. The technology evolved a lot and a logo designer has practically unlimited tools and resources at his disposal in order to create the best logos. Some tools are irreplaceable, while others are more or less useful.
A logo designer is always under pressure and checking what's new for him is a real luxury. At the same time, staying updated is mandatory in order to resist into such a competitive area as logo design. In this context, we decided to create a list of the mandatory tools and resources for a logo designer. We tried to be objective as much as possible, but nothing manmade is perfect! Check our list and let us know which is your opinion about!

As it was mentioned, we tried to offer a very objective perspective regarding the tools and resources that are indispensable for a logo designer. Presenting two software solutions launched by the Adobe as must have tools for a logo designer sounds as an unfair commercial, but let's be honest and give to Caesar what is Caesar's. Adobe Illustrator is without any doubt a capital tool for any logo crafter.
It's true that Adobe Photoshop is still modest at the vector format chapter, but there are many situations when Photoshop saves times in creating logos. In my mind, a person should have in his arsenal both Illustrator and Photoshop to call him/her logo designer.

A subscription for ones of the Adobe variants of using Creative Cloud programs is almost decent (there is a harsh debate, but for a professional logo designer I think that is a reasonable price). The best free solution is GIMP that in the hands of a creative designer may be the fundament of stunning works.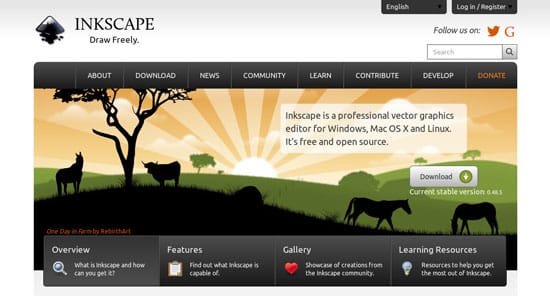 Inkscape is another open source program that shouldn't be missed by any logo designer, especially a beginner. It's a completely free professional vector graphics editor that may substitute (less or more) Adobe Illustrator.
The number of software solutions mandatory for a logo designer is small. Perhaps, some logo designers claim that into this list must have inserted some programs that allow creating logos from pre-made items. Personally, I think that a respectable logo designer must not use these solutions that are more suitable for newbies. It will be great to know your opinion about these programs and if you ever used one.

Yes, in this website we merely tried to offer you the latest news and techniques used in logo design. It's a fabulous reward to notice that our posts are shared via social networks and this situation determined us to write more and better posts. In conclusion, keep checking our articles; we promise that we will not disappoint you!
Jacob Cass is one of the most famous logo designers and bloggers, therefore the presence of his blog in this list is fully justified. The articles are well written and are presented many interesting aspects.

David Airey is another well-known designer that exposes in his blog posts lots of interesting thoughts. It combines in depth articles and inspirational ones and in this way his blog is a really enjoyable reading. Definitely, it's a resource that must be bookmarked.
Logo Design Love is another mandatory reading for a good logo designer. It follows the same recipe as the precedent ones: quality articles explaining new techniques, original considerations and impressive inspirational posts.

Quite probable, Logopond is the most visited logo gallery. Undoubtedly, an expert logo designer must be part of this community and let people admire his/her latest creations. Also, by admiring the logos uploaded by other designers you can refuel the inspiration level.
Logo Faves is a logo gallery, too. Logopond is a place where are posted daily tens of logos so your logo may not be noticed, but uploading it on multiple logo galleries, as Logo Faves, the chances of getting noticed are increasing considerable.

Logo Lounge is a logo gallery and a mixture of information and inspiration. Clearly, it's a very useful resource and by daily checking it you will stay updated to what is new. It's impossible not to remark the professionalism of the writers; check the yearly reports about the logo design trends to make an idea about.
The blogs from this list provide enough information for a designer in order to stay updated to what's new. Altogether, a logo designer needs more specific answers for different issues and a solution for these may be a forum. Estetica is a great forum and here are tons of interesting topics, but also are posted many job opportunities for a logo designer.

Graphic Design Forum is a huge resource. Here are topics from various design fields, obviously including logo design and the quality of the pieces of advice is high. Moreover, the jobs listed are all very motivating- only top clients that need interesting projects.
A logo designer must know how to use the fonts into his/her advantage, so consulting a typography forum is another mandatory activity for him. Typophile is a forum where various typography aspects are debated and it worth the time to read the opinions of typography lovers and experts all across the globe.

Finally, the last item from our list is Designers Talk. It's a forum dedicated for all types of designers and the graphic design community is one of the most active one. The topics are very interesting and everyone is welcome to contribute.
I hope that any reader, at the end of the article, bookmarked at least a single resource. Also, don't be selfish and share this post with your friends; the more, the better!
– Written by Daniel –