5 Affordable Collaboration Tools That SMBs Must Try In 2021
Illustration by Deemak Daksina via Dribbble
When asked about the frequency of their collaboration with colleagues, partners, or vendors, almost all connected employees (98%) collaborate at some level. Nearly two thirds (65%) collaborate multiple times a day while only 2% stated that they never collaborate with others.
Post Covid-19, team collaboration has assumed massive significance as remote work continues to be a new normal.
As an SMB owner, are you struggling to keep your remote team (or in-office team) on the same page due to a lack of collaboration among them? Do you want to improve your team collaboration and take it to the next level so that your business continues to thrive in these challenging times?
Yes, the current business environment is far from favorable, to say the least. The sudden transition from physical office space to remote work has left many teams struggling to coordinate tasks and projects.
The result? Low productivity, missed deadlines, poor results, unsatisfied customers, and fuming managers.
This is certainly what you do not want, especially when teams might be working remotely for a longer period.
Some small and midsize business owners still underestimate the significance of team collaboration during remote work. They think that phone calls, texts, and video conferencing are all that it takes to keep team members together.
Let's take a look at some major issues that can confront project managers, SMB owners, and team members.
The Negative Impact On SMBs Due To Lack Of Collaboration
Every successful team (whether remote or physical) thrives on good collaboration. While in-office teams have an additional benefit of in-person interactions among team members, remote team members are devoid of such benefits.
Hence, it becomes quite a task for SMBs to keep their remote teams working as well-collaborative units. Let's take a look at some of the most common and big challenges that businesses face due to poor collaboration.
#1. Time Wastage
Can any business afford time-wastage by employees even if it's a large-sized business, leave alone SMBs? NO. There are deadlines to be met, goals to achieve, and the business's reputation is at stake. Nothing hurts business more than tasks taking longer than the estimated time.
#2. Poor Project Management
It goes without saying that team collaboration and project management are directly related to each other. Poor team collaboration invariably leads to poor project management as there's no clarity on task assignments, time management, file management, project progress, etc. No wonder that teams not using a good collaboration tool experience a higher project failure rate than those who do.
#3. Delegation Issues
Collaboration failures can also lead to delegation issues. Team managers are confused about which employees are available for certain tasks and which employees are unavailable.
Misinterpretation, confusion, and misunderstanding can fuel unrest and upset team unity. Worse, the wrong delegation of tasks can lead to failed projects, which can spell doomsday for any organization.
#4. Lower Team Morale
How can you expect a demoralized team to deliver the goods for your business? If employees are facing difficulties in collaborating then it can lead to an unsatisfied, frustrated bunch of individuals who are down on morale and self-confidence.
Employees get stressed out when they don't have good collaboration tools to work cohesively with their colleagues.
#5. Lack Of Engagement From Team Members
Poor collaboration can have a ripple effect on team members. It can show in the form of a lack of engagement of team members in team meetings.
If your team meetings are regularly silent, and employees who displayed high levels of engagement before have now stepped back then it's time to assess your team collaboration or the lack of it.
How Affordable Collaboration Tools Can Help SMBs

Alright, we have read how poor collaboration can hamper your team morale and productivity. Your SMB will struggle to meet set goals and objectives unless you use a reliable and functional team collaboration tool, which will help them share and collaborate on tasks in an efficient way.
Let's take a look at what affordable collaboration tools bring to the table of SMBs.
#1. Improved Speed And Efficiency
Which business does not want its employees to work up a good speed and high efficiency? If you're using a good collaboration tool then your SMB is likely to register a sharp increase in both. The tool automates your tedious manual tasks, and your team can achieve more in less.
For example, creating, storing, organizing, and collaborating on paper documents can be both time-consuming and stressful. A collaboration tool helps you with easy storing and collaborating on digital files and folders, which saves a lot of time and effort for your workforce.
#2. Improved Communication
A good collaboration tool facilitates workplace and team communication, which enables employees working across different geographical locations to share their ideas, suggestions, and feedback on time, in the form of docs, messages, audio, and video files.
Watch out for the word "time" here because a delayed communication is likely to lose its value. Emails can pile up, be ignored, or be hard to find, but a collaboration tool greatly reduces the dependency on emails for intra-team communication.
#3. Staying Updated With Advancing Technologies
Businesses need to keep a close eye on changing trends and technologies, which can help them to be more efficient and productive. Embracing cloud-based collaboration software means you are replacing outdated, paper-based work processes with quick, digital systems that also cut down the risks associated with paper records.
#4. Enhanced Project Management
Managing multiple projects simultaneously can be an overwhelming task for project managers in SMBs. A good collaboration tool can help a great deal. The tool offers a wide range of features in a centralized location that can be used by both team managers and team members to stay on the same page.
Project managers can have better control over tasks and teams by using advanced features, like Task Management, Time Management, Gantt charts, Kanban boards, Online Proofing, Live Chat, File Management, and much more.
#5. Improved Employee Engagement
Using a good team collaboration tool results in making your employees more efficient as they can understand job requirements better and are able to complete them quickly.
Also, the tool helps to unite remote team members working from different locations, which makes them feel more inclusive and valued. Engaged employees are the most productive employees, and play a vital role in helping their organizations outperform and outrank competitors.
5 Affordable Collaboration Tools For SMBs In 2021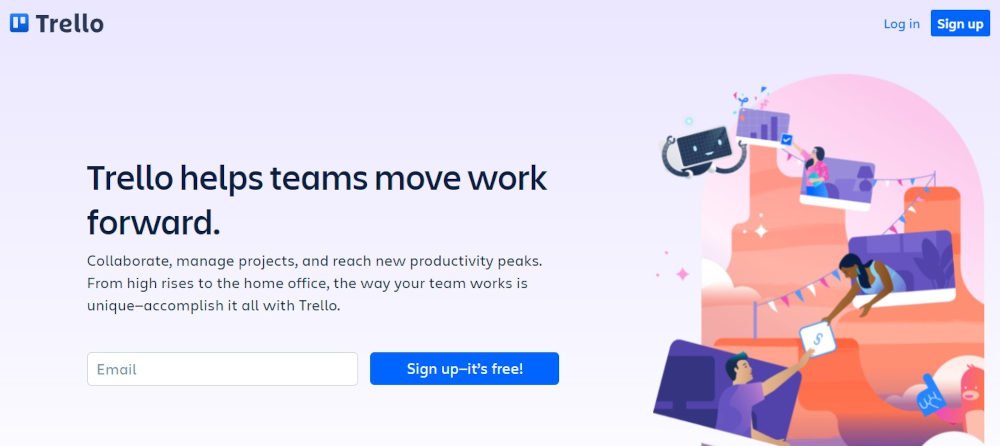 Trello is a digital collaboration tool that organizes your projects into boards. Trello gives you a visual of who's working on what, and where things are under process. It also shows the progress of every individual task and project.
You can also say that Trello is like a virtual whiteboard that you can take anywhere, and access on your mobile, laptop, tab, or PC. The whiteboard is filled with lists of sticky notes, with each note as a task for you and your team. Trello is an easy, affordable, and visual way to collaborate with your team members and manage your projects.
Main Features:
Drag-and-drop editing
In-line editing
Progress meter checklist
Card records archive
Easy upload
File attachments
Detailed overview of front/back cards
Deadline alerts and notifications
Pricing:
A Free plan is available. The Business class plan is available for $10/user/month. The Enterprise plan is available for $17.50/user/month.

ProofHub is a top-rated project management and team collaboration tool that packs more punch than its weight. With all the powerful tools available in a centralized location, your team members do not need to use different tools separately.
The tool is easy to use and offers fixed pricing plans, which makes it an affordable and functional option for SMBs. You can easily plan, organize, collaborate, and deliver projects of all sizes, on time.
Main Features:
Table view
Task management
Timesheets
Group chat
Kanban board
Gantt charts
Online proofing
Stickies and Bookmarks
Notifications
Pricing:
The Ultimate Control plan is priced at $89/month, billed annually.
A collaborating and bug tracking tool for all your project management needs. zipboard is a visual feedback and issue tracking tool that specializes in collaboration with all, be it, team members, clients or other stakeholders. It lets you annotate on live web pages and simplifies your bug tracking process for web developers and eLearning reviewers.
With zipBoard, review all your online proofs on a centralized platform regardless of the digital content and get rid of the endless email chains and screen-sharing meetings.
Main Features:
Easy to use, simple UI
No on-premise software
On-screen annotation
Various integrations
Screen-recording while live annotation
API creation on demand
Traceability of all versions and changes
Kanban and Table view
Online Proofing
Clear designated roles
Pricing:
Starter – $39 / month, Enterprise – Custom

Chanty is a popular team collaboration and communication tool that helps widely dispersed teams collaborate through instant messaging, voice calls, and video calls. You get unlimited message history and a host of powerful features to make your team super productive.
The simple interface makes it easy for users to start using this tool straight away and collaborate with other team members. Chanty allows teams to stay connected and you can turn any message into a task from messaging with quick actions.
Main Features:
Instant messaging
Task management
Video calling
Push notifications
File sharing
Activity/ Newsfeed
Code snippets
Pricing:
A Free Forever plan is available. The Business Plan is priced at $3/user/month.
Slack is one of the most popular team collaboration tools that bring your whole team together on a single platform so it can work as one unified team. Slack has the ability to replace emails completely.
This workplace communication tool can be used across multiple devices and platforms and offers a host of powerful features that allow your team members to chat both one-on-one and in groups. The tool offers tons of plugins and integrates with loads of other apps.
Main Features:
Slack connect
Channels
Messaging
Voice and Video calls
Apps and integrations
Workflow builder
File sharing
Enterprise key management
Pricing:
A Free plan is available. The Pro Plan is priced at $2.67/user/month. The Business Plan is priced at $5.00/user/month. The pricing for the Enterprise Grid plan is available on demand.

Troop Messenger is a user-friendly office chat app that offers contemporary features to SMBs so they can address their team collaboration needs. Using Troop messenger, you and your team can collaborate, discuss and share work across a single, simple, and smart user interface.
The tool is designed to facilitate and improve team communication through innovative features, like instant messaging, audio calling, read receipts, and screen sharing. You and your team can get things done faster using this workplace communication tool that offers more than its price.
Main Features:
Group calling
Join now
Remote screen sharing and controlling
Instant messaging
Voice and Video calling
Audio messaging
Dashboard
Live location tracking
Pricing:
The Premium Plan is priced at $2.5/user/month. The Enterprise Plan is priced at $5/user/month. The Superior Plan is priced at $9/user/month.
Final Words
There's hardly any SMB that would not like to save money wherever it can. Since collaboration tools have become the need of the hour, a large number of SMBs are investing in online collaboration tools to keep their in-office and remote teams united on the work front.
That said, not all SMBs can afford expensive collaboration tools. The five affordable and effective collaboration tools listed in this article will help you choose the right tool to match your team's collaboration needs.
We hope that you can now easily choose your pick and take your team collaboration to another level.
About the Author!
Nandini Sharma is the Assistant Marketing Manager at ProofHub. Nandini brings close to a decade of experience in the field and has successfully executed a number of brand-building and marketing campaigns throughout her career. A specialist in the field of marketing, Nandini is well-versed with technical know-how, and always stays on top of the latest trends in the digital world. You will find her constantly putting marketing strategies into motion with perfection. Over the years, she has triumphantly created a wide base audience on a number of popular online platforms. When she is not busy penning down out-of-the-box marketing ideas, she can be found channeling her creativity into art and craft activities.