Augmented Reality Technologies as a New Trend for E-commerce Business
Augmented reality technology is the new technology that has helped the eCommerce business to grow a lot, especially in the pandemic time. An eCommerce store must provide a smooth user experience similar to the physical store.
An eCommerce business is a rapid and fastest-growing business nowadays due to the increasing craze of online shopping. But one drawback of an eCommerce store is users can't have the authentic look and feel of the products, but it is possible by implementing AR in the store.
Augmented reality technology can help the users try the products virtually, and the users can get a seamless shopping experience like the offline store.
What is Augmented Reality?
Augmented reality is the collection of various technologies that will help businesses develop and redevelop real-life experiences on their device and wearables.
It is a technology that gives the feel of real-life objects virtually. It will help the users to try or analyse the product by overlapping the digital image of the product through the front or rear camera.
Augmented reality technology can help the eCommerce business grow widely and enhance their user's experience and improve their traffic value.
Various types of AR-based applications
Some online business owners have already implemented augmented reality technology in their eCommerce applications. Here are some examples of applications in which augmented reality can be used.
Marker-based AR
It is also known as image recognition. It can easily detect the object placed in the front of the camera and gives detailed information about the object placed in front of the screen.
When the device uses an augmented reality application, it can easily detect the object later. The application will exchange the thing placed on the screen with a 3D version of the object, enabling the user to visualize the marker from every angle.
Markerless AR
Objectless AR applications won't need to target any particular object in the real world. Such an application will enable the user to place the object anywhere.
Users are also allowed to rotate and move the object quickly.
Location-based AR app
A location-based AR application is a type of markerless AR that will use geographic location to show the digital content at a particular location. Such applications can be widely used for developing AR-based game applications.
One of the famous examples of AR-based game applications is Pokemon GO.
Project-based AR app
A project-based AR application will include projecting synthetic light on a physical area, and, in some cases, it also enables the users to interact with it.
Some of the common examples of project-based AR applications are holograms used in some popular films.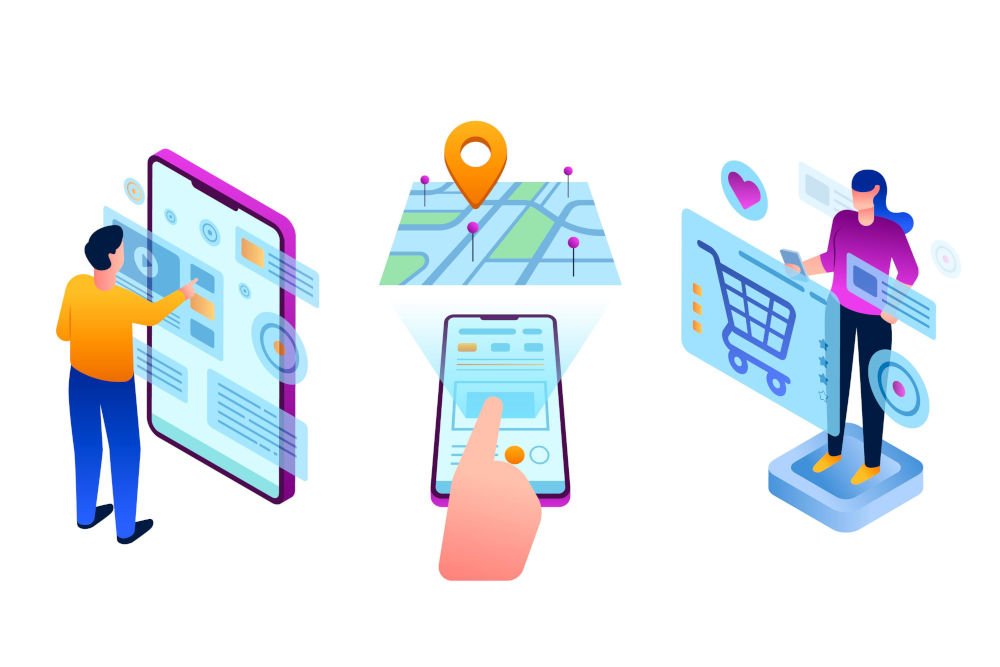 Benefits of using AR for eCommerce business
Augmented reality technology can smoothly combine digital information with the real-world picture to interact physically and provide a new user experience. Using augmented reality will not only benefit the user but will also benefit the users.
Benefits of AR
Customer engagement
Product personalization
Increases customers satisfaction
Augmented reality features
Improves conversion rates
Usage of AR in eCommerce business
Augmented reality technology will help online users check the product or experience the product in their home environment at their suitable time before purchasing it.
Using the facility of AR, your users can easily preview the product and select a suitable product.
Virtual try-on solutions
The main problem while purchasing online is how will the product look on us? If we are shopping through a physical store, we can quickly try and decide what to purchase.
To give a solution to such a problem, AR technology enables a fantastic feature of virtual try-on. Such a feature will allow the users to try the particular product virtually, and they can easily take an authentic look and feel of the product.
Preview placement
While purchasing something for your house, it is very difficult to identify how the object will look in that actual place. It is important to preview the actual look of the product and the place where it is kept.
The feature of preview placement will give the users a real-time view of the product and how it will look in real life. Some furniture apps have provided AR features for their users to have a real look at their furniture before placing it.
Interactive user manual
Suppose you want to sell a product with a positive learning curve before it becomes very easy for the new users to utilise. In that case, an interactive user manual can be an amazing AR application to help your users in understanding better.
It will respond to your user's actions, providing on-page support for the customers to use software, website, or an application. A myriad of AR user manual apps can scan the product and show the button in the real-life environment using the graphical arrow and animation with text.
Social media filters
Everyone will be aware of the Snapchat and Instagram filters that we can use currently because of the augmented reality technology.
These filters are developed for fun, and after the success, many brands are using social media filters developed by AR.
Top trends of AR in eCommerce business
The trends keep on changing with the changes in technology and demand. Below are some of the trends that can enhance your eCommerce business.
Buy now pay later
Such an option will allow the users to pay for the product in instalments for some time. Buyers often use such options for making credit card payments as the buy now pay later option is interest-free.
Some of the popular platforms that provide the facility of buy now pay later are PayPal, Afterpay, Affirm, and Sezzle. Mastercard is also expected to provide the facility of buy now pay later in the upcoming year.
Loyalty programs
People like to use eCommerce loyalty programs because customers can get regular rewards for repeat purchases. Customers can get discounts, cash-back, purchase coupons, freebies.
Many popular companies can access the data from their loyalty programs to analyse their customers' purchase behaviour and gift them with special offers based on their buying history.
Sustainability
Obtaining eCommerce sustainability means creating a brand that will support environmentally friendly practices initiating green packages to eco-friendly shipping.
It is helpful for the environment and is also an important problem for a plethora of customers. In simpler words, going green will help to extend your market share while you will help to make the earth more livable.
Video marketing
Video is very useful for eCommerce so that online can get benefits of everything in detail, from product explaining videos to testimonials in their marketing deals.
It is also perfect for product marketing because people will identify the product and how it will look from every angle. Customers prefer videos instead of reading the product description.
Social commerce
Social commerce means selling products directly from social media channels. Marketing on social media involves short videos, paid partnerships, or advertisements.
Various social media platforms such as Instagram, Facebook, and Youtube Shorts.
Live streaming commerce
Live streaming commerce is a new trend in the eCommerce business where various brands live streaming by placing commercial products. Instead of providing a purchase link in the description, some platforms offer direct products from a live stream.
Live streaming is gradually getting popular in all parts of the world. Many brands can easily Live Stream shows on television, social media channels, brand's website, or mobile app.
The rise in mobile commerce
Mobile commerce is another fancy way to describe eCommerce business focused primarily on mobile app users, which makes it easier for them to purchase products from mobile phones or tablets.
Many eCommerce businesses are developing a mobile-first strategy as the traffic of mobile apps keeps on increasing. Using mobile payment systems, it has become easier to handle business from mobile phones.
Visual search
Technical, intelligent internet has used reverse image search on Google for a long time. Instead, technology has moved ahead by providing a virtual shopping experience.
With the help of the Google Multitask Unified Model Algorithm, a buyer can upload an image of something they want to purchase, and the search engine will show similar results to them.
Rise in B2B eCommerce
Due to the pandemic, eCommerce has gained a lot of attention and focused on Business 2 Consumer eCommerce. But it would be best if you did not ignore the Business 2 Business eCommerce, which has also seen a boost.
The B2B eCommerce report of Amazon shows the spread of capable B2B buyers amongst various industries. A portion of the government, healthcare, and education conduct most of their purchases online.
Conclusion
It is challenging to estimate the cost of eCommerce website development as it will directly depend on the trends and technologies you add along with the features and platform you choose for developing an eCommerce application.
The above blog indicates various things about AR in the eCommerce industry, how it can be used, and the benefits of using augmented reality technology.
You can go through the blog to get deep and detailed knowledge of new trends in augmented reality to enhance the eCommerce business.
About the Author!
Rahim Ladhani, CEO and Managing Director at Nevina Infotech Magento Development Company, helps global businesses grow by the internet of things development.