Best Free Online Website Builders for Professional Looking Brand Business Websites
The internet undergoes great evolution daily and the reason for this is because more and more people are using it. In case you want to become a journalist or express your views, the world of internet is there for you. You will be able to find all the information you need. Of course the best way to do so is to create your own website. If you don't know how to do these things, then you might want to hire someone, but in case this thing sounds interesting to you, then you might want to try some of the free builders that we are going to mention below.

If you want to develop professional and free websites, then WIX is the right builder for you. It is easy to use, customize and the best part here is you don't have to learn all those difficult codes. It also uses HTML5 which makes it incredibly fast and there are many different designs from which you can choose. The hosting here is completely free and you can even create facebook pages, mobile sites and different blogs.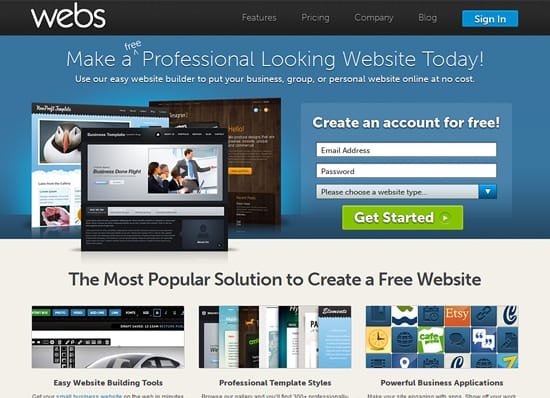 This builder offers various tools which are also easy to use and the framework is one of our favorites – drag and drop. There are many professional templates available and you can easily use them. The powerful business applications are available in case you want to interact with your clients. This builder offers some premium packages also. So now it's your choice whether to use its free website building package or to go for premium packages for more robust site creation.

This builder will also attract your attention thanks to its drag and drop platform and ease of creating different web sites. You can publish them on facebook, mobile phones, etc. Thanks to the many customizations there, you can be sure that your site will look as good as you want it to. As a beginning you can start with a free web page and later add some premium packages. Many people consider it as one of the best choices for online website building today.
Probably you need no introduction to this platform, because you have heard of it before. It lets you share anything you want – photos, texts, links, quotes, videos, music, anything from your browser, e-mail, desktop and whatever you can think of. You also have lots of customizations that you can use and this is why it would be great to use it. So it can be used as a best social sharing platform as well which has been founded in 2007 and have received over 40 billion posts till today.

Thanks to JIGSY you can make real-time changes to your website. This is actually one of the greatest advantages of this builder. The good thing here is it doesn't matter what sort of website you want, there will always be different options that you can use and different elements you can add like blogs, maps and galleries etc. There are approximately 180 themes and you have reliable and fast hosting.
In case you want to build your website fast and easy, WEBNODE is the thing you would like to have. You can use your domain also. This is the best solution for persons who are looking to set up a web-based shop. This builder is used by more than 7,000,000 companies and individuals all over the world. Another interesting thing is that you can use your mobile to manage your site easily.

It is another great website builder offering easy drag and drop method to create professional looking websites without getting into the details of programming languages. Here you'll also find a variety of website templates to choose from according to the niche of your website. IM Creator also offers domain, hosting and email facility at affordable price.
About the Author!
Guest Post by Shah interested to write about web design particularly online website builders. If you want to know about more options you can read reviews of free website builders here.