A Comprehensive Guide to Cloud Security
With the advancements in broadband internet and mobile technology, cloud computing — delivery of information technology services over the internet — has become highly prevalent.
The vast majority of the enterprises have already migrated their workloads to the cloud as there are many ways the cloud can drive profit to businesses. If anything, the pandemic and the resulting remote work culture has accelerated cloud adoption more than ever.
However, an organization must also be fully aware of various cloud security threats, mainly when using the public cloud. No business nowadays is safe from cyberattacks. On the one hand, successful cloud migration helps reduce cost and improve scalability; on the other hand, security lapses can derail your business.
So, here's everything you should know about cloud security, including the risks, best practices checklist, and top cloud security certifications you should opt for.
What is Cloud Security?
Failure to protect their cloud environment against cybersecurity threats, internal or externals, can cost companies millions.
And that is why every organization needs to employ cloud security, which involves the technologies, controls, and policies to keep their data safe across virtual infrastructure, applications, and platforms.
Even though many different teams within a company could be responsible for cloud security, it is mainly a shared responsibility between the organization and its cloud vendor.
Reputed cloud providers generally do their best to avoid cloud security issues. However, they do not have much control over how companies use their services, who has access, and what data they add to it.
Often, organizations can unintentionally hamper cybersecurity in the cloud with their access policies, configuration, and sensitive data. And so, it is imperative to have knowledge of cloud security to avoid cyber risks.
Why is Cloud Security Important?
Every public or private cloud is open to almost the same type of security risks. However, private cloud is naturally considered more secure because fewer people have access to it.
Also, it can incorporate unique security features. Still, most organizations prefer public clouds for better utilization rates, and the worldwide market for public cloud services is assumed to grow

Illustration by Aga Jucha-Kasperczyk via Dribbble

Below are the main factors that have pushed businesses to adopt cloud security practices.
#1. Cyber attacks are on the rise
The accelerated adoption of cloud technology goes almost hand-in-hand with the volume and sophistication of cyberattacks.

Cloud-based infrastructure, being directly accessible from the public internet, is often improperly secured. As many companies use the cloud, the attackers are likely to repeat a successful attack more times with a high probability of success. And so, cloud deployments are often a common target of cyberattacks.
#2. To prevent data loss
Data loss can happen because of various reasons like human error, intentional alteration or corruption of data, software errors in 3rd party applications and plug-ins, or hacking such as the high-profile Google attack, etc.

Recent security research emphasizes that many companies still have unprotected data and poor cybersecurity practices, making them vulnerable to data loss.
#3. To overcome compliance issues in cloud computing
There are several industry regulations, strict guidelines on how companies should manage and protect sensitive data on the cloud. Accordingly, you may need to comply with regulations like GDPR, PCI DSS, SOX, etc., and handle the public cloud's security vulnerabilities.
Top 3 Advanced Cloud Security Challenges
There are specific differences in the security challenges for private and public clouds and IaaS and SaaS. However, some common prominent threats are – data breaches, account hijacking, service traffic hijacking, shared technology, insecure interfaces, inept cloud storage providers, etc.

Here are the advanced cloud security issues you should know to identify and fix on time.
#1. Misconfiguration
As disclosed in the 2020 Cloud Security Report, 68% of companies consider misconfiguration their most significant concern. Misconfiguration occurs when a cloud-related system, asset, or tool, is configured improperly and subsequently endangers the system and exposes it to data leak or a potential attack.
#2. Insecure API Cloud Computing
According to a study, over two-thirds of companies expose APIs to the public to allow external developers and business partners access to software platforms. The survey also reveals that the business strategy of 61% of organizations relies on API integration.

Increased dependency on APIs opens several opportunities for cybercriminals. For example, they can exploit inadequate authentication and taint public online Docker hubs with cryptocurrency mining code.
#3. Data Visibility and Control
87% of the IT professionals believe that a lack of cloud visibility obscures the security threats to their organization.

Companies mainly experience low visibility into their public cloud environments as the data and tools supplied by cloud providers are insufficient. And due to lack of visibility, they have delays in detecting and resolving security vulnerabilities and exploits.
6 Best Practices for Cloud Security
Nowadays, almost every organization uses cloud services for one or another purpose, even though they have not completely migrated to the cloud. For instance, they might be using Box to store data or productivity tools through Microsoft Office 365.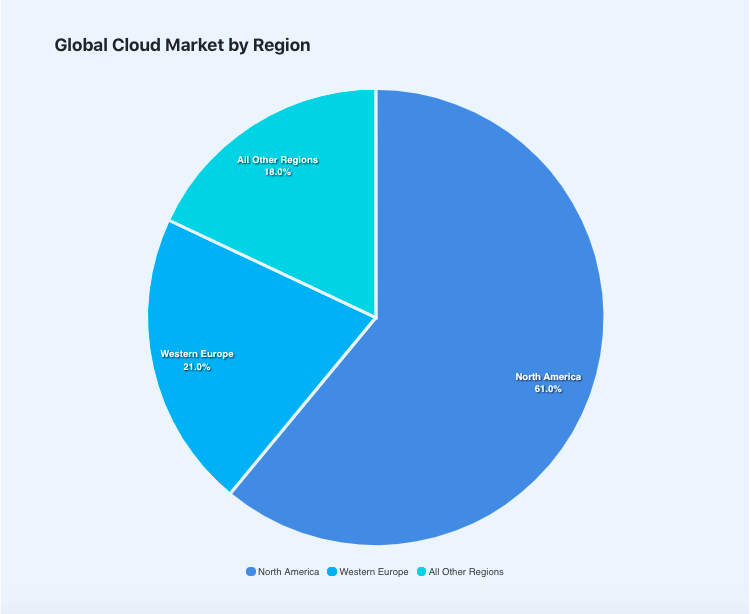 The point to keep in mind is – the specifics of your company's cloud security strategies will be different depending on your cloud usage and requirements. Nonetheless, below are the best cloud practices that every business should implement to secure their cloud environment.
#1. Carefully select the cloud service provider
Every cloud vendor has different security measures and uses distinct mechanisms to preserve your data or applications.

First, precisely understand your security goal, then go through the list of their security features and additional paid services, and find where you may have to supplement it with third-party services.

Never hesitate to ask detailed and explicit questions pertinent to your industry, regulatory requirements, use cases, and any other concerns you may have.
#2. Analyze your cloud security SLAs
A Service Level Agreement (SLA) is a commitment between a cloud services provider and the client, setting expectations for the relationship.

The contract can be defined at different levels like customer-based SLA, service-based SLA, or multi-level SLA. It specifies parameters like uptime, latency or the response time, warranties, service components reliability, each party accountability, compliance regulations, etc. SLA will also help you understand your shared responsibility model.
#3. Define cloud usage policies for all employees
Cloud policies essentially serve as guidelines under which your organization must operate in the cloud. There are high chances of the company encountering resistance from the employees while moving to the cloud.

Therefore, your employees should be well aware of the ins and outs of cloud policies so that they wouldn't compromise security. Motivate and encourage your team to experiment by adhering to the compliance, encourage them to attend AWS summits, industry events, and similar technology events.
#4. Secure your user endpoints
Endpoints such as smartphones, desktops, and laptops, function as access points to an enterprise network and create entry points for cybercriminals. You safeguard the data and workflows associated with each device connected to your network by securing your endpoints.

An Endpoint Protection Platform (EPP) provides system administrators with a centralized console installed on a server or network gateway and allows cybersecurity professionals to manage security for each device remotely.
#5. Quickly update security patches
Security patch management is a critical task that businesses must perform at any cost; after all, no shipped software is error-free. And so, you need to patch operating systems for your endpoint devices and servers, vendor products integrated into your environment, and of course, your own software.

A robust security patch management process should address several factors, from security vulnerability detection and evaluation to managing risks in case of conflicting actions or unexpected troubles.
#6. Penetration testing for compliance and audits
Penetration testing is a proactive method to emphasize application-level security concerns to development and management teams. Routine security audits enable security teams to focus on high-security vulnerabilities so that you can stay one step ahead of cybercriminals.

So naturally, every company needs to undertake it on a regular basis. And the frequency of the tests varies depending on the organizational structure and risk assessments.
Popular Cloud Security Certifications
Various cloud security certifications help beginners and advanced practitioners to understand the security controls, corresponding risks, and dynamic requirements of cloud computing models.

Some certificates are generalist, while some are built around specific platforms. Here are the main three certifications to acquire high-level knowledge and technical skills and become a cloud security specialist.
Certificate of Cloud Security Knowledge – Earning the CCSK enables you to learn how to develop a holistic cloud security program according to globally accepted standards. It includes best practices for identity access management, application security, data encryption, cloud incident response, securing emerging technologies, and more.
Certified Cloud Security Professional – CCSP is more appropriate for established cybersecurity professionals. The certification enables them to obtain even more advanced knowledge of cloud and data center security concepts.
Azure Security Engineer Associate – Earning this certification validates the knowledge and skills to manage identity and access, implement security controls and threat protection, and protect applications, data, and networks as part of the end-to-end infrastructure.
Conclusion
Technology is a power that hackers use to hurl attacks at any organization's critical systems and sensitive data. So, if you are hosting your data in the cloud, you need to be aware of several crucial factors. Like, what information you're transmitting, where it's going, who's accessing it, whether it's being exfiltrated, etc.

But yet again, it is none other than the advanced technology that comes to the rescue and helps the companies to instill layers of security and stay protected.

So, follow the best cloud security practices mentioned here, have a cloud incident response plan in place, and safeguard your organization against any demeaning cyberattacks and data breaches.
About the Author!
Hardik Shah is a Tech Consultant at Simform, a leading web app development company. He leads large scale mobility programs that cover platforms, solutions, governance, standardization, and best practices. Connect with him to discuss the best practices of software methodologies @hsshah_