In the busy world of today, it is really hard for an entrepreneur to withstand market competition. It becomes stronger with every passing year or even month. Dozens of companies offering the same services you do will try their best effort to win customer loyalty in any possible way and it's up to you to fight for your business promotion. Launching a business website is the first step to your company advancement.
Whether you intend to establish web presence for your local business, attract new leads, retain the existing customers, grow your client base or promote your company on the web, having a website is what you should start with. The thing is that a business website helps reach several objectives at a time. It will inform your clients about your business news and updates. It will also make them aware of specific business-related issues that can make or break your company success.
It's obvious that the prevailing amount of business owners just cannot invest as much time as needed into their website design. In this situation, website builders are always at hand. There are a lot of website builders. To save your time, website building experts at MyBestWebsiteBuilder mentioned the most popular in their website. Website builders allow creating professional business websites in almost no time. The result they ensure, however, will certainly come up to the needs of the most demanding entrepreneurs.
Let's have a look at the easiest business website builders and their features to help you starting a business website faster.

Purpose
SITE123 is a universal website builder, by using which you can launch almost any web project. Business websites are not an exclusion. Projects created with the system provide an abundance of functions, which enable visitors complete their tasks. With SITE123, you can build a standard business website, a landing page or even a small-to-medium online store. All projects will feature excellent performance satisfying the needs of customers.
Features
SITE123 can boast a powerful feature set, which is more than enough to launch a business website. The highlights of the system are:
Free Business-Specific Templates. The website builder offers an impressive collection of industry-specific templates, which are responsive by default. Whatever market you specialize in, you will certainly find a theme to start with here. You can also select a blank template to design your website from scratch. Design customization tools you will help you develop the website you intend to have.
Multilingual Tool. SITE123 has an integrated multilingual tool, which is not available in many other contemporary website builders. By using the tool, you can build a business website in several language versions. As a result, your chances to find foreign customers and deal with partners from abroad increase a lot.
eCommerce Module. SITE123 allows building an eCommerce website so that you could effectively manage your orders and products, accept PayPal and other payments, set up your web store, integrate website code to boost conversions rates, create and manage coupons etc.
Cost
SITE123 offers flexible pricing policy. What's important, the cost of the plans differs with regard to the location you reside in. Such nuances as disc storage space, bandwidth volume, special features, template choice etc. also affect the cost of the plan chosen. The website builder offers a free plan, but this is definitely not what you need to get started with your business website. This plan works well for testing the system and getting used to it, but it won't let you create a decent business website because of the available restrictions. Instead, it is recommended to choose between the Basic, Advanced or Professional Plan. Their cost currently constitutes $9.80, $15.80 and $21.80 per month correspondingly.
Summary
SITE123 is a nice choice to build a business website. The system allows creating eCommerce websites and landing pages, while its features let you do that with no hassle at all. The website builder is simple, intuitive and convenient for non-techies and web design pros. It comes with responsive templates, abundant design customization tools and a pretty nice selection of plans that meet your particular web building tasks.
Purpose
Mobirise is the software, which requires download and installation to be used for web building purposes. The system is quite simple and it takes a couple of hours only to get used to managing it. The interface of the system is intuitive and simple. Even a novice will lean how to use it effectively. Apart from building classic business websites, Mobirise allows launching quality landing pages and portfolios that are also in demand with users.
Features
Mobirise features are outstanding and specific. You won't find many of them in other website builders and this is what makes them so useful and interesting. The most essential features include:
Content Blocks. Mobirise websites are generally comprised of specific content blocks as the system almost doesn't have standard templates. These blocks reveal specific content and you can select any number and types of them based on your website functionality. As of today, there are more than 800 content blocks in the system, proper arrangement and positioning of which results in the formation of website layout.
AMP Website Builder. Mobirise websites are mobile-optimized by default, but the developers of the platform have gone far beyond this feature. They have introduced an advanced AMP Website Builder that boosts web page loading and provides better web browsing experience for the owners of mobile devices.
GitHub Pages Hosting. Mobirise allows selecting any host you need for your website, but there is still an opportunity to host your site with GitHub at no cost at all. This is a benefit for business owners willing to create multiple websites with Mobirise.
Design Editing Tools. To give your business website personalized design, you can make use of design customization tools Mobirise offers. These include media integrations and marketing tools, style and font adjustment, background selection and set up etc.
Cost
Mobirise is a free website builder. What you'll need to pay for is domain and hosting. However, it is possible to get free hosting by publishing your readymade website at Github pages. If you wish to launch a personalized website, you may also shop for paid extensions and premium themes. They are available in the corresponding section of the official website of the service. Just browse the section to select the extensions of themes you'd like to go for. Their cost varies and constitutes from $19 and up to $39. You can also purchase the all-in-one kit that comes with all the premium templates and extensions. When getting the kit, you'll save 77% of the budget you would invest in buying the elements separately.
Summary
Mobirise is the downloadable software for Windows and Mac. Websites created with the system are quality, professional and functional. They are mobile-optimized right from the start, but you can also make use of the AMP Website Builder Tool to boost the loading of your mobile pages. The website builder is free for all users. Both newbies and professional web designers can explore and master it well to launch professional business websites.

Purpose
Ucraft is a drag-and-drop website builder, which allows launching professional business websites. You can also use the system to create eCommerce websites and landing pages. It comes with multiple design customization settings, which makes it a nice choice for users with diverse web design background and expertise level.
Features
Ucraft works well for professionals and newbies, providing multiple features that contribute to effective, quick and easy website creation. The major features are enlisted below:
Responsive Business-Focused Templates. The website builder has a rich template collection, which includes responsive business templates that fall into niche-specific categories. Template change option is available here any time you wish to switch to another theme.
Multilingual Application. Ucraft has a multilingual app, which allows launching business websites in various languages. This helps boost customer trust, establish business relations with foreign partners and engage client loyalty in the long run.
Code Integration. Even though, Ucraft template customization doesn't require coding knowledge, web design experts can still edit the existing codes and integrate new ones to give the themes personalized look.
Landing Page Creator. This feature makes it possible to launch landing pages from scratch and in no time. This is a handy tool for entrepreneurs, who need quality landing pages designed with maximum efficacy.
Logo Maker. Business owners will value an opportunity to design and add a business logo to their websites. This will effectively boost company credibility and make it stand out from the crowd.
Designer Tools. Ucraft Designer Tools will effectively enhance your business website design, giving it personalized and unique look.
White Label. Ucraft White Label Plan will come in handy to business owners, who wish to launch their own website builder business and make profit from it.
Cost
Ucraft currently offers two pricing plans. The free plan will come in handy to users willing to test the system and learn its features. You won't be able to launch a business website with it. To do that, it makes sense to upgrade to the paid plan. Here you will be able to launch business websites with decent performance and advanced design at affordable cost. The cost of the plan is $8/mo only, but if you make annual payment, you'll save up to 20% of the entire cost of the plan for a year. This is a nice offer for users, who have serious web building intentions.
Summary
Ucraft is a website builder, which deserves the attention due to its convenient drag-and-drop editor, responsive business templates, deep customization tools, effective SEO optimization features and affordable pricing policy. The website builder also allows creating business logos and landing pages, use multilingual tool by using specialized system options.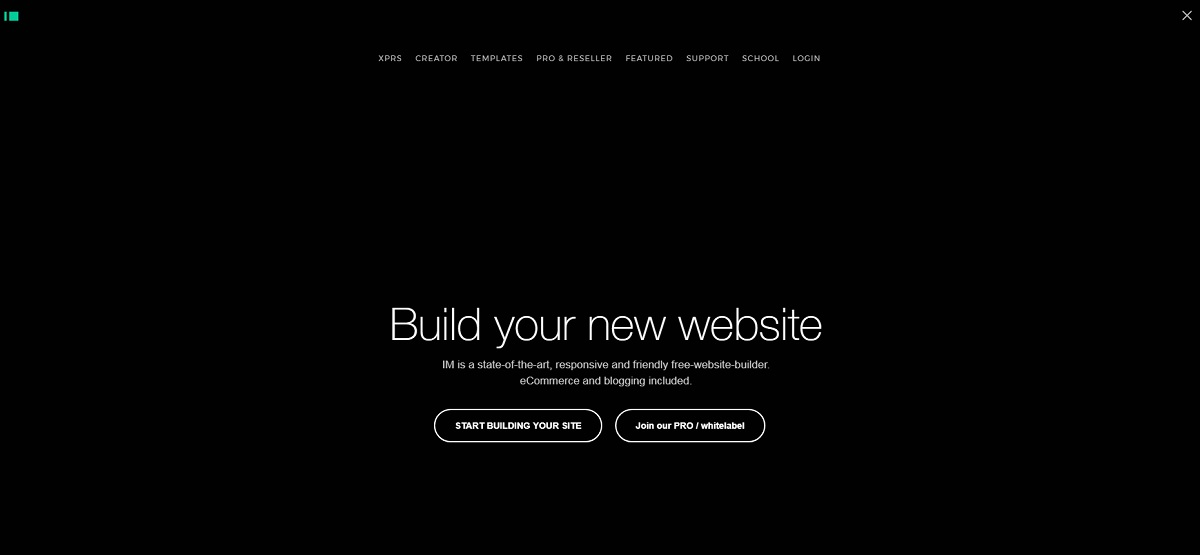 Purpose
IM Creator is a free cloud website builder, the entire feature set of which is focused on launching business websites and small-to-medium eCommerce projects. The system is user-friendly and intuitive, but it ensures decent result granted that you are aware of its nuances. It works great for entrepreneurs, whose web design skills are not on the top notch level. Professionals can also use the service due to the availability of the advanced White Label plan.
Features
The website builder can boast a powerful set of features meant to enhance website design and give it excellent performance. The most useful features are:
Use of Stripes. When forming website structure, the system uses the enhanced Polydoms technology. It implies the application of Stripes – content blocks, which can be chosen and arranged on a web page with regard to users' needs. This makes the web building process quick, simple, interesting and effective for everyone.
Mobile-Ready Templates. Whatever template you will go for (there are dozens of them in IM Creator), it will be optimized for mobile viewing. This allows customers get access to your business website any time of the day and from any convenient place.
eCommerce and Blogging. IM Creator has decent eCommerce and blogging platforms for quick, easy and effective creation of blogs and online stores. There are multiple thematic templates to simplify your choice and meet your web design requirements.
White Label. By using the stunning White Label Solution offered by IM Creator, the users of the system will be able to start their own business using the service under the required brand name.
Cost
If you are a creative, an artist or a student, the use of IM Creator will be absolutely free for you. To launch a full-featured website, it makes sense to upgrade to the premium subscription. If you wish to get the most out of your business website performance or just intend to use the website builder under your own brand name, the White Label offer is just what you need. It makes it possible to get full control over the system and the entire web building process. You will also avail a chance to build high quality premium websites, unlimited hosting and other privileges.
Summary
IM Creator is a decent solution for entrepreneurs, who have an intention to launch a professional website at reasonable cost. The website builder ensures simple yet effective web building process. It is intuitive and offers excellent design customization options for all user categories. With IM Creator, you'll be able to build responsive websites and make use of the White Label tool to launch profitable website builder business.

Purpose
uKit is a cloud website builder, the feature set of which is geared towards building small and medium business websites. The platform is extremely easy-to-use, convenient and it comes with several pricing plans that are cheap for everyone. The service is worth the attention of newbies, who are just exploring the basics of the web building niche. It is also a decent choice for experienced web designers, who work on the development of client projects and can't afford wasting their effort and time working with complicated programs.
Features
uKit is mostly oriented on building websites for small and medium businesses. Its feature set comes up to various web building needs and includes the following points:
Responsive Business Templates. Whatever business you run, there are always dozens of templates to meet your needs here. The templates are responsive by default and their customization takes less time than you could imagine. The preview mode allows watching the work in progress and make the edits, if required.
Online Cost Calculator. Integrating an online cost calculator into a website is a notable advantage for any business owner. You can connect uCalc with a few clicks to enable your customers calculate the expenses, fill out the order form and make a payment. That's very easy and quick.
Business Widgets. uKit comes with a set of business widgets, which help you get the most out of your website performance. Some of them include Timer Widget needed to track time, Timeline Widget to show the steps you undertake to complete a certain task and more.
eCommerce Feature. If your business is centered around providing eCommerce services, then uKit will make your online store popular and profitable. The system comes with a powerful eCommerce widget, integration of which can help you create and manage small-to-mid-sized web stores. Another way to launch an eCommerce website with uKit is to connect your existing Ecwid account (or set up the new one) and start managing your web store based on your business objectives.
Cost
uKit is one of the most affordable business website builders you could ever find. The website builder does not offer any free plans, but there is still a 14-day trial for users willing to have a look at the major features of the service. Entrepreneurs, who have already decided to use the service for their web building needs, may choose any uKit plan as all of them are full-packed with business features and won't hit you on the pocket. These include Premium ($4/mo), Premium+ ($8/mo), eCommerce ($9.6/mo) and Pro ($12/mo) plans. Whatever pricing option you will go for, you will benefit from using it in the long run.
Summary
If you actually intend to launch a decent business website with excellent design and stunning performance, using uKit is the right option you won't regret. The system is simple and convenient for everyone. Even if your are not a web design pro, you will explore it in a couple of hours. Websites launched with the website builder do not have appealing design, by they also come up to multiple business requirements. It is possible to build any business website with it, including a web store. The pricing policy of the service will not leave you unsatisfied as well. uKit is affordable, convenient, easy and safe.
Bottom Line
Building a website for your business is not an easy task, especially if you are not proficient in the niche. At the same time, this is a responsible endeavour, which can eventually bring multiple benefits granted that you choose the right approach. Entrepreneurs, who have made the decision to start professional website from scratch or to move the existing one from WordPress, will certainly appreciate using website builders. SITE123, Mobirise, Ucraft, IM Creator and uKit work best for this very purpose. These website builders come with extensive business functionality and a broad range of tools needed to launch a decent business website. They have affordable rates, which do not compromise with the result. Whatever service you will eventually go for, you won't regret using it. Just make sure you have tested each of them well to see what they can actually offer you.
About the Author!
This article is written by Howard Steele. Howard has been involved in website building for about 10 years. His rich experience is online marketing and web design has made him an expert in web development. Howard is the owner of SuperbWebsiteBuilders.com – the website, where he eagerly shares his knowledge with the target audience by writing informative reviews and comparisons of popular website builders.