Today we want to discuss with you the common web tools and services that are used by professionals. Let's talk about the particular web resources which have proven their capability of delivering outstanding quality in no time.
Below are almost 30 web resources which are the best in their domain or are quickly growing and are attracting the market attention. We included website builders, WordPress themes, web design deals, invoicing platform and many other useful things.
Check it, we are waiting for your opinions.

ListingPro was the No.1 Directory WordPress theme with 5 star reviews and rating for the excellent customer support, designs and features based on 400 reviews. This theme can be used by anybody, there is no special knowledge required or any experience. Using ListingPro you can quickly have you own Yelp, Capterra, Yellow Pages and other examples directory, monetizing it from day one. Some of the top brands have implemented ListingPro for their online directory services, which is another certification that this is the best WordPress directory theme on the market.
You will find over 30 real-life examples of directories based on the ListingPro solution. It's a powerful way to test and see how this WordPress theme can be used for your project, much better than a basic demo which everybody is including.
The pricing starts from $69 for the basic license which is including Lifetime support, easy setup assistant, 1 click demo import, 6 months free support and more.
Having usability tests for your website or mobile app is super simple today and budget friendly. Userfeel can do that for you in less than 24 hours and real-life testers will "feel" your website and share their opinions with you and your team. You will find out WHAT they are thinking and WHY they are making certain actions on your website. It's exactly the same experience visitors are having on your website.
For $49 per user session in desktop testing, you will get a video with voice over comments, you will see the mouse cursor of the tester and you will receive his answers for the questions you have provided. You will be 100% in the process by choosing how many testers you want to be part of the project, you filter them by age, country, gender, language and web experience, you can add as many tasks as you want as long as can be made in 20 minutes and you will ask questions that they will answer.
The process is great and simple. Try it for free and check the examples provided on their homepage.

DealJumbo is one of the first design deal websites, launched in 2013 and delivering outstanding, hugely discounted bundles and items for graphic designers and developers. On their websites there tons of products, starting with beautifully designed graphics, premium fonts and ending with mock-ups and other products.
On their website, they have a dedicated section for on sale products, which are even more discounted, and a Freebies section where very good stuff can be found for free.
Sign up for the daily newsletter and download 1580+ free fonts & graphics. All comes with standard commercial license.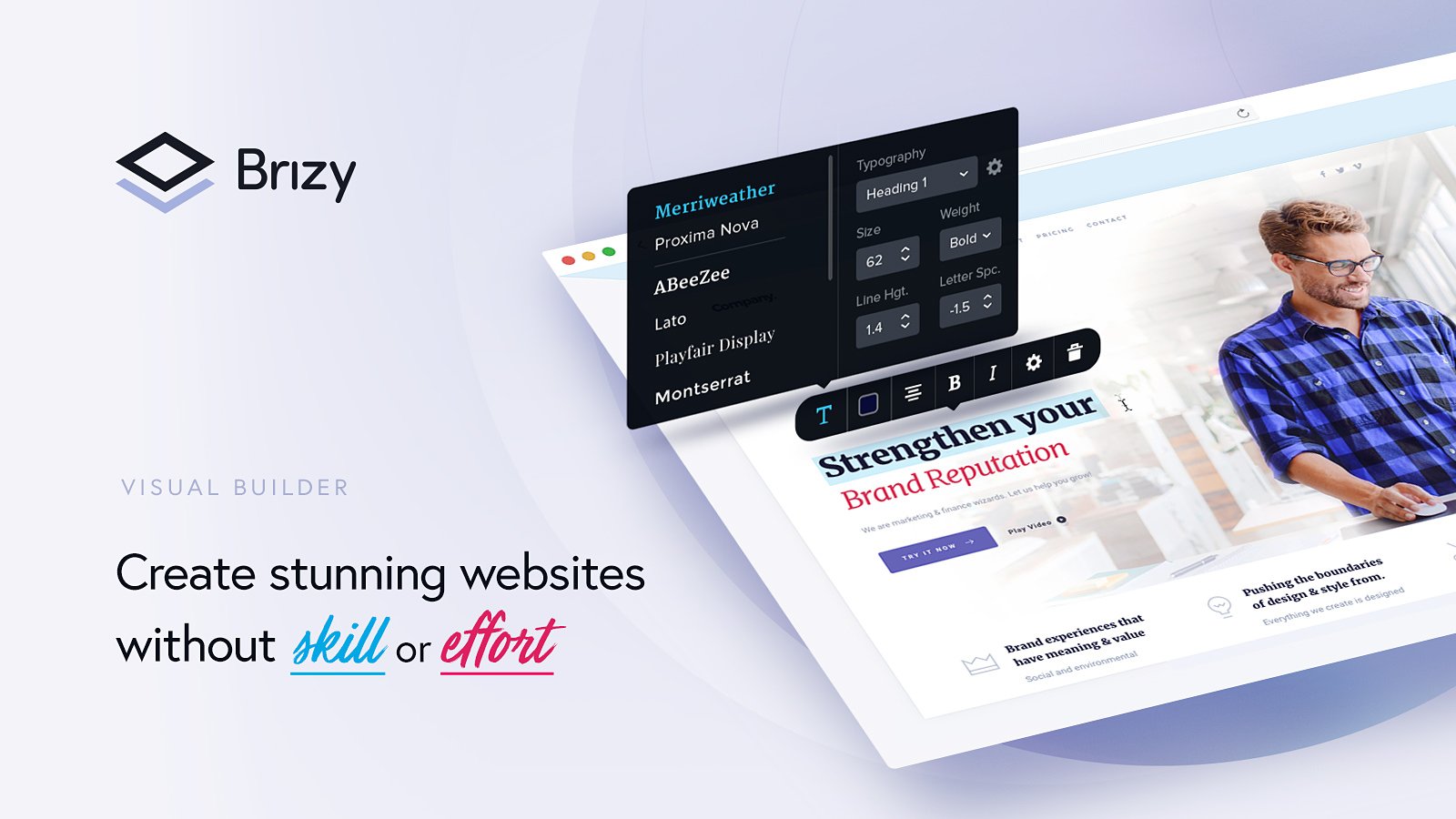 Brizy is an excellent WordPress page builder that can be used by everybody: web designers, developers, and entrepreneurs that need a website for their next idea. You don't need coding skills or any special knowledge. The interface is minimalist and intuitive, you will always have in front of you only the options that matter.
You can download the WordPress plugin for free and use it to create a page or even a complete website. There are 150 premade blocks to start from. The level of customization is deep but you won't feel overwhelmed as the interface will help you every step you make.
Download Brizy plugin for free and start building your WordPress websites visually. You can test the builder right now on their website plus a Pro version is in the works, that will help you create visually even easier and faster.

Deeezy is the web designer's paradise, being loaded with awesome and hugely discounted great stuff. Premium and free fonts, graphics, mockups, gorgeous photos and textures, vectors and other great items can be found on this website. Save money and time by getting these deals.
There is a 0 cost subscription plan which will give you access to the free items and the premium plans start at $9 per month.
Everyone's business is different, and that means that each one chooses what works best for them. For thousands of companies, actiTIME is the best time tracking software that addresses all of their pain points. actiTIME helps them streamline timekeeping, task management, payroll and billing processes, saving hours of work every day. Start using actiTIME today, streamline your project management.

Discussing visual content within teams can be extremely time-consuming and frustrating if the right tool is not used. Notism will help you have an ease collaboration, letting you make sketches and comments directly on your work, share, review and sign-off visual content right where it makes sense and much more.
Goodie can help you have a stunning website for a fixed price which starts at $999. Their professional web development services is a perfect fit for small companies, simple WordPress websites, email templates and web designers looking for a reliable developer partner.
Discuss your project with Goodie and work with one of their developers to get a gorgeous website.

Codester is an awesome and complete marketplace for web designers and developers. You can buy thousands of products like Scripts, Codes, and App Templates, all kind of website themes, Plugins and gorgeous graphics. Everything is there, including a Flash sale section where products with huge discounts are being sold.
Heaven for web designers and developers should be a website with outstanding good-quality and free products. There is such a website and it is called Designhooks. It is loaded with awesome good stuff, very well structured and everything is being free.

Uncode is a pixel-perfect and complete WordPress website theme which you can use to build stunning websites without spending more on additional plugins and without writing a single line of code or having special knowledge. It is super simple, Uncode is coming with a tailored version of the powerful Visual Composer, having advanced functionalities.
The price is $59 and you will get future updates and support for 6 months.
Loaded with many gorgeous websites, a powerful drag and drop builder and lots of features, Pixpa is the most convenient way to create your online portfolio with integrated e-commerce, client proofing, and blogging tools. You won't write a single line of code and you don't need to have a special knowledge.
Try it for free for a period of 15 days, no credit card required.

Format is a lightning fast website theme using Bootstrap which you can use to build your next portfolio for free, without spending a single penny. The theme is creative, loaded with gorgeous graphics and features that normally can be found on premium, expensive themes.
Receiving the content on time from your customers is very important to respect the deadline. Content Snare will chase the customers for you, forget the normal hassle which happened in the past. You set the deadline, you select the template you want to use or you build one from ground 0, you decide the follow-up schedule and then Content Snare will do the work for you, letting you know when the content is being sent.

uSocial.pro is a tool for creating "Like" and "Share" buttons that can be embedded into any website in a few clicks. More than a hundred designs with "eye-catcher" technology will grab visitors' attention when viewing a page. "Social locker" grants access to your content if someone puts a  like or shares a link. Visitors will share content with followers in social media and attract new traffic to your website.
LogoAI is an excellent logo design software that you can use to build a beautiful logo instantly, for prices which start at $29. You start by entering your business name, you will have to choose from several designs and you can upload your logo on your website. It's very simple, fast and effective.

uCalc.pro is a tool that allows you to add a custom calculator to your website on your own. A calculator can be built from scratch or by customizing one of 15 ready-made templates. uCalc has lots of features: a form builder, various field types (text, number, checkbox, radio button), a collection of contact details, email and SMS notifications, PayPal invoices, statistics tool and integration with Google Analytics.
InkyDeals is the best design deal website on the market, being loaded with tons of items and deals that are hugely discounted. They are working with over 200,000 freelancers and if you want to make an extra income, you can sell your items on InkyDeals.

With Crello, everyone can be a designer. It's a powerful visual editor which comes loaded with 60 million photos, 11,000 templates, 33 design formats and 12,000 free pictures and vectors. You can use it for animated posts, social media, digital ads and printed materials.
Try Crello.
Converting subscribers into customers, subscribers and long-time readers is a hard task. MailMunch's drag and drop builder will quickly help you create forms that convert, without writing a single line of code or having special knowledge.

Elementor is the most powerful WordPress page builder with more than 900,000 active users creating stunning websites. You can use it with your favorite theme and even if you change it, the design will stay in place, not how it happens with other builders.
The price is $49 for 1 website, money well spent.
Controlio is a powerful computer and internet monitoring software that you can use monitor your employees (real-life surveillance, continuous screen recording, key logging and more), you can check for insider threats and increase productivity. The software is packed with lots of useful features that you should check on their website.
The price starts at $7.99 per user per month. Start a free 7-day trial.

UpTimeRobot is the popular website downtime check service on the market. Let 50 monitors check every 5 minute your website for free and you will get notified via email, SMS and other ways if something is going wrong. The premium plans include 1-minute check intervals.
InvoiceBerry is a professional invoicing platform which can be used to send fully customized invoices in less than 60 seconds, track expenses, manage customers and more. The interface is simple to use, always having in front of you only the options that matter. Pricing starts at $15 per month.

Are you looking for an easy way to wow your colleagues with the coolest laptop? StickerYou is your one-stop shop for stickers, labels, decals, and more. Start branding today with StickerYou personalized labels or custom vinyl stickers to make your messaging stick. You can order any size, shape, and order quantity.
Foxy.io is a powerful cart and payment page which supports over 90 payment methods and integrates with any website or. It is loaded with a ton of powerful features and backed with friendly support. Foxy.io makes it easier than ever to start selling online.

Pofo is a Premium and powerful, stylish and visually stunning, highly flexible and customisable, blazing fast and optimised for search engines, responsive and retina ready WordPress theme with great looking portfolio, blog and eCommerce features. Try the demo yourself to check lots of demo pages and elements offered by Pofo and you will surely love it.
With RumbleTalk anybody can add a web chat to his website, without writing a single line of code or having any experience. Choose a stunning online group chat theme from the gallery, or style your chat room however you want. You can use the intuitive advanced design tools or create your own chat theme using CSS. Engage your website visitors and increase your conversion rate.

WrapPixel has an outstanding team which is handpicking the items for you. There are lots of gorgeous admins templates, professional UI Kits, Mega Bundles and even a Freebies section. The quality of their products is very high, competing with the major brands in the market.