Have you ever wanted to create an eye-catching design for your small business but didn't know where to start? You're not alone. Many people feel intimidated by design and assume it requires expensive software and years of experience.
The rise of cutting-edge digital design tools has been changing the design landscape, making it more accessible to people from all backgrounds and skill levels.
So, let's take a closer look and compare complex design software to cutting-edge digital design tools, talk about the key features of current design tools, and see how you can use them in your business or for personal purposes.
The pioneering digital design tools
When there were no recent digital design tools like Canva, complex software tools were the only options for businesses and individuals wanting to create high-quality designs.
These tools, such as Adobe Photoshop and Adobe Illustrator, require extensive technical knowledge and a significant financial investment. They are often used by large corporations or professional design firms with the resources to purchase and maintain them.
The high cost of these tools and their steep learning curve made it difficult for small and medium-sized businesses to compete in the design industry.
Many companies simply couldn't afford to invest in purchasing complex design programs for creating professional-grade designs, especially at the beginning of their career.
Other companies may have had the resources to purchase complex design programs, but along with that came costs for hiring a designer for a full-time position, which some small or medium-sized companies couldn´t afford.
Let's take a brief look at the pioneering design tools.
Adobe Creative Suite

Adobe Creative Suite (CS) is a collection of software tools for graphic design, video editing, and web development by Adobe Systems.
It includes popular applications such as Photoshop, Acrobat, and InDesign that use different technologies like PostScript, PDF, and Flash. The final version of the suite, Creative Suite 6 (CS6), was launched in 2012.
It was also the last physical version of the suite to be shipped as boxed software, with all subsequent releases and updates only available for download.
However, as of January 9, 2017, Adobe Creative Suite is no longer available and has been replaced by Adobe Creative Cloud.
Mastering such complex tools was daunting even for experienced users due to its wide range of features and tools.
Adobe Creative Suite provided a complete set of tools for professionals to create, edit, and manage various types of digital media. For instance:
Adobe Photoshop was used for image editing, photo retouching, and digital painting;
Adobe Illustrator was used for vector graphics design, such as logos and illustrations;
Adobe InDesign was for page layouts and design, such as creating books, magazines, and brochures;
Adobe Acrobat was for creating and editing PDF documents.
CorelDRAW
CorelDRAW is a vector graphics editor that was first introduced in 1989. It is similar to Adobe Illustrator, primarily used for creating and editing vector graphics.
However, CorelDRAW also includes features for photo editing, layout design, and typography, making it a versatile tool for creating a wide range of visual content, such as logos, illustrations, posters, images, business cards, infographics, flyers, and reports.
Primary, CorelDRAW is licensed software that requires a one-time purchase or subscription, which again can be costly for small businesses with limited budgets.
Indeed, it offers a wide range of features and customization options but also requires technical skills and training to use it.
QuarkXPress

QuarkXPress is a powerful desktop publishing software used by professionals in the design and publishing industry for many years.
It definitely offers a broad range of advanced features and capabilities, but it is complex and complicated for small businesses.
It's no surprise, as QuarkXPress was initially designed for professional designers and publishers who deeply understand layout design, typography, and color theory.
As a result, the software is overwhelming for those without a design or publishing background. Many companies or small businesses don't have the time or resources to invest in the steep learning curve to master QuarkXPress. Especially since QuarkXPress is expensive compared to other desktop publishing software options.
The rise of user-friendly digital design tools
Design software has come a long way since the early days of desktop publishing programs like Adobe or QuarkXPress.
As computers became more powerful and affordable, the design software market exploded, with a wide range of tools and applications available to designers and non-designers alike.
Creating stunning visual content without any technical skills became much easier with platforms like Canva, Piktochart, Snappa, Pixlr, or Figma.
These tools allow anyone, from marketers to business owners, to create professional-looking designs and graphics without hiring an expensive designer or learning complex software like Adobe.
Melanie Perkins, the founder, and CEO of Canva, once pointed out that people typically needed to invest a whole semester in understanding the location of various buttons within the complex software, which appeared absurd.
Innovative digital, user-friendly tools have made design accessible to everyone, democratizing creativity and opening up new opportunities for individuals and businesses.
Whether you need to create a social media post, a presentation slide, or a marketing brochure, these digital design tools offer a simple and intuitive way to bring your ideas to life.
Key features and benefits of innovative digital design tools
The following digital design tools have revolutionized the way we think about design, making it easier and more accessible.
You no longer need extensive technical skills or a background in design to create stunning visual content.
Let's look at some of them and their features and benefits.
Canva
Canva has completely revolutionized how small businesses create content by allowing them to create professionally-looking designs without having any technical or design background, absolutely for free or at a low subscription cost.
It has become a popular tool starting with small social media marketing (SMM) agencies and continuing with big giants like HubSpot, Merlin Entertainments, etc. Canva offers:
Drag and drop feature that allows users effortlessly move and resize design elements such as text, images, and graphics simply by clicking and dragging them around the canvas. Users can experiment with different design elements and layouts, giving them greater creative control and the ability to refine their designs until they're right;
Extensive library of templates, graphics, and fonts;
Сustom designs for social media, presentations, marketing materials, and more;
Collaborative workspace, allowing teams to work together on projects in real-time;
Canva also offers affordable price plans. For $12.99 a month, you can have unlimited access to 100+ million premium photos, videos, and graphics.
The free plan offers over 250,000 free templates, 1+ million free photos and graphics, AI-powered design tools, and more.
Piktochart

Piktochart is a web-based platform that allows users to create professional-grade infographics, presentations, posters, reports, flyers, and social media content without extensive design experience.
With its easy-to-use drag-and-drop interface and customizable templates, you can create visually engaging content for your business or personal goals.
It has an extensive library of pre-made templates and design elements;
Various data visualization tools, including charts, graphs, and maps.
One of the standout benefits of Piktochart is its high degree of flexibility. Users can access all templates, photos, and other design assets, regardless of which pricing plan they have subscribed to.
You can also purchase separate downloads without committing to a monthly or yearly subscription. It gives users greater freedom and choice regarding the assets they use in their designs while also allowing them to remain cost-effective and flexible in their approach to design.
Among its clients are such companies as Disney, United Nations, Booking.com, Indeed, Johnson&Johnson, and others.
Snappa
The motto of Snappa is ¨Whip up graphics for social media, ads, blogs, and more – even if you're not a graphic designer.¨
Some of the features that Snappa offers:
Clickable presets for image dimensions used in social media, display ads, blogs, emails, and infographics;
Thousands of pre-made templates that look professional;
5,000,000+ free, high-resolution stock photos;
200+ fonts, 100,000+ vectors, and shapes, you can play with photo effects until your graphic is what you need;
Removing backgrounds from images. Click a button, wait a few moments, and be amazed as your background disappears like magic.
One of the solid advantages of Snappa is the possibility of sharing your graphics on social media directly from the Snappa interface without needing to leave the platform. So it is an excellent design tool for social media marketers.
Pixlr

Pixlr is a free online image editing tool that offers users a wide range of features and tools for editing and enhancing their photos.
It has a user-friendly interface that is understandable for non-designers and offers various options for adjusting brightness, contrast, color, and other elements of an image.
Pixlr is a popular choice for both novice and experienced users. Besides its basic editing features, Pixlr offers cutting-edge tools for retouching images, applying filters and effects, and creating collages and other complex compositions.
The platform is accessible through any web browser, making it a convenient option for anyone needing quick and easy photo editing on the go.
If you are a photographer, why not explore the benefits of using this digital tool for efficient and effective retouching?
Figma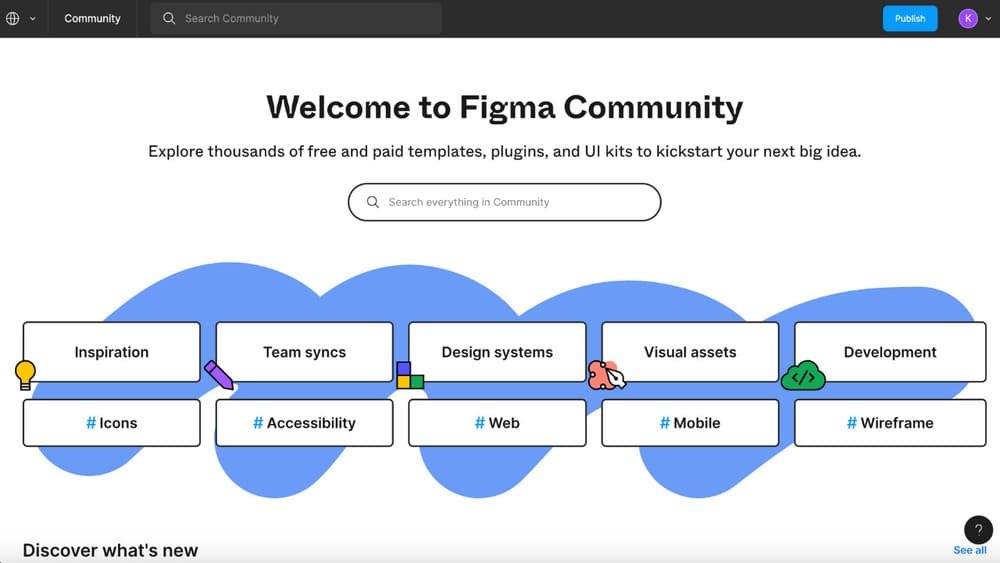 Figma is a cloud-based digital design and prototyping tool that enables users to collaborate on design projects in real-time.
The platform offers many features and tools for designing user interfaces, graphics, and other visual elements. It is widely used by UX/UI designers, product managers, and other professionals in the tech industry.
With Figma, users can create and share design files, add comments and annotations, and test and iterate on their designs quickly and easily.
The platform is known for its ease of use, flexibility, and robust collaborative features, making it a popular choice for teams of all sizes working on complex design projects.
The Future of Design and Digital Tools
Innovative digital design tools are easily accessible for people requiring business designs. These tools have an easy-to-use interface and simple navigation, allowing businesses to create high-quality content.
Nevertheless, the landscape of digital design tools is dynamic and continuously advancing.
What lies ahead for the future of these tools? One of the most significant trends in recent years has been the rise of AI-powered design tools, such as Adobe Sensei, or DALL-e 2, which use machine learning algorithms to automate and enhance various aspects of the design process.
These tools can assist designers with everything from generating layouts and color schemes to identifying potential design flaws and making suggestions for improvement.
Another exciting development in digital design is the growing use of virtual and augmented reality technologies, which enable designers to create immersive, interactive experiences that blur the line between digital and physical spaces.
One such example is Unity, popular game engine that can also create immersive AR and VR experiences. It offers a range of features and tools for designing, developing, and deploying 3D content.
About the Author!
Kseniia Vyshyvaniuk is a highly experienced content manager and tech writer with a passion for all things innovation and technology. With over 4 years of experience in the industry, she is a true tech geek and stays up-to-date with the latest tech news and trends, crafting inspiring stories about notable figures in the tech world such as the CEO of Canva and others.