It gets quite boring to receive the same kind of emails in the inbox, right? Your subscribers are likely to feel the same way. And designing such mundane emails also makes the job dry.
So, to make sure that your emails continue to woo the subscribers and bring in business ROI, you must keep incorporating new design elements. It will help maintain freshness in the subscriber's inbox and make them look forward to your emails.
With that said, let's dive deeper into the 8 email design trends for 2023.
1. Gradients
Gradients gained immense popularity in 2022 and it is expected to be trending in 2023 too. They guide the readers to scroll through the entire length and increase the engagement rate for your emails. You can use them in two forms:
Single color gradients that use just one color going from light to dark (or vice versa)
Multiple color gradients using one color to another to another
It can be used in three ways:
Animate the gradients in the email background
Use gradients as the focal point or background of the email
Add bold or subtle gradients that match your business type
OUI uses a subtle gradient in their email background to give directional cues to the readers and make them read till the end.

2. Neon colors
If you want to make your emails look bright and vibrant, use neon colors in your next campaign. It will not only give a happy vibe to the emails but also stand out to draw the subscriber's attention. Just make sure that you do not overwhelm the readers with flashy neon colors.
Bear in mind the 3 best practices when it comes to neons.
Use neons when you need to highlight crucial aspects of the email
Use neons on dark backgrounds
Avoid neon backgrounds as it can get hard on the eyes
Take a look at the website by Spotify to understand how neon colors can catch the reader's eyeballs and add more weight to the message.
You can incorporate the same kinds of colors in your emails like Dia & Co has done.

3. APNG
GIFs in emails have been around since 2007 but recently marketers have gotten more comfortable using these visuals. One step above GIFs, you have APNG or Animated Portable Network Graphics. It is an open standard for animated bitmap graphics and an alternative to MNG (Multiple-image Network Graphics).
APNG is better than GIF in the following ways:
It has better resolution when compared to GIFs
It supports 8-bit alpha transparency and 24-bit colors
Unlike GIFs, APNG will not show the unsightly white line at the border of the animation
Take a look at this image to understand how APNGs are more sophisticated than GIFs. Do you see that weird black border in the GIF?
4. Animations in and around the CTA
While GIFs have been quite popular as hero images, brands will choose to animate their CTAs too in 2023. There was a time when brands used bold colors to draw attention to their CTA. But the years to come will see animations in the CTA.
Magic Spoon nails this tactic in most of their emails, as shown in the image below.
You can animate the CTA with the help of a GIF or use CSS to achieve it. Like Magic Spoon, you can either do it around the CTA or animate the CTA itself.

5. Geometric and abstract shapes
Geometric shapes can be used to convey an idea in emails and communicate more effectively. For example: Squares and rectangles reflect reliability and strength. Triangles in emails are used to denote direction and stability. Circles can be used to portray harmony and order. Polygons like pentagons, hexagons, and octagons can be used as a pattern in emails.
The different sides of these shapes show a lengthy procedure in a simplified way.
For marketers who wish to add uniqueness to their emails, abstract shapes can do the trick. Tattly has used abstract shapes in their hero image to make their email more fun for the readers.
6. Combination of images, illustrations, and shapes
Static images form the foundation of visual email marketing. When combined with illustrations and shapes, you can further add visual oomph to your emails and increase subscriber engagement. 2023 will see more marketers experimenting with this trend.
Brooks Brothers has made brilliant use of this medley in their email below.

7. Wave patterns
Wave patterns in emails act as a separator between two sections. They can also be used to bring the user's attention to an important message.
Winc and Prismatic plants often use wave patterns in their emails to create a pleasant reading experience to their subscribers.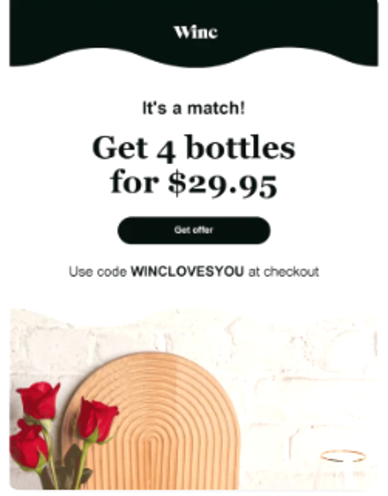 8. Memes
It all started with people sharing relevant images to friends that later came to be known as memes. Social media marketers were early adopters of using memes. Eventually, email marketers also started using it. In 2023, it is anticipated to gain momentum as people are more open to consume such content.
However, you need to be careful while using memes. First, get the opinion of your team and make sure it doesn't come off as offensive. Besides, you must also mention picture courtesy to the respective owner so that there are no legal issues.
Lastly, it should match your business personality. If you are in a serious business, using slapstick or dark humor in the form of memes can do more harm than good.
Wrapping Up
Most of these trends are pretty straightforward and easy to execute. Use a medley of these elements to build memorable emails that stand out. For instance: Use gradients, neons, and animated CTA together in one email to see how it works for your business. To learn more about high-quality design, take a look at this best web design agency in the world.
Alternatively, use abstract shapes with illustrations, real images, and wave patterns to make your emails more interesting. Try it out and figure out what brings the best results for your email marketing strategy in 2023.
About the Author!
Kevin George is Head of Marketing at Email Uplers, one of the fastest growing custom email design and coding companies, and specializes in crafting professional email templates, PSD to HTML email conversion and free responsive HTML email templates in addition to providing email automation, campaign management, and data integration & migration services. He loves gadgets, bikes, jazz and eats and breathes email marketing. He enjoys sharing his insights and thoughts on email marketing best practices on his blog