Everything You Need To Know While Hiring React JS Developers – Guide 2022
Illustration by Moyo. via Dribbble
In the galaxy of cross-platform development frameworks, React JS is the most popular one. Since its launch, this platform comes under the umbrella of most trending platforms for front-end development.
This world popular cross-platform framework is ranked as the 2nd most widely used for the development of mobile and web apps. As per statistics, this amazing framework shares almost 95% codebase of android and iOS due to its quality of delivering a productive environment.
This platform has the ability to develop interactive user interfaces along with flexibility, scalability, fast rendering, & simplicity. According to the Survey Conducted By Stack Overflow In 2020, almost 68.9% of the developers have shown a keen interest in development with react JS.

React JS has all the necessary characteristics to develop a high-end web or mobile app and that's why it is the preferred choice of both developers and online entrepreneurs.
Up till now, React JS has helped hundreds and thousands of startups to become a huge success. Across the globe, this framework has supported small to large-scale businesses through user-friendly and optimal applications and that's why people are highly interested to build their apps and online store via React JS framework.
Benefits Of Using React JS Framework
Here are the merits of using React JS framework for your project:
Easy to use
Easy to maintain
User friendly
Rich toolset
SEO friendly
Huge community
Takes fewer efforts and time for development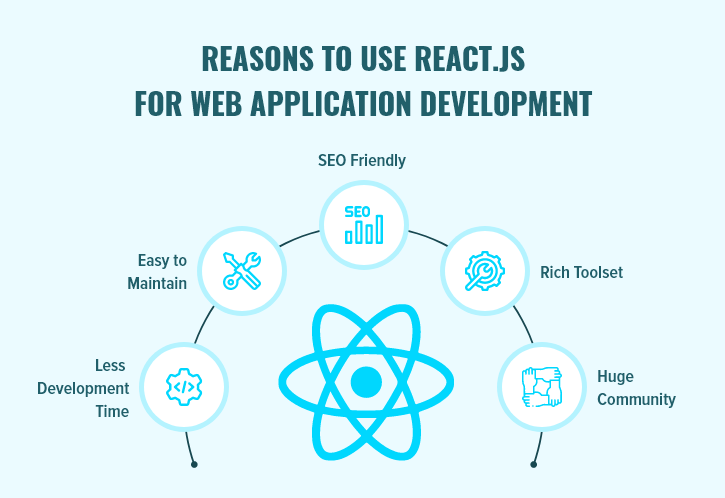 No doubt, React JS is the ideal choice for people who are looking forward to building an app, however, it is equally important to hire the right to React JS Developers to realize your vision to turn it into reality.
In this article, we are going to discuss some of the crucial aspects that need your consideration while hiring React JS Developers or React JS Development Company so that without putting in much effort you can accomplish your goals.
Let's Get Started!
Major Key Factors of Hiring React JS Developer or Company
While working on any project, you need to go through the daunting task of hiring the right individual for the development. The process of hiring isn't straightforward so you need to keep a keen eye on the following aspects:
Ask Questions About Previous Projects
Ask the developers in front of you to show you a list of previously done projects. Take a list of apps they have already built with React JS so that you can understand how well they are going to meet your desired criteria. Check out their portfolio and review their projects.
In order to review their previous projects effectively look for the sites that offer a portfolio of professional developers and with the help of these portfolios you can decide which developer is suitable for you.
Test Industry Knowledge
The developers and coders should be up to date to meet the trending criteria of the development industry. Always test the industry knowledge of developers before hiring them so that you can build an app or website as per the market demands.
Ensure that the developers you are going to hire are familiar with the latest market trends and tools, only then they'll be able to develop the best fit as per your needs.
In order to access the developer's industry knowledge, you can use quick quiz tools. i.e. Look for the website that has a specific set of questions for React JS Development and ask your developers to answer the questions.
In this way, you'll be able to understand their overall knowledge of software development.
Total Work Experience
Ask your developers about their total work experience. i.e. For how long they are in the development sectors. This criterion will help you to have a clear idea about their work reliability and professionalism.
Prototyping
Some of the React JS Development Companies offer a pre-requisite work mechanism in which they offer clients to have a look at engagement models so that they can decide which features are useful for them. This procedure is highly beneficial for new startups who aren't very clear about what they need.
Look for developers who are open to providing you guidance regarding engagement models so that you can decide you need to scale up or down as per the needs of your business model.
Sprint Planning
Soft skills should be considered while looking for developers of the development agency. One of them is sprint planning. While doing React JS Development, teamwork is essential and crucial.
While hiring a team of developers, make sure that they are proficient with sprint planning and have extensive knowledge about sprint planning and execution. This will be helpful for the timely delivery of the project.
Flexible Engagement Models Or Flexible Prototyping
While hiring a React JS App Developer, make sure they are flexible enough to adjust their designed prototype or engagement model as per your business needs.
Check out the flexible engagement model of the developers you are going to hire. Also, clarify each detail from the start so that you can have a clear idea in your mind how well they are involved in your project.
To evaluate your developers, ask about their project management and execution approaches. After this analysis, you'll be in a better position to hire your potential Shopify app development agency or developer.
Keep An Eye On Time Zones
if you are getting React JS Development Services from a freelancer or you are looking forward to outsourcing developers for your project, don't forget to check out their time zone.
While hiring, ask their timings, workflows, and schedule. This will make the work processes smooth for both parties. Also, this will help your developers to feel more energized and they'll be able to deliver the work more efficiently.
Timely Delivery And Guaranteed Delivery Dates
Always discuss work delivery deadlines with your React JS Application Developers before the start of development work. Place your deadlines before handing over your business project to the developers. Ask the developers or the company to deliver the product on a set timeline.
Setting deadlines doesn't ensure that your project will be delivered on time still they are very crucial to help you out in the better understanding of your goals and how much effort and time you need to achieve them.
If your developers or the desired agency isn't comfortable in giving you delivery deadlines then you should ask them to do so because it is necessary for the execution of your startup.
Privacy & Confidentiality
Always keep a keen eye on the privacy and confidentiality policy of the developers so that you can share your important data and documents with them without any worries. Maintaining data integrity is very crucial at the developer's end so make sure you are fully aware of their terms and conditions.
While interviewing them don't forget to ask how they are going to enclose your data and personal information. Be clear about what information they need from you and then analyze what information is required to finish the job.
Read data protection policies carefully and read disclaimers on their websites about data handling policies so that you can make a wise decision.
Knowledge Of Adjacent Technologies
After setting up a new startup, you might require incorporating new technologies for the growth of your business. In this regard, you should be aware of how well your developer or development company is going to integrate adjacent technologies with your store.
In a global of constant change, you need your developers a good way to analyze new technologies. The internet is a fast-paced environment, and you don't want your developers caught in a rut. What right is an exceptional JavaScript developer if they simplest understand the way to code in a single taste of JS?
Make certain your developer can research new tools as they arrive along. The more adjacencies on their resume, the better. They must have discovered more than one coding language over time.
While interviewing ask your developers about a variety of trending or related technologies so that they can help you in the future with the plan you need to implement down the road.
Signing Non-Disclosure Agreement (NDA)
You don't want your developers speaking approximately your ideas and plans to other human beings, so it's best to ask ability contractors if they require an NDA earlier than revealing any records.
With that stated, remember the fact that these documents don't paintings 100% of the time, so it could be vital to use different varieties of protection as nicely.
Since your interviewee may not recognize the cause of an NDA agreement if they've never visible one earlier, you may want to run via a sample with them.
For instance, you can create a fake NDA and ask them what they suppose it means or whether or not they'd sign such a settlement, and it'll come up with the perception of how significantly they take the safety of your proprietary data.
Final Words
We hope you found this article helpful and now you have a clear idea about how to hire React JS developers or development companies and how to evaluate them.
With the help of the above-mentioned instructions, find your technology partner and rock your domain with your skills.
Good luck
If you have any queries let us know in the comment section below.
About the Author!
This article is written by Shaeel Ahmed. He is a digital marketing expert and currently working in ClickySoft React JS Development Company. He loves to code and writes intending to bring his practical experience into theory. Also, he is passionate about reading and writing about the latest global trends.