How Chatbot Help You Get More Loyal Customers to Increase Your Sales
From startups to big brands, chatbot service has all the technology you need for online branding, retail success and disruptive marketing. Thanks to advancements in technology, chatbots have been created and become more popular than ever in recent years. This is a useful tool that helps brands gain loyal customers.
Chatbot strongly develops brand image and provides the best customer service possible. And one thing is for sure, this tool will continue to grow, even better, and will become an important link in customer service for all online brands.
In this article, we will discuss in detail the latest chatbot usage trends that will be developed specifically for online business.
Chatbots and impressive statistics
Chatbot is a pre-set program that conducts conversations with customers through a messaging interface. This is the service involved in restructuring the way online businesses communicate with customers.
The increasingly advanced chatbot helps shops solve problems, personalize messages to customers and improve interactions with the page in an upward direction.
The following statistics will give you an insight into future chatbot usage trends:
Currently, there are many brands that choose chatbots to operate their fanpage 24/7, answer customer questions and quickly close orders. An online brand will let customers see the store's bestsellers options, which are of great interest to customers to choose from, then order online right on the Website or Fanpage platform.
In order for the brand to be able to attract more loyal customers as well as make online orders for customers, opting for chatbot is the perfect solution.
A good chatbot scenario for a clothing store, for example, will provide full information about the products the shop has available and help customers easily order their favorite items with the right color and size.
More than a professional website builder like Wix for e-commerce and businesses, the system also helps you operate your business and online marketing more effectively with many unique and preeminent features.
A comprehensive solution for sales, marketing and order management via Facebook Messenger, makes it easy for customers to order and increase orders from livechat & messenger chatbot.

Maximize purchase frequency and build loyal customer base with chatbot
The superior solution helps you to understand and effectively exploit your customer data, maximize customer value and build a loyal customer base.
With the help of carefully structured chatbot, increase your loyal customers. Bring customers back for a second, third and more with exciting redemption programs.
Understanding customers from the smallest things
Get to know your customers, through their history and behavior, to provide the best in-store shopping experiences for your customers. Convert casual visitors into customers.
Maximize response rates by understanding the right interactions for each set of customers. Increase sales, reduce marketing costs thanks to your loyal customers. Stimulate purchases every time you visit.
Provide a memorable shopping experience throughout for your member customers. Capture behavior, thereby recommending appropriate products.
The Chatbot Benefits Case Study
#1. Chatbot plays an important role in increasing sales of fashion shops
68% of customers consider texting to be an effective communication tool connecting sellers with consumers. With a chatbot that automatically responds to messages based on available scenarios or sends bulk messages to customers to announce preferential programs.
Product Marketing: Did you know 47% of consumers are ready to make a purchase when talking to a bot? Thereby showing that chatbot is a smart way to interact with customers and successfully close orders.
#2. National Geographic Einstein Chatbot
Have you ever wondered what it would be like to talk to a genius that is Albert Einstein? Well, now you can talk to this genius. To help promote the new show Genius, National Geographic created a chat chatbot who speaks like Einstein.
As a result, the conversation averages 6-8 minutes, 11 turns per conversation, 50% of users re-engage and into the relevant community of followers. These metrics come from a carefully selected user-friendly chatbot strategy.
Brand awareness: For large stores, the use of chatbots also helps to increase brand awareness and retain customers because chatbots will often quickly respond to customers' questions.
#3. Lidl's Winebot
Providing knowledge to customers is empowering them to choose. Lidl Mitch Winebot Margot offers a healthy consumer approach in the stifling competition of the wine market. Users can get guidance on what wines to buy, food pairing tips, and even learn about winemaking.

Lidl's Winebot's chatbot can also recommend over 220 food pairs and answer questions based on 640 different grapes.
Customer Support: Most chatbots can assist customers with simple inquiries.
Sales and Lead Generation: Chatbots are the best channel for automating sales and lead generation processes.
#4. Hipmunk
Tourism is a saturated industry, with very few niches to avoid. But Hipmunk has surpassed that by reaching customers based on location to book flights, hotels, cars. Statistically, customers will visit more than 38 websites before booking, but with Hipmunk it's easier and more convenient than ever.
Hipmunk offers two benefits:
You can easily get to where you want to go without going to travel websites and looking for deals yourself.
#5. A chatbot example from KIA
Automobile manufacturing is a complex industry, especially in consulting customers because of specific specifications. However, Kia has made consulting simple and feasible for customers by building a chatbot on Messenger.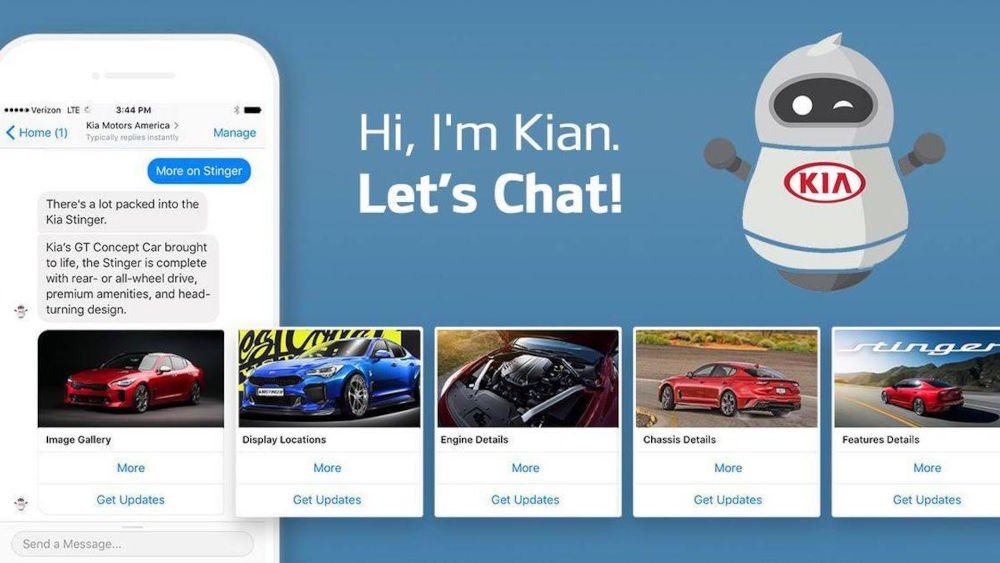 As a result, the chatbot generated more interactions than the company website, they spoke to 115,000 users per week and had a 21% conversion rate. This Facebook chatbot example is the result of predicting user intent and helping Kia personalize services at scale.
Lesson learned:
Collect user data for re-marketing:
Instead of letting potential customers disappear without a trace, your chatbot should capture customer details and needs. It will drive future sales and remarketing efforts.
Offer Different Services:
Capturing lead information is valuable but it's not the only thing your chatbot can do. Kia's chatbot also has bill payment options and a store locator to meet with salespeople in person.
Replacing human resources into chatbots:
Kia chatbot can answer any type of question for any car model similar to a direct salesperson.
Chatbot services like 13chats, allows you to build a chatbot in minutes. You can observe and control the chatbot's activity through an incredibly simple and intuitive user interface.
13chats can respond naturally with contextualization and has gradual machine learning capabilities. Especially, configuring the chatbot through the admin control screen is quite easy to understand.
In Conclusion
Companies have found ways to improve business results through the use of chatbots for sales, service, and customer support. This growing trend goes hand in hand with efforts on the part of service providers to optimize the customer experience.
Investing in a chatbot does not cost much, but it requires care for building scripts, navigating customers to leave information, and successfully closing orders. Not all customers know how to find your chatbot, so many business owners are applying the model of running ads to chatbots to increase conversion rates.
There are many choices to advertise your business. However, when deciding where to direct users who have interacted with Facebook ads, chatbots appear as a perfect choice instead of landing pages. Personalized chatbots are very fast, easy to build and create. That's why chatbots have higher conversion rates and higher return on ad spend at a lower cost than traditional landing pages.