ECommerce is the sector of business that undergoes innovations and modernizations periodically. It is opening new ways for both businessmen as well as customers and developing a new interaction that brings good to both parties. New opportunities for both the businesses and customers are emerging under the shade of the innovations happening in the ecommerce sector.
Living in a digitally directed era, we have thus become somewhat captive of technology, the internet, and gadgets and no doubt it has played a major role in bringing the businessmen and customers closer to each other via online interactions. Gadgets and technological devices are undergoing advancements rapidly, and they have a huge impact on our business industry.
A modernized interaction between the businesses and their customer has undergone various updates. And this is the reason why a revolution in technological innovations is going to shape the future of eCommerce.
How Technological Innovations Impact The Future of eCommerce
Here we will be discussing the impact of technological transformation on the future of eCommerce:
#1. Personalized Customer Experience
Customers will always dominate when it comes to the future of any business including the eCommerce business. Customer experience is always the turning point of businesses, and personalization is something that will convert the viewers to loyal customers.
Personalization is known to give a flawless experience to the customers, whatever device they might be using to reach your business. A study shows that 76 percent of customers become loyal to the company just because of the personalized customer experience.
When technology will help the businesses to get revolutionized, retailers are definitely going to try hard to give a hugely customized experience to each customer, to engross with their customers and give them the best experience ever.
How to give a customized experience to the customers? One of the best ways of providing a personalized experience is through 'contextual marketing', which synchronously targets the customers. As soon as a customer interacts with the brand or the company, his needs are fulfilled according to his expectations.
Contextual Marketing is highly centered to give a personalized experience to every customer that interacts with you on an individual level. A timely response to the customers makes him feel valued and respected. This also increases the interactions, responses, and ultimately the sales between the customers and the brand.
For eCommerce businesses to attract customers, visual assets also play a vital role. The homepage of your website tells a lot about you, and do you think customers notice every detail? Of course, they do, the color schemes, logo, overall color contrasts, there are a lot of things that attract customers.
A highly designed website, intended to give a personalized experience to the customers, is a good way of bringing more customers to your door. Every customer craves a unique experience that speaks that he is valued at the place, and once he feels respected and appreciated he is never going to leave you, not in near future. Retailers should use updated software to give an advanced experience to their customers.
#2. Voice Search

With voice activation devices, in their hand, people have adopted a new way of living. People not only feel more comfortable but more convenient in using voice commands to do all their work. Voice activation gadgets are causing a lot of buzz in the industry because people are attracted to them, and there is a huge chance that incoming future people will look for voice searches in every advanced business.
Samsung Bixby, Apple Siri, Google Assistant, Amazon Alexa are no doubt ruling the world and are already making haste all around the world. What do you think, will they able to rule the entire business world soon? Of course, they will, they have the public on their side, they definitely can!
With voice search, shopping is going to take a new route. It is going to a lot easier to have a voice search who does all the work for you. The search result will be more accurate and relevant to what a customer asked for.
Voice search is like a total package that comes with a lot of features; customers can get specific products, can place their previous order again without actually placing it again, and it will be a lot easier to give feedback and reviews.
#3. Internet of Things (IoT)
Internet of Things is a network that shares data and information through various applications and software and users. This internet-based network can share a tremendous amount of data with a massive number of people. Internet of Things enables eCommerce marketers and businessmen to work proficiently
How can the Internet of Things add to the revolution of the eCommerce business? Well, here is how it does the job:
Inventory Management: Tracking the inventory has become a lot easier with the Internet of Things.
Logistic Management: It gives the brand personal and demographic information of the customers.
Supply chain Management: The Internet of Things makes sure that the products are transported safely from the manufacturer till they get in the hands of the customers.
#4. Augmented Reality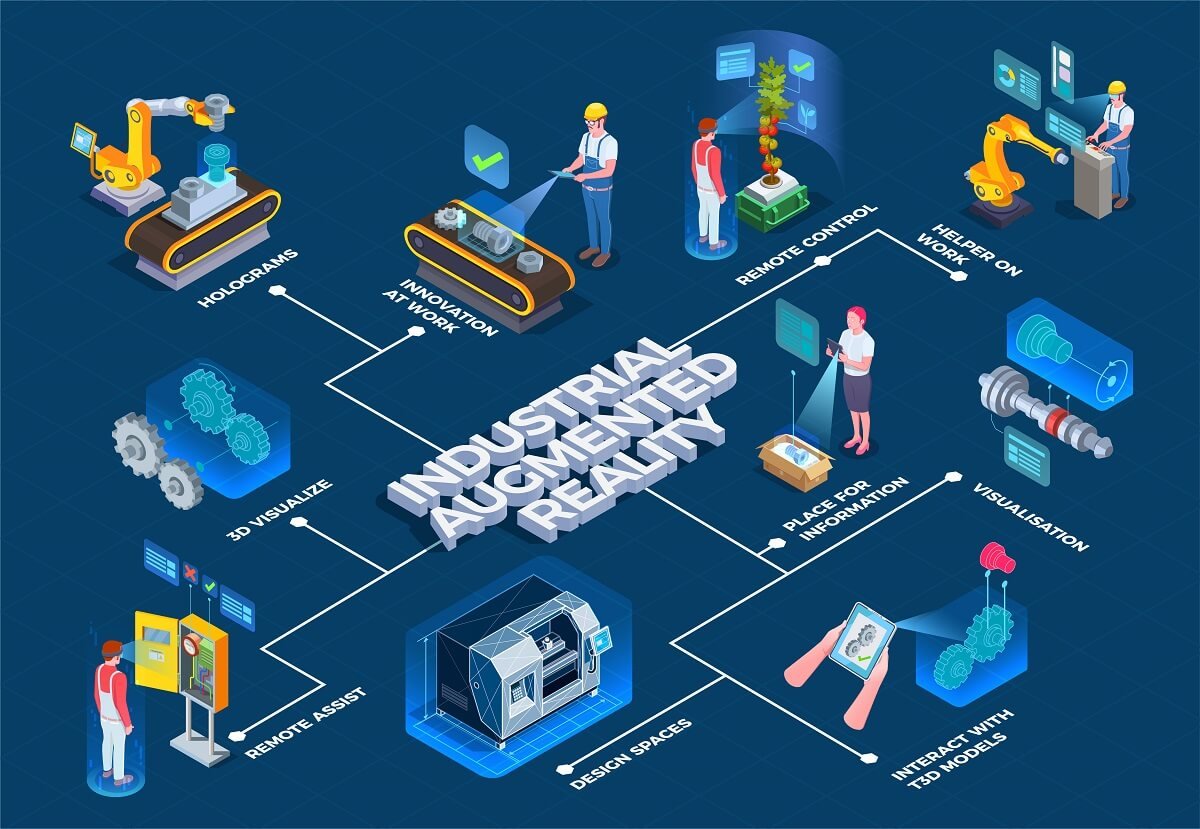 The gaming industry is a well-developed, and one of the highly advanced industries out there, and guess what augmented reality has enthused the gaming world giving it the face it wears today. Augmented Reality and Virtual Reality have a huge scope in the eCommerce line of business.
There is no doubt that physical experiences are what make the consumers feel more confident towards the product and the brand itself. Giving customers a Virtual Reality experience, an environment where they can feel their presence is one of the best ways to innovate the eCommerce sector so far.
Customers are not satisfied with the single-plane images of the products, and they are always ambiguous no matter how much surety you provide them. Augmented Reality and Virtual Reality is by far the best possible solution of this issue.
#5. Artificial Intelligence and Smart Services
The impact of Artificial Intelligence on the various business lines is unquestionable, and the eCommerce sector is not an exemption. Artificial Intelligence can detect the expectations of a customer by automatically scanning their shopping patterns. In this way, a highly customized experience is given to the customer, and more relevant products are brought to the attention of people.
Artificial Intelligence and Smart Services can help eCommerce retailers to respond to customers as soon as a customer visits them. We are well aware that customers have become quite challenging lately, so coming up to their demands can be quite exhausting without having Artificial Intelligence at your rescue.
Customers these days are looking forward to fleetness and rapidness in responses, and without Artificial Intelligence one cannot cope up with this major issue. Chatbots can thus provide all the necessary details to customers according to the individual needs of customers, giving them a lightning-fast experience.
#6. BlockChain

Blockchains can bring drastic changes to the eCommerce business, securing the data as well as the transactions. Blockchain is a data structure that ensures the secure records of transactions and even ensures clearness and delegation.
Transactions that are encrypted digitally are the most secured ones, and both consumers and retailers look forward to them in the online world. Using cryptocurrencies for buying a product, or exchanging cryptocurrencies for desired products is also a form of payment secured by Blockchain.
With Blockchain, not only transactions are secured but deliveries are also safe. With shipping encryption, deliveries are transported in a secured and controlled way. Inventory management can also be regulated by Blockchain, allowing the retailers to order products and reorder them robotically.
#7. Drones
Robots and drones can play a vital role in expanding business, and eCommerce is no exception. Customers these days, not only want an instant response, but want instantaneous deliveries as well, and as we know only Artificial Intelligence can give immediate responses, same goes for deliveries, only robots can do instant deliveries.
Huge platforms like Alibaba and Amazon are using drones for their deliveries to bring a revolution to their business. Drones are equipped with aerial technology, which is one of the most advanced technologies being used in the world, and this is how they deliver the ordered products to the customers.
Drones can deliver the products to the customers' doors within an hour, and customers love this service. It is like their dream coming true, and there is nothing wrong in saying that drones will take customer experience and satisfaction to another level!
Conclusion
The phizog of eCommerce will be changed totally, by incorporating the latest and advanced technological innovations. Believe me, this is not the end to the technological revolutions, and who knows what the future holds for the business world.
Implementing these latest innovations business owners can lure more customers and can bring drastic changes to the growth of their business. Though the aforementioned innovations are the latest but who knows something powerful takes over the very next minute, so to become a successful businessman one must regularly change his business strategy.
About the Author!
Arslan Haider is author of the above blog. He is a professional Guest Blogger at Mediahicon (deals in SEO Services) & Alltitanparts (deals in Titan Sprayer Parts). Apart from that, he loves to post blogs with valuable content.