You are probably on some wild goose chase if you think your venture could succeed without a solid SEO plan. Essentially, Search Engine Optimization (SEO) is the technique of adjusting your website to search engines' algorithm.
Today, a whopping 5.8 million searches happen on Google every day. A HubSpot blog claims that Google processes approximately 70,000 search queries every second.
So, no matter if you are a well-established business or a small startup– you need SEO to stand out in the crowd.
The Role of Search Engines
A search engine organizes information based on relevance. Google's mission statement says that it intends "to organize the world's information and make it universally accessible and useful."
The organized information helps to balance the quantity and quality. To ensure that your platform relays an organized structure, you must work on qualities such as website speed, mobile compatibility, and keyword. Besides this, hundreds of other factors contribute to the ranking of a site on search engines.
Why Is SEO Important for Small Businesses?
As it turns out, the opportunities for small businesses to benefit from SEO are massive. It helps you to create a user-friendly website, find potential customers, and convert them.
For starters, you must devise a solid online presence plan. Otherwise, you will be throwing money at content that goes nowhere. This content must follow an SEO structure to ensure your site doesn't get lost like a needle in a haystack.
According to SEO Tribunal, 97% of people learn most about a local small business online than anywhere else. It means that a small business could reap immense rewards by using SEO. It is relatively inexpensive compared to other paid marketing strategies, plus it generates quality leads as only interested people knock at your doors.
Another statistic from GoGulf makes it hard to ignore the importance of SEO for small businesses. It states that 46% of all Google searches are looking for local information. Therefore, if you have a small business and don't believe in using SEO, you miss out a lot!
SEO Tips For A Small Business to Drive Sales
Many small-business leaders identify search engine optimization (SEO) as an essential marketing tactic. However, most don't have the knowledge or resources to execute everything needed to optimize their website for search engines.
Successful SEO for small businesses involves using various primary components of content marketing. Master these fundamentals, and your traffic will experience a steady growth:
Strategy #1: Be the keyword champ
Keyword research is the act of learning which phrases and terms your potential customers are likely to use. Devise a step-by-step SEO strategy to rank for any keyword.
Before working on it, a small business must know the information required by local customers. What are the problems they face? How soon do they need a product/service?
Identify the keywords
As per The Manifest 2020 Small Survey, 70% of small businesses that use SEO perform keyword research and targeting. Once identified, you can then craft content around those keywords.
When executing the keyword research, you get a chance to examine what competitors are ranking for. It aids to narrow down your keyword research. An excellent place to start is Google Ads. It is a tool that helps you analyze which keywords have a high volume of searches and which have low to medium levels of competition.
Once you have put the finger on target terminologies, take the first step by infusing those keywords at your website's most crucial places.
Consider using long-tail keywords
Long-tail keywords are phrases where the user usually asks a question. They hold a high conversion value, as they are more specific.
One SaaS company – Conductor found that targeting long-tail search queries can perform 2.5 times better than their head keyword variations. Specifically, keywords are general as they do not reveal any intent. In comparison, questions have a motive behind them. If you are willing for your small business to witness enormous traffic, you should focus on long-tail queries.
Some great findings by Hitwise show off how substantive the long-tail keywords could be. As per these findings, long-tail keywords send around 70% of the traffic to blogs and websites.

Pro Tip: A good keyword strategy is continually growing. You must monitor and update regularly as the trends of how people search are always in flux.
Strategy #2: Craft stellar content
Content goes beyond the text on a company's landing page. Small businesses should design meaningful and high-quality content for their users to improve SEO.
Even if you have all the right keywords, all efforts could go down the drain without good content in place. It is a tool to convert site visitors, prove your value, and reach out for more prospects. It is crucial to put human-centric, thought-leadership content on the forefront.
How can content increase sales?
Each time your potential customers search the internet for information about a product/service similar to yours, they will come across the blogs, posts, web pages, and other similar content designed by you.
If your content is relevant, engaging, and authoritative, they will feel the urge to explore more about you. This allows you to develop relationships and convert leads into customers.
According to Safari SEO Company, 57% of SEO experts rank content creation and content marketing as the #1 way to drive the best search marketing results. Given the impact of content, we can no longer question its effectiveness.
Using content for local SEO
Local SEO is a small business's secret weapon to come out victorious in the battle of SERPs. If you are a small business dealing in face-to-face transactions, local SEO is an absolute necessity.
Beyond optimizing your website for local SEO, you should also create a blog addressing the local community's current issues. As per SEO Tribunal, 97% of people learn more about a local company online than anywhere else.
Hence, all the hard work you put into creating locally-oriented content is worth the effort. Because when you write about regional events and places, search engines pick that up. It leads to increasing your rank in search engine queries.
Having local SEO professionals on board can help reduce the burden on your shoulders. So if you are a small business in Orlando, you can expect massive sales escalation by using Setalks Orlando SEO services.
According to the SEO Expert, 92% of searchers will choose businesses on the first page of local search results. Make sure you have a robust inbound strategy in place with excellent content to drive it.
Strategy #3: Establish authority with links
Earning links back to a website is the most valuable factor of effective SEO. Note that a successful link-building strategy demands a significant investment of time and personnel efforts. Perhaps this is one reason why a mere 24% of the small businesses spend time building high-quality backlinks to their website.
As measured by Ahrefs Domain Rating, a site's overall link authority strongly correlates with higher rankings.
Link building for small business
When you are a small business with limited resources, you need to devise a powerful yet affordable outreach strategy. You can't waste time pursuing a useless link-building strategy. As Matt Cutts once said that there are no shortcuts. The only chance you have is to invest in proven strategies to build a useful link that could stand the test of time and help your venture grow stronger.
Some ways to strengthen your link structure are:
Use strategic guest blogging – consider getting your blog published on the most trusted platforms.
Create and distribute infographics – infographics produce 37.5% more backlinks than a standard blog post.
Stay active on social media – you can quickly boost engagement by sharing posts, images, and the latest updates
Use links from trusted sites like Forbes and Huffington Post
Check competitor's backlinks – learn how your competitors continue to climb the grid despite ever-changing Google algorithms
Replicate best links from competitors – use different tools and resources to measure the links earned by your competitors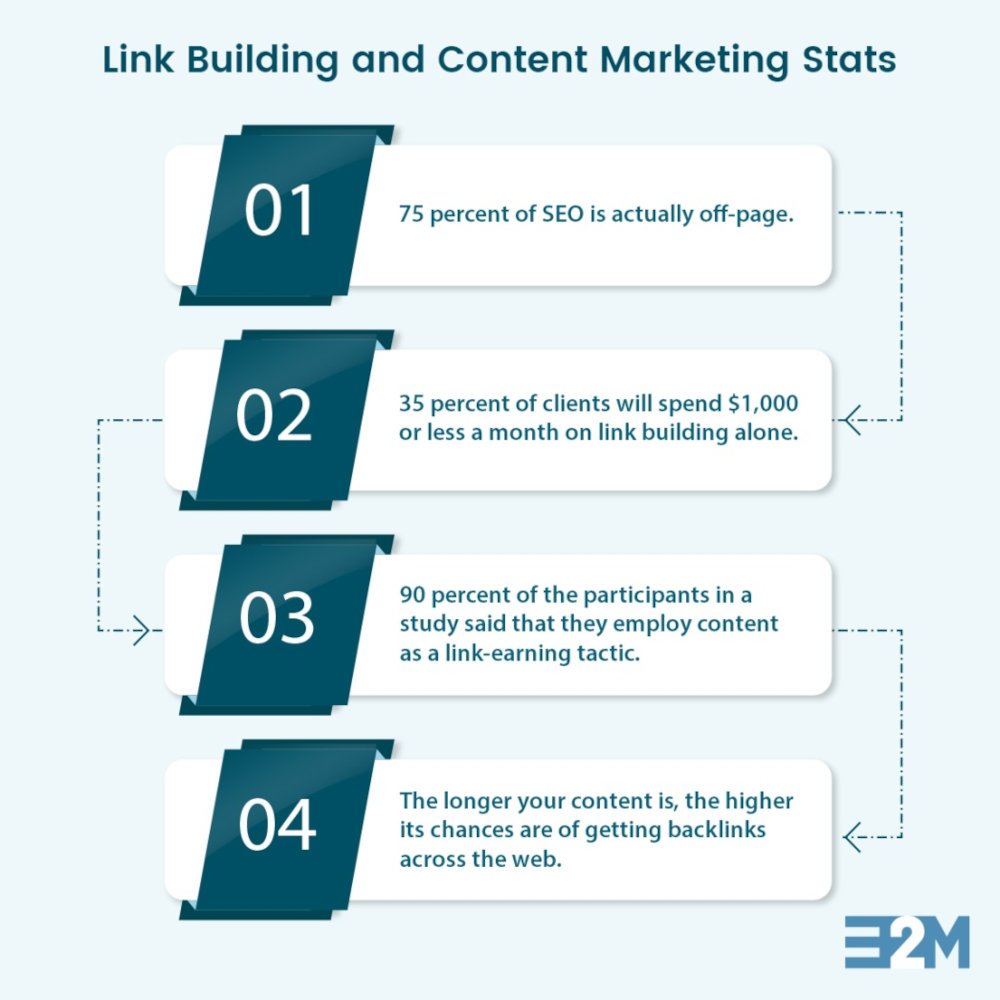 A link profile is one of the most crucial factors determining how a website will rank in the search engine. Learn what makes a powerful link and how you can improve your link power.
Strategy #4: Optimize On-Page SEO
For starters, you must be clear on the two types of SEO tactics:
On-page SEO: These are the efforts taken to improve individual pages on your web portal. These include keywords, URLs, load speed, formatting, navigation, responsive design, and blogging.
Off-page SEO: This refers to the actions taken outside of your website to improve the ranking. Some of these techniques (already discussed above) include link-building, guest blogging, and social media marketing.
Besides channeling out to other platforms, a small business should stay on their toes to optimize their website for search engines. Content Marketing Institute stated in one of its research that 57% of the marketing executives declared on-page content development as their most fruitful SEO tactic.
On-page SEO tips
Some handy tips to optimize on-page SEO include:
Optimize page headlines and titles – The headline is a significant factor in the click-through rate, which tells us the percentage of people who view your headline and click on it. Make sure the number of words in your title is sufficient. If it is too long, the SERP will insert an ellipse at the end of the character limit.
Use adequate header tags – Ensure that the header on every page contains relevant keywords. It makes the website easy-to-understand and digestible for the readers, boosting the critical time-on-site metric.
Cleaning the meta tags – Meta tags are the descriptions of your content. The search crawlers use these tags to ensure that the description of your website falls in line with the meta tags.
Strategy #5: Manage your reputation carefully
Even though most people don't discuss reputation management when talking about SEO, it plays a significant role in driving sales. As the phrase suggests, it is the concept of monitoring what people think about your business.
For instance, imagine that you are a local café that received several bad reviews in a row. This makes it to some of the Facebook group, and every person who looks up to you online might come across the negative opinions.
Is it a necessity or an option?
Therefore, when you manage your reputation online, it means that you make a substantial effort to put your best foot forward. Although Google says that social media is not a direct ranking factor, it is a fact that the more of social media presence a business has, the higher it appears on the search engine.
CognitiveSEO discovered that the top 4 ranking positions have more Facebook activity than those with a lower ranking.

How to maintain a stellar market reputation?
Some measure to maintain a positive reputation include:
Regularly evaluating online reviews
Responding politely to negative reviews and feedback
Encouraging testimonials and positive reviews from the customers
Always being professional when engaging online with prospects
Concluding Remarks
With so many decisions to make, SEO for small businesses might seem like a task you can delay. But remember, the longer you wait, the deeper you fall on lower ranks. Kickstart today with the actionable steps mentioned above.
We hope that with several trying and testing, you will figure out a fantastic SEO plan to increase sales.
About the Author!
Erica Silva is a blogger who loves to discover and explore the world around her. She writes on everything from marketing to technology. She enjoys sharing her discoveries and experiences with readers and believes her blogs can make the world a better place. Find her on Twitter: @ericadsilva1