Ever since link building got introduced to the Google algorithm, it has been a powerful and proven ranking strategy. Google loves seeing links pointing to your site from relevant sources; it demonstrates to them that you are an authority on the subject.
Using link building strategies can help you build a compelling site, but do it wrong, and your website will pay the price.
Link Building: The What & The Why
Before you start link building, you need to understand why link building is essential and how you can do it safely.


Spammy links are going to earn you a penalty. Which is why I want to explain the 'what' and the 'why':
Link building is like a vote of confidence from other sites. The more votes your page receives, the more relevant Google thinks your page is.
Google introduced this system in 1998, but back then, the system was pretty flawed. They didn't take into account the quality of the links; instead, they concentrated on the quantity.
This factor meant people were chucking in links to their site wherever and however they could. Thankfully Google put an end to that with an algorithm update further down the line.
This meant all the sites with spammy links suffered.
If you want to get anywhere in SEO, you'll need to build links. It doesn't matter how good your on-page SEO work is, without link building, the results won't be half as good!
Your best option is to make sure all your on-page work gets done before you start building links. When both tactics get used as one, you'll see some fantastic results.
Link Building: The How
I want you to succeed in your link building efforts, which is why I want to share some tried and tested link building strategies that get results.
By the end of this article, you'll have all the tools you need to succeed. Let's not waste any more time and get straight into the first strategy:
#1. Competitor Backlink Analysis
There's no doubt in my mind that your competitors will be spending a lot of money on building a strong backlink profile. Instead of busting your balls trying to build backlinks blindly, why not check out what your competitors are doing.
This is one of my favourite strategies because of how well it works. When you compare the amount of time you spend on it with the conversion rate; you'll know exactly how powerful it is.
To take advantage of this method, you need to make a list of your competitors that are ranking in the top five positions for your target keyword.
Don't worry if the website is bigger or smaller than yours, all we're interested in is their backlink profile.
Once you've got a list of URLs, it's time to find their backlinks. This involves using tools like Ahrefs or SEMrush.
Use the search function on the site explorer to scan the site. On the left-hand menu, you'll see a tab called Backlinks.
Clicking the button will reverse engineer the page's links. From there, it's all about finding the authority sites and trying to replicate the links.
#2. Expired Domains
This is the quickest hack to building a robust backlink profile. The trick is to purchase expired domains that have:
Relevance to your site
Links from BBC, New York Times, and more
High-quality backlinks
A high level of authority
The idea is to run 301 redirects to your site; this will pass the links from that site to yours.
The hardest part is finding the expired domain, but with the helping hand of a few tools, it can be a lot easier.
I like to use tools like SpamZilla and Domain Hunter Gatherer; they are by far the best tools for automating the process.
You can use them to help you find an expired domain, as well as pulling out all the essential metrics you need.
#3. Guest Posting
This is the most popular way of building a backlink profile. But it's worth mentioning that Google has given countless warnings about using this technique.
So it's crazy to think so many people still see this as a white hat technique.
The idea behind guest posting is pretty simple:
Create a valuable piece of content
Add a link to your page
Get the article published on a blog
A few years ago, this technique was a lot cheaper. The problem is many blog owners have woken up to how powerful they are, which means they tend to charge for each post.
If you want to get started with guest blogging, there are a few steps you'll need to follow:
Step #1. Find Your Targets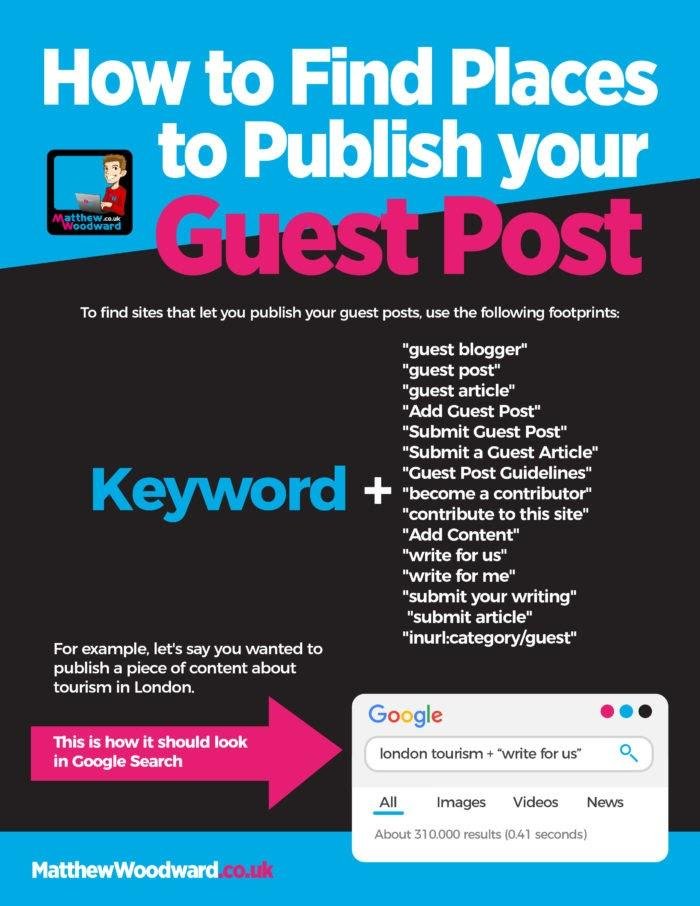 You'll need to find some high authority sites that you can publish your content on. You want this site to have high traffic, so you know it reaches people.
To find the sites, you can perform a google search with your keyword and a chosen phrase. Any website you find, add to your list.
Step #2. Check All The Blogs
Now you need to use Ahrefs to make sure the sites you've chosen are the real deal. Chuck it in the search bar to check out the DR (Domain Rating). If the website doesn't check out remove it from your list.
Step #3. Outreach
There's a good chance the site you're reaching out to is getting similar emails. Which means you need to stand out. Make sure you send custom messages that add value to the website owner.
Step #4. Create Stunning Content
If one of the blog owners gets back to you and have accepted your offer, it's time to start creating your content.
Make sure the content you write is relevant to the site; you can do this by checking out their previous posts and reading the comments.
#4. Find Broken Links
As a website owner chances are you have a broken link pointing to your site. But don't worry, you're not the only one.
Links can break for several reasons, but one thing's for sure, it's not good for the site. A broken link can:
Ruin user experience
Break your SEO work
Lower your reputation
By finding a broken link on a site doesn't just help the website owner, it also opens an opportunity for you.
Yep, you've guessed it! It gives you the chance to win that all-important link. This technique is very underutilised, or maybe people don't know how it works.
Either way, I'm going to explain the process here:
Step #1. Find Your Target Audience
This involves searching the web for sites that fit your niche. Make sure you stay realistic with your targets. The best are blogs and small companies because they're usually happy with the results.
Step #2. Find Something Broken
Doing this task manually would take a lot of time, but luckily you don't have too. I like to use Ahrefs to find broken links it gives you a very comprehensive list.
Step #3. Reaching Out
Once you've finished, it's time to let the blog owner know they have a broken link and you have the perfect replacement. But before you go straight in there and ask for a link, try and build some trust first.
#5. Influencing Influencers
Playing on people's ego is an excellent way of getting what we want. We've been using it since we were children whether we knew it or not.
The trick is to play on the ego of an influencer within your niche that has a high authority site and plenty of traffic. What we're looking to do is get the influencer involved with our article. When we do this, they feel compelled to share it on their platform.
And the best bit is…
You rarely have to ask for them to share it; they do it automatically out of pride. To use this technique effectively, you need to follow these steps:
Step #1. Create A Catchy Title
This draws the influencer into the idea. You want to start the title with ego bait. This could be something like "This Is What The Top 10 SEO Bloggers Say About ".
Step #2. Expand On The Question
You would have already specified the question, but you really need to define it. Influencers are busy, so you want to get the most information possible.
Step #3. Reach Out To The Experts
This involves finding people with high-quality sites within your niche. This can be done by brainstorming or using Google. Once you've found the influencers, you need to start outreaching.
If they don't respond the first time, don't get disheartened, instead try again a couple of days later. If they till don't respond, try two more times. If you still don't get a response move on to your next target.
Rounding Up
Whether you see link building as a white-hat or black-hat technique is irrelevant. The fact of the matter is you need it to grow your site. When you use it in unison with on-page SEO, the results can be truly outstanding.
It's all about gaining trust with Google and showing your content is more relevant than anyone else's. This means slowly building your referrals up. To do this, take a pick from my link building strategies and see which ones work for you.
My personal favourite is to reverse engineer your competitors' backlinks; it's the fastest way of building a strong backlink portfolio.
About the Author!
Matthew Woodward is an experienced SEO and digital marketer. He has a wealth of knowledge which he shares on his blog in the form of tutorials and case studies which have helped thousands of website owners achieve and exceed their business goals.