Social media is a big hit in the world of marketing today. The latest of them all to have succeeded in the social networks' market is Instagram. Most of these technologies possess marketing capabilities. For Instagram, its stories are an impeccable hit with hundreds of millions of users using the Instagram story feature today and, therefore, the need to leverage its marketing advantages.
To keep your social media marketing strategy buzzing, we wish to share some interesting Instagram Story ideas that can help your business thrive in today's market.
#1. Make your followers turn on post notifications

Your successes with social media hugely rely on your ability to create good relations with your followers. The best way to start is by sending them a message. People like it when you notice them. This improves your business page's engagement rates by far. Moreover, you have the chance to ask them to turn on notifications to your messages. Any time you will post anything, users see it and engage with your content.
#2. Use polls and questions
Multiple times, we take online polls. They are quite exciting and unavoidable by anyone. The Instagram story feature allows you to use this feature. Polls and questions should be simple questions with simple answers about your business that engage followers. If you are in the ice cream business, you could ask, "Vanilla or strawberry, which one wins the day?" Your Instagram followers taking part in such a poll could improve or build your brand on Instagram, something you could extend to your business.
#3. Add the location of the company
You can never run out of Instagram stories. One thing you can share is the location of your business. Luckily, Instagram offers you the "location sticker" feature. To add location, first, click the happy face icon in the top right-hand corner. As you scroll down, you come across the location. Here you can view locations near your business or specific location of your business. Posts with a location experience have a 79% higher engagement than those without a location experience.
#4. Talk about something passionately
Ranting is an interesting Instagram Story Idea for your business page. If there is something that you like or do not like, venting it on Instagram could earn you organic engagement. Moreover, people view you as an opinion leader. Not everyone will love what you do, which is normal. The few that like it might continue engaging your content. Your business can leverage this audience.
#5. Use stickers

Social media is something people feel good about using. Use Instagram stickers to make brand messages interesting occasionally. There is no need to maintain plain text when there is a chance to apply stickers. Your business page followers could follow it up by responding with stickers making the conversation fun.
#6. Show your mood
Your mood is a worthy Instagram Story Idea. Celebrities do it every day, and the trick appears to work every day. You need to think about your brand before you decide on this. If you are in the fitness business, this may not be a good idea. You do not want the client to see you as inactive and moody.
#7. Post teasers of upcoming products
Do you want to take advantage of Instagram? Think not about how you can entrench your business into your Instagram Stories. You do not need to talk about the products you already have in the market. Talk about those that are upcoming. Tell people how different they will be from the ones that exist. Use impeccable Instagram captions, leverage on customer curiosity, and create interest. Make it work for your enterprise.
#8. Encourage followers to message you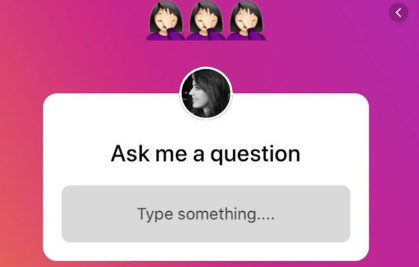 You might have multiple Instagram followers, but they will not matter if you do not get the right engagement. The new Instagram serves content based on what you prefer to see. Encourage followers to message you by making the first move to message them. The personal touch created by this allows you to create a close relationship with your followers. They will end up getting interested in any message you post on your Instagram profile. In the end, you will have created a real relationship with your followers, something that can work to your enterprise's advantage.
#9. Try shout outs
Shout outs are a common but impressive way to appreciate your favorite followers. You share a lot in common with from the same content, and social media preference a lot in common with these people. Moreover, they engage with your content a lot. Instagram stories do not have to look a lot fancy. All you need is to execute your call to action effectively.
#10. Include links to your posts
Using Instagram is easy. When you have included links to your posts, one only needs to swipe up to redirect your post. When promoting your business, you might want to consider embedding a link to your Instagram stories. However, the feature appears to apply to business accounts with more than 10,000 followers.
You might build your following before getting started. There is also another way you can do it. You can redirect your followers to click the intended link on your Instagram bio.
#11. Use short videos
YouTube receives millions of viewers every day. The use of videos in every story fascinates people. Videos put everything in context. Moreover, they are more entertaining and effective at communicating than texts. Using video in your Instagram stories creates more clicks on your pot and improves the engagement with your content. This means you need to sharpen your video editing skills.
#12. Add music to images and videos you publish
Simply using an image or video is never enough. If you can add a music soundtrack to the image or video, then the engagement with your post might get even better. Using music could mean you do not have to edit the video that much. Remember to keep the video at less than 15 seconds.
#13. Promote your product
Posting products or services on your Insta Stories may sound obvious, but there is more to just posting them. For products, you may want to take their images from different angles. You could talk about how to use the products in a short clip. For the services, you may need to expound on them and talk about those not well comprehended by your clients.
#14. Quotes are amazing Instagram stories
The addiction and attention quotes get from people is immense. People tend to look at quotes with a lot of respect. If you are in business and wish to sell classiness, then the use of quotes as an Insta Story might be all you need. Use quotes related to your business or made by people in your sector. If better, try those highly respected in the industry. It makes your business messages even more credible.
#15. Share success stories
The motivation market is vast today. From talk shows, reality TV, gospel ministries, everybody is sharing a success story or a positive message. You might need to tap into such stories. Connecting the success stories to your brand or use the success stories of your previous clients in your Instagram stories is a big plus to your business goals.
#16. Showcase your work

The big question is, "What have you done that you need people to see?" You can use your Instagram stories as a platform to display your skills. You can show people you do it and the result of when you do it. For example, if you are a photographer, people might want to see how well you took the photo.
They will also want to know how you edited the picture to its point of perfection. Once people see what you can do, they can trust you with more future projects of that nature.
#17. Promote your latest post
Instead of building links off Instagram, you can promote posts as stories on Instagram. First, screenshot your feed, take that post and save it as an image for your post. You can embed username to the story for people to see your post on your page.
#18. Use graphics for simple messages
Using multimedia is a good thing. Sometimes your videos may be too much. You can shift to images and use texts on them. This is another simple way of communicating with your clients using Instagram stories.
#19. Create wallpapers
People love wallpapers. While creating a wallpaper, work on reducing text used on the wallpaper. The reason is that followers may take screenshots of your wallpaper. A client having the wallpaper on their device reminds them of your brand. This makes wallpaper an important addition to your social media marketing strategy.
#20. Promote your hashtag
The hashtag is a minimalistic representation of your organization, your product, your service, or the brand. If you have more than one hashtag, you might think of promoting them so that each has a better influence on your customers. Having hashtag next to your posts signals that you posted a particular message. Have your hashtags promoted by your Instagram stories.
There are many Instagram story ideas you can still try. The above should get your foot in the door regarding social media marketing via Instagram. The first step may be to work on your Instagram profile. All the best!
About the Author!
Bridgette Hernandez is a Master in Anthropology who is interested in writing and is planning to publish her own book in the near future. Now she is a content writer at WowGrade and WritingJudge. The texts she writes are always informative, based on qualitative research but nevertheless pleasant to read.