Moving Car or Mobile Advertising – Advantages and Disadvantages
Advertisement typically used by the branding to increase their consumption of products and services, advertising usually involves repetition of an image or product name in an effort to promote a certain brand of consumer minds.
At this time where technological development is growing rapidly so these advertisers begin to look to advertising in other ways. In doing branding the rapid development of mobile advertising going on with all the advantages and disadvantages compared to moving advertising.
Based on the above reason, Here is we have the differences, advantages and disadvantages of the old car moving advertising to a new kind of advertising that is mobile advertising.
Moving Car Adevertising
Moving advertising or wrap advertising is the marketing practice of completely or partially covering (wrapping a vehicle in an advertisement or livery, thus turning it into a mobile billboard.
This can be achieved by simply painting the vehicle surface, but it is becoming more common today to use large vinyl sheets as decals. These can be removed with relative ease, making it much less expensive to change from one advertisement to another.
Vehicles with large, flat surfaces, such as buses and light-railcarriages, are fairly easy to work with, though smaller cars with curved surfaces can also be wrapped in this manner, features photo examples of vehicle wraps. (wikipedia)
Moving car advertising has been around since long that is still frequently encountered truck, car or train in the way that attached by a variety of image ads, as road users we sometimes do not feel that we're a moving object by branding.
These are some of the advantages and disadvantages in moving car advertising, here:
Examples of moving car advertising: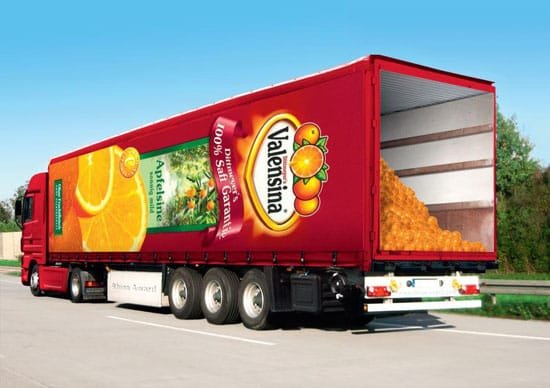 Advantages of Moving Car Advertising
Can easily seen for everybody
With all moving advertising automatically when you meet on the street then it will easily see the ads that are placed in car or train, this would save more than we pay for television ads that not everyone can see automatically.
When you send package otomaticaly you will advertising by your vehicle.
When our service vehicle affixed with picture advertising while sending the product is doing the ads placed on our vehicle will be easily visible to other motorists.
Good visibility can attract your customer by seeing your moving advertisement (eye catching)
With a large advertising images or colors that stand in our vehicle willl easily attract the attention of other road users.
Cost effective to do advertisement
This type moving advertising is cheaper than television cemercials, newspaper or other advertising which must be paid each word, each size, and so forth, because the only driving a vehicle we've been doing branding in a automatic way, without any additional cost.
Can provide area coverege within limited budget
As I have explained in the first advantages of moving advertising when delivery of product we will not only advertise in one place, moving advertising its wider region, if we make delivery outside the city then we automatically will do the branding outside our region.
Longevity (Long lasting advertisement)
Unlike other types of advertising on television or newspaper advertising applies if the ads we run out then will not be shown again, in moving advertising will still be able to do advertising for anytime we want, this is what is meant by longevity.
Disadvantages of Moving Car Advertising
The car is not always move
When a car service used to send the goods are parked the advertising will stop seen a people.
The cost wheen need to change the logo, etc
If there are changes in the product logo or image models that exist in the truck it would cost to replace it.
Can damage reputation cause of bad driver
When driver moving advertising vehicle make mistakes like drunk, crashing into people or traffic violation while driving a vehicle, of course it woul damage the reputation of the brand, because people will remember the car was plastered with the brand on it.
Car renting is complicated
When renting a car for moving advertisement will meet some dificulties because not everyone likes an ad taped to the car rental brands, most of them considered tacky.
Mobile Advertising
If the ancient times people often look at moving advertising by using a truck, car or container now on people will often see these ads on their own cell phones.
This is due the mobile phone development is very rapid, as long as the celullar develompent people can not escape from dependence on this mobile phone.
Especially when the smartphone is a trend that can be online to the internet at all times equipped with wifi, so the marketers do not let go this tendency for people to use it in advertising by using mobile phone applications.
By the data from wikipedia, In Japan today, already 44% of mobile phone owners click on ads they receive on their phones. Mobile advertising was worth 900 million dollars in Japan alone.
According to the research firm Berg Insight the global mobile advertising market that was estimated to € 1 billion in 2008.[citation needed] Furthermore, Berg Insight forecasts the global mobile advertising market to grow at a compound annual growth rate of 43 percent to € 8.7 billion in 2014 (wikipedia).
Based on the data from wikipedia, the mobile advertising is growing increasingly, prevelent in the case, as a loyal customer of a mobile advertising product can be very profitable because they will be easily connected with the promotion of these products simply by pressing buttons on their smartphone. Here are some advantages and disadvantage of mobile advertising.
Examples of mobile advertising:

Advantages of Mobile Advertising
Your customer fell more closely by have your aplication in their mobile phone
The old consumer or the new one with an aplication that they have in his or her particular brand in smartphone will fell more emotional closeness with these brands, the latest offers or promotion will be easily delivered to each consumer phone with touch of a button.
Emotional approach is the most frequently targeted by the perpetrators of branding.
Eco friendly (advertisement by not use a paper)
More eco friendly is of course, with the impact of global warming in which the diminishing resources of this type of advertising will certainly save millions of paper, a truly paperless advertising trick in doing branding image. Mobile advertising is one way of doing saving paper resources.
Fast advertisement (your customer will recive you advertisement with fast time)
Mobile advertising is not about time, at any time when consumers who already have a certain brand application with the touch of a button advertising will be automatically opened for these consumer, anytime, anywhere and anyplace.
Can targeting customer location with use GPS
With the facilities that GPS give we can now the location of our customer who already have our mobile aplication, with this will alow us to find out which areas are consumer at least and the most, based on data from the GPS that we can pursue a variety of ways to improve or maintain the number of consumer.
Unlimited updates
Mobile advertising allows each consumer to update as often as possible, with updates on mobile advertising consumer directly obtain information regarding sales daily, menu specials, new product or dicount.
Disadvantages of Mobile Advertising
Visibility problem
Not all of your customer use smartphone so not all of your customer will see your mobile advetisement.
The complexity of mobile marketing
Mobile marketing is fragmented and complex because of many different handsets and carriers, different types of functionality, and different preloaded apps (i.e. Google Maps on iPhone).
Consumer privacy issues
Advertisers are wary of consumer privacy issues.
Conclusion
Development of the advertising world always go hand in hand with technological development, thus moving the role of advertising began to envolve into mobile advertising in which the respective advantages and disadvantages of moving and mobile advertising is expected to be offered by the perpetrators of emotional branding can bind to each consumer.
Moving advertising can we use if gets the brand to place where traditional media fail to reach the residental street, the workplace, and the school. As for the mobile advertising we can use the facilities smartphone, which is difficult to reach othe types of advertising for consumer mobile ads can be viewed any time, anywhere, and anytime.
How about you, between moving and mobile advertising what you like best? Please share your thoughts in the comment below.