Role of Sorezki in Developing SEO Link Building Services
In today's internet based world, Search Engine Optimization (SEO) has become the priority for every site. Every website loves to get the attention of the search engines. Search engine optimization can be classed as the best form of marketing for a website. With such high importance associated with it, many companies today provide SEO services. One of the best in this business is this SEO link-building services – Sorezki.
More About Sorezki

Apart from the regular SEO, Sorezki tries to add to the marketing strategy of a website. Services provided by the company include link building by inserting blog comments, media promotion and placing hyperlinks on an article, all done manually – no robots allowed. Apart from that, Sorezki also undertakes website monitoring to determine the traffic load. Detailed report is provided on the website traffic. This assists done by their professional link builders in gauging the popularity of the website. Marketing strategies can be planned accordingly then.
Best Features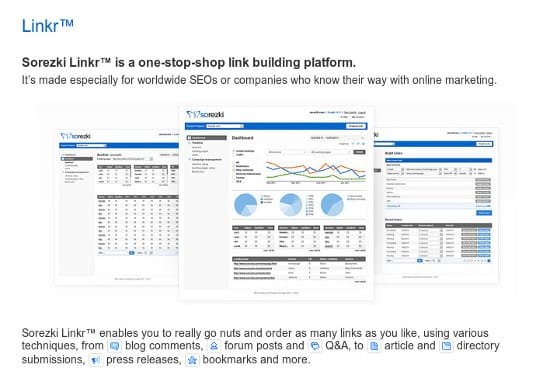 A special 'Linkr' technology has been incorporated by the Sorezki Company, which definitely its best feature. It allows you to order links according to your own convenience. This can be an effective online marketing technique, especially for website organizations skilled in online marketing. With correct use, the software provides a great deal of service. There is another exclusive service termed 'SEO plus', designed especially for Google Chrome browser. It has all the up to date features of geo location tracking, search engine websites and social media information.
On the flip side, Linkr software is for pro companies who know the depth of online marketing. SEO Plus is also designed for Google Chrome browser only. The software being browser specific does hinder its universal appeal. These shortcomings however, do not overshadow the great services provided by the company.
Sorezki has made a name for itself in SEO world for its innovative approach. The classy services provided, at a very reasonable price are sure to attract potential website organizations.