The most unavoidable thing in our lives is Social media. It is crawling slowly-slowly to become the centerpiece.
Undoubtedly, it is here to stay for long!!
The way it has transformed the landscape of marketing is also noticeable and commendable also. As the living form, its changes are consistent- from the latest updates, platforms, functionalities, and features; it has covered us.
As soon as we hit 'retweet'- we notice some new changes. And, curiosity increases to know what it is going to serve now. But, sometimes, things become more complicated for businesses.
To be consistent in the race of competition, complying with the changes in each social media channel for social media marketing is not a seamless task. Handing everything at one time is tough, indeed!!
However, it is a constraint for businesses to thrive. Even if it is a well-established or a new brand, integrating social media in the marketing strategy is vital to be on the top in the ever-changing social media world.
Many of you have the question:
Will investing in social media be worth it?
Can social media marketing be the focal point in the future?
The answers lie in your questions only. The way you will interpret and use social media is going to give you the results. The other aspect that no businessman can ignore is the Customers. The customers are the heart of your business. Hurting them or not satisfying them demands some losses.
Comprehensively, there is no way of neglecting social media. Check out its benefits below to put a stamp on your decision:
Improved brand awareness
Growth in customer volume
Better connection with the audience
Improved website traffic
Create more leads
More sales and capital
With a glimpse of how it could be beneficial, let's check out its recent statistics to multiply our decision to choose social media marketing.
Table of Content:
Some Astonishing Statistics of Social Media
It is noticed that almost 3.5 billion users are there across the globe are using social media. This figure is continually increasing. Of all, 45% is the current population. The usage is of 2 hours and 22 minutes of every user on the social messaging and social networks. From the last year, there is an increase of 366 million social media users.
Facebook, Instagram, LinkedIn, Youtube, and Pinterest are the most used social media platforms. How about taking a look at the in-inclusive statistics of every channel? Stay us for more time to gather more knowledge on social media marketing.
After knowing all the statistics, let's find out how social media can be the best marketing strategy for your business.
How Social Media Marketing can Help Generate Business?
Outline the Target Audience

It is important to identify the audience. Every time, it is not vital that everyone is your audience-some could be the perspective one. The world is packed with industry influencers and players. Anyway, examining the audience can be fruitful in the below means:
Schedule of posting
Quality of published content
The brand voice
Social media channel you are majorly active on
The profile information
Our advice here is that spare your productive time in knowing the audience, their challenges, their interests, etc. Practicing this, you can get a thorough report on how you can draw your strategy to make them engaging in your business.
Productive Strategy
Similarly, making an intentional and specific strategy prior can be of great help. Consider that every platform has the best practices and subtleties to gain more customer engagement. There is a possibility that your brand does not have the appearance of each platform. So, to get more visibility on your posts, you must have the best strategy. Have a look at the below question that you should consider outlining the valuable strategy:
How is this platform useful for my business?
Who can get engaged with this platform?
What the posts that can do wonders?
How can I make my posts different from others?
Admittedly, the questions, mentioned above, will help you to make a plan for your business. While initiating, give priority to the website, and the content quality.
Help More and Sell More
As of now, it is clear that social media marketing is touching the clouds. Try not to make your social media presence be the hard one. When it is about the eCommerce, pushing deals and offers is the job. But, in addition, it is also essential to be available to your customers whenever they have queries related to content marketing or about the products and services.
Keep an eye where they are getting buzzed and post similar content that can be an answer to their queries. Timely availability to the customers than just working on the sales will give you the customers who can sustain with you for long.
Know What is Trending
Noticing the trending strategies is also one of the vital factors to gain success. Implement every new trend, check and make the posts accordingly. This way, you can engage more customers at your door. But, do not create the same post-your content should be different and actionable.
The post should seem like a focussed message that might be the baseline to create future posts. What you can do is that you can have the list of the website that are posting the HQ and the unique content. Integrate them to RSS to get every new post from reliable websites.
Careful Crafting of Social Media Content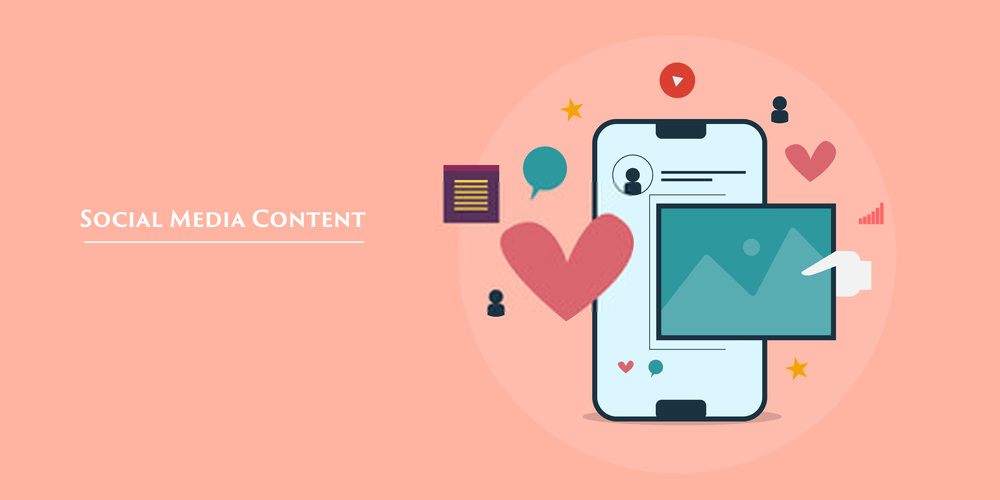 If you are not posting the thoughtful content, then you are on the wrong path. Thinking that posting is just a job is a total waste. So, it is essential to know the distinct goals of every channel.
LinkedIn. Known as the professional social media channel for B2B audiences. It is distribution, a content publishing platform, and a content publishing platform also.
Facebook. Best for entertainment or news content, the Facebook group is the best way to link with the potential audience.
Instagram. Here, the short videos and static images work best. If your content is extremely visual, then use Instagram.
Pinterest. Being highly visual, it is restricted for static images. Pinterest holds the ability to drive traffic to blogs.
The main thing to keep in mind is that when you have knowledge about the platforms than you can craft the related content.
Prioritize the Video Content
You must be aware of the significance of the video content!! It has now become a powerful, especially in social media marketing.
As per the statistics, 82% of the video traffic will be noticed in 2021. So, if you still have not integrated it into your strategy, then do it now. Many ways are there to take advantage of the video content for successful marketing. But the recent trend nowadays is live videos.
People, when visiting some new places, make the live videos -this makes the audience more involved. They started asking questions to know more. In a similar fashion, you can also jump to this strategy and can interact with them even after the live video.
Facebook says that you can get 6X more engagement and interaction with the live video. Also, you can use the recorded and live videos to gain more results simultaneously.
A/B Test

Most of the business uses A/B testing while marketing their business. It can also be termed as Split testing. It uses different headlines for similar content to know which one is giving better results.
The marketer's practices A/B testing for sales pages and landing pages. Integrating split testing can also work best in social media marketing. Rather than posting on Facebook or publishing on the tweet, and later neglecting it, use the links. These links can be shared a number of times, and you can get more visibility.
A/B testing is vital as the audience adverse the posts according to the CTA and copies phrases. The fundamental and the only reason behind content rejection is the low quality of the content. The content could be of the headline in the Pin, Facebook, or Twitter. So, now you know that when your post is not getting the required attention, then there is a lack of testing.
Wrapping Up
There is no turnkey solution or secret to enhancing the value of your brand and make your social media visibility strong. Though, some strategies and tactics are there that can result in being successful in the near future. Following them will make you stay ahead in the game. Likewise, you can grow your audience.
We hope, you liked this article. If there are other vital tips to be on the top in the social media world, then let us know in the comment section below. Share your views with us!
Thanks for reading!!
About the Author!
Morris Edwards is a Manager at Awebstar – Social Media Marketing Company in Singapore which is dealing with web design, mobile app development, PPC advertising, Youtube SEO and more. Connect with him at Facebook, Twitter, and Awebstar.com.sg.