Wanna improve your social media performance?
Looking for the reasons of your unacceptable marketing results on social media?
Take the time to read the following sentences to know how you can find your weaknesses and strengths.
Social media marketing is growing via different networking platforms by the day.
With more than 3 billion active users around the world, social services are the priority of every marketer to establish brand identity on them. An astronomical amount of money is, therefore, being spent by companies to build brand awareness and boost their sales.
If you are one of these brands, it is essential for you to measure your performance on social media and know your ROI. Analytics are tools that give you insightful data into your activities and your performance on social media. You should unitize this information to track the trend and efficiency of your social presence.
In fact, it is a must for you if you want to increase the return on your investment in social media marketing.
Many social networking services and also search engines like Google have their own analytics tool. You had better know more about different aspects of analytics and take advantage of them to increase your ROI.
In this article, we are going to review these tools and explain the importance of using them to grow your business in 2020.

Social Media Analytics
As it was mentioned, every social network uses its own tool.
For example, Twitter uses Twitter Analytics, Facebook and Instagram use Insights, LinkedIn provides two different options (free and premium), and YouTube offers the YouTube analytics dashboard.
Just like these pioneers in the field of social media, new emerging social services such as TikTok and Steemit have their own Analytics tools.
However, there are other social media analytics tools such as Awario, Squarelovin, and Union Metrics that you can use separately.
Analytics are usually detailed programs that provide you with the chance to watch your audience's behavior. You can learn a lot of things from this analysis and optimize your interaction accordingly.
They are very simple and user-friend so that you can easily understand their results and graphs. Most of them offer interactive visual graphics that are really foolproof.
Of course, many features of these tools are available only for premium users who are able to pay. So, the first step to analyze your account activities is to access these tools via your business profile. However, even free versions of analytics tools would be of great use to every marketer.
Information About Your Followers
Most of the social media services offer analytic data about your followers. The graphs are usually interactive and really informative.
For example, on Facebook you have (It should be added that Instagram also uses the same platform as Facebook) you can see the following:
Total Followers: the number of followers you have on Facebook.
Net Followers: the difference between pages' likes. This is really useful for you to understand which content works for your audience.
Another graph provides you the place in which your new followers liked your page.
Other information is about the time your followers are online. By this data, you can choose the most efficient period to post in order to reach the maximum possible audience.
If you want to reach maximum exposure, you have to post timely. If you post too many, your followers will be tired of following you. On the contrary, if you do not post frequently, you will be forgotten. By using analytics, you can find out the best posting schedule based on your followers' location.
Another information regarding your followers that many social analytics tools will provide you with is top followers and top mentions. For example, Twitter will let know which of your followers each month has more followers. Or even which of your mentions in that month has gained more impressions. You can certainly use this information to get more shares and increase your engagement rate.
As you can see, it is really interesting to know your audience's behavior in such detail on social media using analytics programs. But the truth is that using a huge volume of data in practice is a bit harder than you might think.
The Best Performing Posts
One of the greatest beneficial aspects of using analytics is finding the posts with the best impressions and engagement rates.
When you know what kind of content has gained the most attractions, you can focus on that theme. By this method, you will reach the best performance possible and avoid generating content with less efficiency.
This is particularly essential for small businesses and start-ups. Because at the commencement of any career, the owners might not aware of all the details of their market. Using analytics and tracking top posts, they can reach an optimum content generation approach that is compatible with their audience.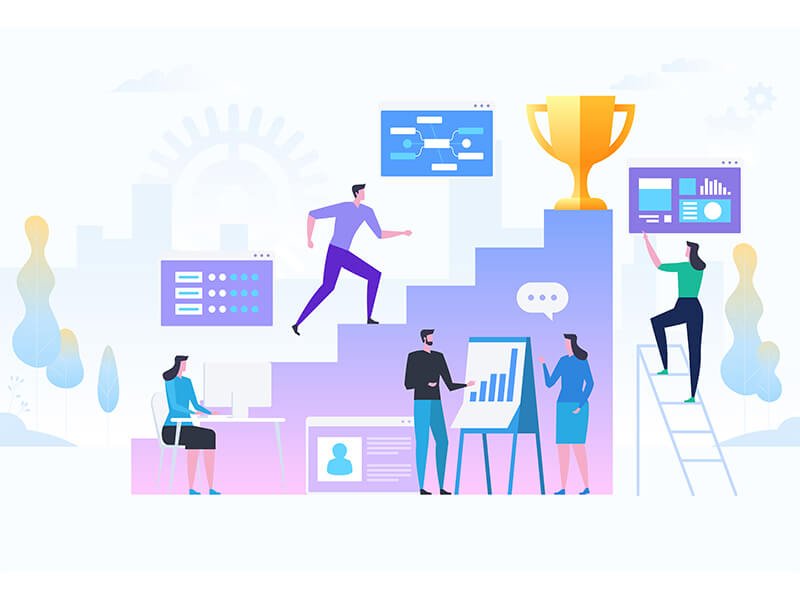 Goals and Metrics
You should define certain goals to know which metrics and numbers are important for achieving those goals. Without clear goals, you cannot keep your followers and grow your business.
Based on a report by Social Tradia, many influencers sell Instagram accounts because they do not have a certain goal and subsequently they will be faced with a significant drop in their followers.
By the way, it is well-established that some of the most important data for measuring your improvement on social media are the engagement and conversion rates. The engagement rate is the ratio of the total number of interactions on a single post to the number of followers.
However, in some social services like twitter, the total number of impressions a post has received is considered instead of the number of followers. Also, interactions will be a little different on various platforms. On Instagram, for instance, likes, comments, and saves are calculated.
On the other hand, the conversion rate is the percentage of the people clicking on your social media posts who visit your website and perform the desired action. An acceptable conversion rate is usually between 2-5 percent.
Different social media platforms can provide different measuring factors. For example, Link clicks on Twitter is an important metrics by which an organization can find out how well their strategies have worked on this social service.
If you have a certain plan for your social media campaign, you can set a specific goal for each of these metrics along with a specific deadline. So, you can constantly track and measure these specific data required to achieve your goals. Because the metrics you measure and try to optimize are directly dependent on the goals you define in your plan. Make sure that your goals are clear, measurable, and achievable by a certain deadline.
For instance, many marketers want to improve their brand awareness. You can track metrics such as the number of followers, net followers, likes, shares, comments, etc.
Also, generating leads and boosting sales is another purpose for many businesses. Accordingly, you should set a goal on your click-through rate (CTR) and conversion rate. Another metrics you can track is the change of your site traffic.
Other Tools
There are other tools and apps that provide you with the ability to automate your management across all your social media accounts.
With these tools, you can schedule your social media activities and track the results in one place. This will definitely improve the efficiency and results of your social media marketing.
The best automation tools you can easily access are Agora Pulse, Hootsuite, Buffer, Crowdfire, and CoSchedule. You can be sure that by using the automation tools you can display a fast and accurate performance on social media.
Google Analytics is also a great tool for measuring your social media results. Google Analytics can easily determine the social media platform which brings the maximum, targeted traffic to your site. Additionally, by setting up a Google Analytics dashboard you can know your social media ROI.
It should be added that many beginners use social escrow services like Scrowise to acquire and customize a new social media account. This can help them save time and money. In such cases, using Analytics are paramount because they should work with the account carefully and based on the previous data to keep the engagement rate high.
Final Word
Social media analytics refers to the process of tracking and analyzing information from social networking services such as Facebook, Instagram, and Twitter. It is widely used by businesses to measure their digital marketing activities.
Without this information, you cannot recognize the strength and weaknesses of your plans. It is essential for you to analyze the results to optimize different aspects of your marketing such as content, schedule, engagement, promotion, etc.
In sum, there are three major stages in the process of tracking social media results: data identification, data analysis, and interpretation of the information.
So, you have to be ready for each of these steps if you want to boost your business.
About the Author!
Tom Siani is an online marketing expert with up to 4 years of experience in this digital industry. He is also collaborating with some well-known brands in order to generate traffic, create sales funnel and increase online sales. He has written a considerable number of articles about marketing via social media, brand marketing, blogging, search visibility, etc.