A Top-Notch Guide on Creating a Buyer Persona
Illustration by Liza Ditkovskaya via Dribbble
Creating a buyer persona is the key to a successful business strategy. It is the first thing that you would do when creating a business plan. Otherwise, you won't be able to attract the right target audience and convert leads into customers.
The truth is that many companies tend to create their buyer persona right off the bat. They consider all characteristics like age, gender, demographics, hobbies, etc. And when they have their ideal customer portrait – they put it into cold storage.
Why does it happen?
The reason is simple – a buyer persona has been created incorrectly.
In this guide, you will find out everything you need to know about creating your buyer persona.
Let's start!
The Essence of a Buyer Persona
A buyer persona is a collective term that represents your ideal customer. It is not about a physical person. It suggests a set of characteristics that would attach to the people interested in your product the most. This information is based on the market research and in-depth analysis of collected data.
Why does it make sense in terms of business?
The goal of creating the buyer persona is to find a similar issue that your potential customers have.
For example, your business revolves around creating content design tools. These tools help people make their content look visually appealing. Hence, you have different customers – students, teachers, businesses, etc.
All these people have various personal tasks.Nevertheless, they have similar issues – they need to make their content beautiful.
By having a detailed buyer persona you will be able to create your message, product, and everything in-between. And nudge people to choose your product at the "decision" stage of the marketing funnel.
Targeting the correct audience before creating a product demo video is very important in order to convert them into customers.

How to create your buyer persona in a step-by-step guide?
First and foremost – the goal of a buyer persona template is to meet the requirements of your real customers. Hence, you should create your buyer persona keeping this thought in mind.
Here is a breakdown of the process how you should create your buyer persona:
1. Start with finding people for the future interview
The best candidates for the future interview are your current customers. Thus, review your list of the customers and pick some of them to arrange an interview. Pay attention to loyal customers who have been using your product or service during all this time.
Apart from your customers, you should draw attention to a few other groups of people.
Users
Users are people who might use your service but didn't convert into paid customers. They could test a product trial.
Sales prospects
These people could reach out to your sales department and haven't decided to convert into paid customers.
Collect the data and move to the next step.
2. Get in touch with people
You have created a list of people you're planning to reach out to. It is up to you how to get in touch with all these people – via virtual call center, email, Skype, or create a Zoom meeting, whatever.
Don't shy away from telling people why you want to interview them. The goal of the interview should be straightforward – find out about their customer experience with your product.
The interview should be no longer than 20-30 minutes. Appreciate your customers' time. And assure people that it won't be a sales call.
3. Interview people
Start the interview by asking if you can record it. Remember that you must create comfortable conditions for the person you're interviewing.
What questions should you ask?
Adele Revella of Buyer Persona Institute suggests splitting questions into five categories:
Priority Initiatives – what was the reason to choose your product and pay for it?
Success Factors – what results do your customers want to achieve using your product?
Perceived Barriers – what issues do your customers have using the product?
Buyer's Journey – how do customers evaluate their options?
Decision Criteria – what competitors' product features do your customer like the most and why?
Here are a few tips that will help make your interview resultative:
Don't rush your interviewees to answer the questions (people are not aware of the questions you're planning to ask – give them time to think and prepare their answers)
Listen carefully (the goal of the interview is to get information)
Ask additional questions (don't hesitate to get the information fully – ask clarifying questions)
Guide your interviewees (people can jump back and forth during the interview which may lead to missing some information. To avoid this you should guide them during the entire interview)
4. Work with data you collected
You need to analyze the data after finishing all interview sessions. The best way to do this is by exploring common patterns in all these interviews.
Afterwards, take the patterns and organize them according to marketing funnel stages.
For example, your business offers tools that help make content look more visually appealing. Eventually, one of the most common questions could be – "how to use your toolkit to create a flowchart, infographics, graphs, etc?"
This type of question belongs to the "Interest" stage of the funnel. Your goal is to find more patterns that could be aligned with every marketing funnel's stage.
5. Create your buyer persona
The final step you should take is to create the buyer persona. You can do this by segmenting your data into different audiences.
The segmentation can go in whatever direction you want. For example:
Reasons why customers use your product
Business issues your customers have
Usage of your product
Size of the company
Business industry
When you have already identified segments – you can start shaping your buyer persona.
How can you incorporate your buyer persona into marketing activities?
Any buyer persona should help your business and your marketing activity. And here are three directions how to do this:
1. Positioning
It is important to take care of your brand positioning. A positioning consultant April Dunford states that positioning is the act of deliberately defining how you are the best at something that a defined market cares a lot about.
Use information you've collected from customer interviews and adjust product positioning accordingly.
2. Content creation
Your buyer persona can give you a clue about what type of content you should create. Besides, it is important to realize how your leads move down the funnel to the final stage.
Therefore, adjust your content strategy to every marketing funnel stage. And here is an example of how you should do this.
Imagine that your business is related to the SEO industry. In other words, you offer a tool that helps website owners with their SEO efforts.
You have already created your buyer persona and decided to call it Jack. Jack's buyer journey starts from the first stage of the funnel – awareness.
Jack explores how he could drive more traffic to his site. To create content for this stage, you should cover topics related to this particular issue.
How to figure out the exact topics that would be interesting for Jack?
You can use Keywords Explorer tool from Ahrefs. Everything you need to do is to type issue-related terms and review the "Matching terms" report.

Since your goal is to create content for the "Awareness" stage, you should focus on question-based topics. Likely, you can click the "Questions" tab and review question-type topics.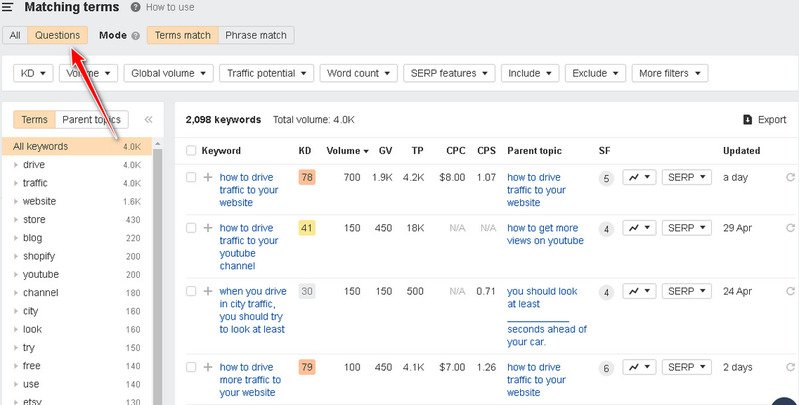 The report suggests 2K+ potential topics you can take into consideration. Run through the list and choose those that look relevant the most.
3. Help your sales and product teams
You can help your sales and product teams by providing them with your information findings taken from interviews you had run before. This data suggests actionable tips that push your potential customers down the funnel.
What's more important, your product team will know what exact features they should update or remove. Eventually, you will offer products that your customers want.
To Sum Up
A buyer persona is a key to acquiring business-related customers. These customers will show loyalty to your product and brand during the time. While loyal customers might become the brand's ambassadors.
Bear in mind that the process of creating your buyer persona shouldn't be simple. It requires in-depth market research and a detailed understanding of the buyer's journey moving from the first stage of the funnel to the final one.
If you think this guide lacks more information, feel free to share your thoughts in the comments.