26 Useful Articles on Branding of January 2012
This is our monthly series were we share useful brand and business tips articles all from the previous month. We hope this series can help you to strengthen your brand identity and growing your business.
If you would like to be kept up to date with brand and business resources, you can follow us on Twitter or by subscribing to our RSS feed.
6 Branding Approaches They Forgot to Teach You in Business School


by Neil Patel
Do you have all the basics of branding in place, but you are still struggling to create even a dent in your competitor's market share? So what can you do? Study the following six companies and the branding lessons they learned as they overcame the obstacles in their markets.
6 Things to Know Before Starting a Business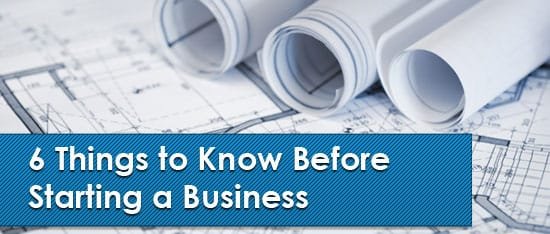 by Nellie Akalp
Having started a few businesses in my career, I thought it would be useful to highlight some of the hard-won experience I've learned throughout the process — the kind of advice I wish I'd known when I started my first, or even second, business.
5 High-Risk, High-Reward Steps to Starting Your Dream Company


by Nick Hughes
Here are five risky steps that will actually help protect the downside of a new company and, counterintuitively, set you up for success.
8 Strategies to Get Your Business in a Distraction Free Zone

by Ahlam Yassin
Here are eight strategies to get your business in a distraction-free zone!
9 Steps to Starting Your Freelance Web Design Business


by David Horn
I'm going to assume that you have some basic skills in web design – that you've learned your craft and that you're ready to promote your services to potential paying clients. And I'm going to assume that you have a little business savvy, a good amount of time, and a real commitment to doing this. Okay? Okay! Let's get started.
How To Avoid Hiring The Wrong Person For Your Startup

by Chris Rickborn
Here are five tips to help you avoid hiring the wrong person for your startup.
3 Great Ways To Attract Higher Quality Clients


by Lior Levin
nstead of trying to convince low quality clients to set the bar higher, you should focus on attracting 'higher quality' clients. There is no magic formula that will attract them, and there is no absolute way to stave off all low quality clients from even contacting you.
10 Tips for Building a Strong Online Community Around Your Startup

by Megan Berry
A community is much more than a one-time marketing campaign, and can help you throughout your company's life cycle if you take the time to grow it right.
Here are 10 tips for getting started.
How to Grow Your Business With Mobile Paid Search


by Jamie Turner
Here are some tips and techniques you can use to grow your sales and revenue using mobile paid search.
5 Tips for Making Your Brand More Social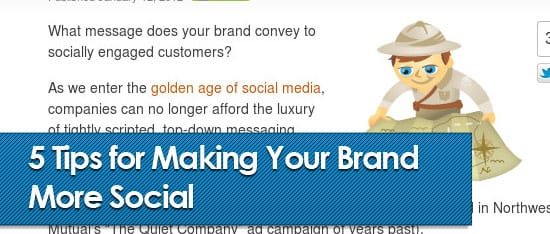 by Phillip Davis
To market effectively, companies need a consistent, compelling brand voice—one that doesn't pause, mumble or clam up. Here are five ways to share your message comfortably and confidently.
5 Ways Businesses Can Use Social Media as a Tool for Progress


by Riley Gibson
Here are the biggest missteps when it comes to using social media as a tool for progress, plus some advice on how to overcome them.
9 Small Business Social Media Success Stories

by Phil Mershon
This article highlights nine small businesses of various sizes and industries that have transformed their online presence with innovative social media marketing practices.
5 Proven Ways to Generate Revenue From Facebook


by Brian Carter
There are a number of strategies companies use to do Facebook business effectively. Let's look at five of them.
Facebook Timeline and What Marketers Need to Know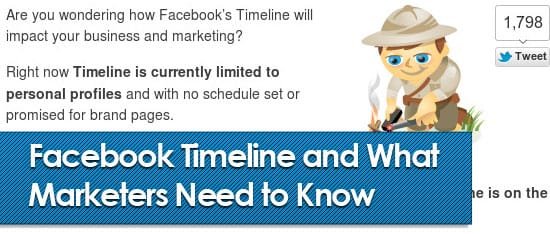 by Maya Grinberg
Are you wondering how Facebook's Timeline will impact your business and marketing? This article will explore what the timeline means for marketers.
13 Tips for Increasing Your Company's Google Rank


by Scott Gerber
Instead of letting your Google rank get you down, apply these tips and techniques from a group of successful, young entrepreneurs in order to boost your company's SEO results.
How You Should Use Google+ for Your Business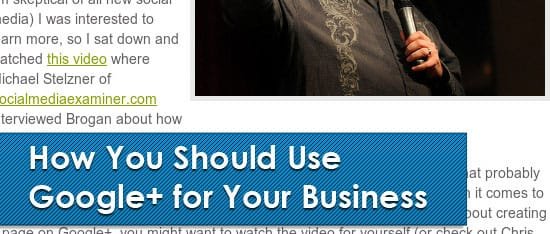 by Melanie Brooks
If you are thinking about creating a page on Google+, you might want to watch the video for yourself (or check out Chris Brogan's book)
5 Ways to Brand Your New YouTube Profile


by Casey Zeman
Here are 5 tweaks you can make to improve branding on your YouTube Channel.
100 Ways to Become a Twitter Power User

by Neil Patel
How do you take advantage of this growing audience of Twitter consumers? You have to become a power user. So here are 100 proven tips to help you do just that.
Pinterest for Brands: 5 Hot Tips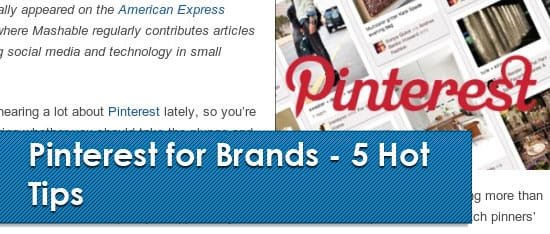 by Lauren Drell
Here are some tips for navigating Pinterest, along with a rundown of how various companies are already using the visual social network.
5 Ways Brands Can Use Pinterest to Boost Consumer Engagement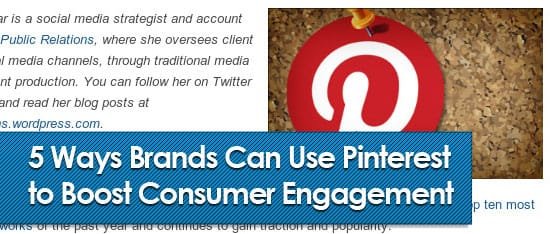 by Constance Aguilar
How can brands and companies utilize Pinterest to their advantage? Here are five ways to jump on the Pinterest bandwagon to reach an already established female audience and a rising male audience.
How To Stop Designing Websites And Start Designing Brand Experiences


by Christopher Lee
Study these five world-class brands to become a master of designing brand experiences.
Is It Time for Your Business Cards to Go Digital?

by Carrie Cousins
When looking for a business card, consider both digital and paper options and integrate your digital self into paper cards. A business card does more than provide your contact information, it is a gateway to your portfolio as well.
Is the traditional business card dead?


by Speider Schneider
why would anyone need a printed business card? Being the curious sort I am—some may say the pain-in-the-rear—I had to raise my hand and ask, "but how do people remember our URL without that little slip of paper?"
Colour Combination Makes a Better Impact in Logo Designing

by WizKraft
In the following article, we discuss the impact that colour combinations can make in the design of your company's logo and the power that logo's going to have for your brand.
5 Cliché Logo Design Trends to Avoid


by Joshua Johnson
Too often we see designers falling into the trap of rushing into a logo design project and coming up with ideas that are so overused that they're downright cringe-worthy. Today we're going to take a look at five logo trends that fit this description. Read on to see if any of your go-to techniques are on the list.
Learn From These 5 Beautiful & Interactive Email Template Designs

by Sherice Jacob
The right email template can make or break a promotion. With this in mind, here are five gorgeous email newsletter designs that not only give your eyes a visual feast, but also spur you into taking action by putting a unique twist on traditional email marketing.