30 Useful Articles on Branding of March 2012
This is our monthly series were we share useful brand and business tips articles all from the previous month. We hope this series can help you to strengthen your brand identity and growing your business.
If you would like to be kept up to date with brand and business resources, you can follow us on Twitter or by subscribing to our RSS feed.
Why Your Freelancing Business Must Have a Brand


by Laura Spencer
Now, more than ever before, it's important to develop a brand for your freelancing business. In this post, I will discuss what branding is (and is not), list some of the benefits of having a freelance brand, and explore ways to discover your freelancing brand.
Facebook Timeline for Brands: The Complete Guide

by Christine Erickson
Now that Facebook Timeline has finally rolled out for brands, companies have endless opportunities to refresh their social media strategy. Sounds overwhelming, doesn't it? Let's break it down.
Facebook's 6-Point Plan for Building Brands in the Social Media Age


by Todd Wasserman
Facebook and Forrester propose a six-point plan for building brands in the social media age: articulate, connect, engage, influence, integrate and rejuvenate. We will look at each in greater detail.
3 Ways Marketers Can Reach Facebook's Mobile Audience

by Victoria Ransom
Facebook also revealed that more than 450 million people use Facebook Mobile on a monthly basis, and more importantly, that mobile is outgrowing desktop use on the social network 2:1. These game-changing trends mean that marketers need to get serious about mobile in 2012. Here are three new ways you can build mobile into your Facebook marketing plan.
The Marketer's Guide to the New Facebook Pages


by Neil Patel
This guide will help you find what you're going to like and hate about Facebook's latest updates to pages, including how your brand or business can adapt.
7 New Facebook Changes Impacting Businesses

by Andrea Vahl
Facebook pages are changing. And that means your business strategy will need to change. Here is an overview of the changes and how brands can take advantage of some of the new features.
8 Best Practices for Food Brands on Pinterest


by Janet Helm
Food is one of the major niches or shared interests on Pinterest. In fact, food lovers were among the first on Pinterest; they saw the benefits of pinning instead of clipping recipes.
Here are eight tips and best practices to get you started.
3 Steps to an Effective Social Media Strategy

by Amy Porterfield
Do you have a social media strategy for your business yet? If you don't, you could be missing out on game-changing results. Below is a three-step plan designed to help you develop an effective, streamlined road map for social media success.
How to Optimize Your Business For Local Search and Social Marketing


by Neil Patel
If you have a local business or one that targets audiences in a specific geolocation, then you will want to move beyond general guides for search and social optimization. This post will take you through several marketing strategies for local search and social media marketing.
9 Social Media Marketing Tips From the Pros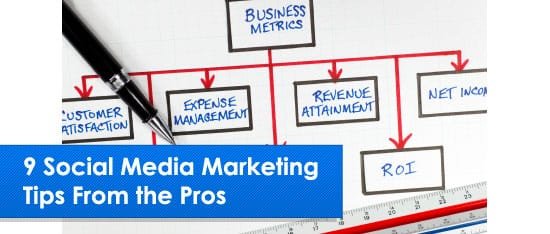 by Cindy King
Are you looking for some new ideas to simplify your social media marketing? We asked the pros for their hottest social media tips. Here's their advice to help you power up your social media marketing.
5 Tips for Moving Social Media Leads Into the Sales Funnel


by Nichole Kelly
Are you interested in monetizing the social media channel? Keep reading for five tips to turn fans and followers into a revenue channel.
5 Social Media Mistakes to Avoid

by Melanie Brooks
There was a recent blog post on FastCompany about five social media mistakes we should all avoid. I thought I would share with you their tips and add in a couple of my own.
6 Ways to Acquire New Customers via Social Media


by Lauren Drell
We all know social media is an important tool for brand awareness and customer acquisition but how exactly are you supposed to convert random Twitter and Facebook users into real-life customers? Well, that depends.
10 Ways to Humanize Your Brand On Social Media

by Joe Chernov
Humanizing a brand simply means trying to interact with each customer on a personal level. But for a company to implement that style, there needs to be a shift in how it responds to customers, particularly via social media. Here are 10 ways to get started.
The Marketer's Guide to Blogging


by Neil Patel
As a marketer, have you ever wished you had a resource with all the essential and advanced information about blogging in one place? Well, I've tried to do my best in giving you everything I've ever learned about blogging in the ten years I've been doing this in one giant post.
9 Hard-Hitting Content Strategies for Small Business Blogging

by Neil Patel
Unfortunately, not very many people take the time to think strategically about their content, they just design a site and start writing.
I want to change that mindset right now and give you the steps and the tools you need to create killer content…day in and day out…so you can take your business to the next level.
The Ultimate Guide to Becoming a Successful Freelance Marketer


by Danny Iny
Freelance marketers have one of the best jobs on the planet. In short, it's rewarding, fulfilling, and very lucrative… a great gig if you can get it. So… how do you get it?
How to Leverage Groupon's Affiliate Marketing Model to Grow Your Business

by Neil Patel
If you looked at Groupons Alexa rankings before 2010, you would notice they had very little traffic. Fast forward to the end of 2010 and their traffic exploded, how it can?
Why Email Marketing is Still King


by Melanie Brooks
There's at least one person out there who believes that it's not these social media platforms, but email marketing, that makes the most sense when it comes to your business.
How to Kick-Start Your Email List in Easy 4 Steps

by Daniel Scocco
Most bloggers and webmasters know that an email list is one of the most profitable online assets they can have. In this post I'll give you 4 steps to kick-start your own email list.
The Freelancer's Ultimate Introduction to Google+ Hangouts


by Laura Spencer
In this post, I'll explain why freelancers should be interested in Google+ Hangouts, describe briefly how you can get started with Google+ Hangouts, and help you find some good Hangouts for freelancers.
Why Major Marketers Are Moving to Google+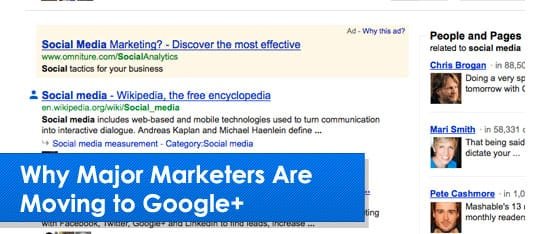 by Michael Stelzner
In this article, I sit down with Guy Kawasaki, the original Macintosh evangelist. You'll discover why 99% of his efforts are now focused on Google+.
8 Features that Make Google+ Better than Facebook and Twitter


by Farhan Syed
Numbers can tell a story. As of December 2011, Facebook had 845 million monthly active users. As of September 2011, Twitter had 100 million active users. As of January 2012, Google+ had more than 90 million users.
These statistics give you a feel for how quickly Google+ has become a force in the social media sphere.
8 Ways to Drive Traffic to Your Site With Google+

by Marc Pitman
Would you like to drive more traffic to your website? Here are 8 ways to help Google drive traffic to your site with Google+.
4 Tips for Creating Your LinkedIn Company Page


by Stephanie Sammons
Does your business have a LinkedIn company page? Keep reading for tips to create and grow a following for your LinkedIn company page.
Why Relationship Marketing is Important for Businesses

by Michael Stelzner
In this video I interview Mari Smith, author of The New Relationship Marketing and Facebook Marketing: An Hour a Day. Mari shares how relationships have evolved and why businesses need to focus on P2P (people to people) marketing today.
Why Community Is Essential to Business


by Michael Stelzner
In this video I interview Liz Strauss, founder and business strategist at SOBCon. Liz shares why businesses need a community to exist today and what you need to know to successfully build one to develop your business.
A Simple Question That Will Streamline Your Logo Design Process

by Russ Henneberry
Design is subjective. It's not math. Math is easier. 2 + 2 = 4. There is no arguing that. It's a fact. And logo design is particularly difficult. It's very subjective.
The Usability of Resume Design


by Justin Dauer
When we think résumé design, "usability" typically isn't one of the first things to spring to mind. This can be a trade-off, but whichever approach you feel suits you best, there are some tactics you can employ in any scenario to ensure your information provides an easier read.