Whether you are an expert in digital marketing or a newbie, you may see no difference between content strategy and UX writing. But don't worry. Hardly anyone is clear about what these terms mean. The confusion reaches such a point that some digital marketing bloggers use these terms indistinctly as if they were synonyms.
In fact, UX writing and content strategy are not the same things. In this article, we will compare one concept to another, and you will see the difference clearly.
Content Strategy
In a nutshell, content strategy is the framework that guides the creation, distribution, and management of content across all channels.
Companies develop content strategies to boost marketing efforts and achieve specific business goals:
Attract more traffic to the website
Raise brand awareness
Build trust and loyalty
Increase sales
Help customers to choose the right product from a wide range of products
Get customers emotionally attached to the brand
Content strategy should be clearly defined and documented. It should outline all the aspects of content production, curation, and distribution. Also, a content strategy should contain the guidelines of how the success of a content marketing campaign should be measured.
Why Is Content Strategy Needed?
Modern people are picky buyers, and it's not that easy to convince them to make a purchase. If you want to persuade shoppers to add a product to the shopping cart and proceed to checkout, you should write more than one blog post and send more than one email.
You should think strategically and create multiple touchpoints with your target audience. You should produce visual and textual content for every stage of the customer journey.
Let's consider a few examples of how brands use different types of content to achieve different strategic goals.
Blog Posts And Articles
Booking.com is one of the most popular booking services on the web. Its primary goal is not to raise brand awareness or to drive organic traffic to the website, but to increase sales.
In order to encourage customers to travel more and, consequently, book flights and hotels more often, Booking.com publishes new inspiring blog posts on a weekly basis.

Every blog post promotes specific travel destinations and hotels by linking relevant keywords to search pages and hotel pages.
And this content strategy works pretty well. Once the reader has got interested in visiting this or that city, he clicks the link to check the hotels available and see the prices.
Such inspiring blog posts make travelers get hooked with the idea of exploring a new travel destination. So sooner or later, they revisit Booking.com and book the accommodation.
Videos And Podcasts
As you probably know, KLM is one of the biggest European airlines. KLM developed a compelling content strategy with a goal to build trust and brand loyalty.
The company invested its resources in video content production and created the following series of YouTube videos:
KLM Intern On A Mission – Behind-the-scenes look at the work of KLM's employees, aircraft, and Schiphol airport
Documentary Movies – The history behind the brand and aviation industry
KLM Cockpit Tales – Behind-the-scenes look at the work of the pilots
KLM Fly Responsibly – Stories about how KLM tries to make aviation more sustainable.
KLM Blue's Big Adventures – The cartoons that explain to the kids how airplanes fly

All these videos help to convince the target audience that KLM is a safe, reliable airline with a long history and with a focus on sustainability. The more the customers watch these YouTube videos, the more loyal they become to the KLM brand. So the content strategy of this company works really effectively.
Social Media Content
Pranamat is a company that sells acupressure massage sets online. The company is new to the market, so its current goal is to raise brand awareness. To achieve this goal, Pranamat produces high-quality social media content and collaborate with digital influencers.
Here is an example of the sponsored Instagram post: a yoga influencer shares her experience of using an acupressure massage set and invites followers to visit the Pranamat account.
This post doesn't look like an ad copy. It looks more like a recommendation given by a friend. It means that this sponsored post doesn't scare prospective customers away. Vice versa, it gets users interested in learning more about the Pranamat brand and its unique products.
It means that the company has developed an effective content strategy that helps to increase brand awareness.
Diversity Of Content Strategies
As you can see from the examples above, different companies have different goals. So they focus their efforts on various aspects of content marketing:
Booking invests in blogging to increase sales
KLM invests in video content production to build trust and loyalty
Pranamat puts money in social media content production to raise brand awareness
Once again, it's worth mentioning that every company develop a content strategy first, and produce and distribute content second. Booking doesn't publish random articles on its blog, and KLM doesn't post any random videos on YouTube. Companies have a clear plan on what type of content to produce when to produce it and on what platform to publish it in order to achieve the expected results.
UX Writing
Now let's talk about UX writing.
In recent years, UX writing has emerged as a distinct content writing area. Today, we can define UX writing as the practice of creating a user interface (UI) copy that helps users to navigate a website, an app, or an online tool.
A decade ago or so, UI copies were written mostly by developers. And that was a problem. The developers had a good idea of how the product worked, but they didn't know how to explain it to ordinary users. Programmers overused technical vocabulary and wrote copies in a complex language. As a result, end-users found it challenging to understand how to use the digital product.
Fortunately, UX writing has fixed this problem. Modern UX writers know how to create a user-oriented copy that works well. A well-written product copy helps to achieve the following goals:
Improve the usability of the digital product
Attract more users
Increase conversions
Why Is UX Writing Needed?
If it takes the user more than two minutes to find out how to sign up for your website or how to place an order using your app, he will never become your customer. If you ignore the importance of UX writing, the user will leave your website, delete your app, and will never use your services again.
Modern users tend to choose digital products that are easy-to-use and easy-to-navigate. UX writing is a magic wand that you can use to convince your prospective users that your digital product is worth their attention.
If you want your company to achieve success, you should create buttons and menu copies that encourage users to complete the action. You should craft error messages and notifications that the average users can read and understand without using a dictionary of technical terms.
Let's consider a few examples of how digital companies use UX writing to enhance a user interface.
Error Messages
Here is an example of the UX copy – an error message that appears at the Upwork app. When the user is browsing the app, and something goes wrong, the system shows the message that says, "Try again".
This phrase helps users to understand that the problem is temporal, so they shouldn't close the app or wait for an hour until the issue will be fixed. By using this UX copy, Upwork prevents negative emotions in the user experience of the product.

Notifications And System Messages
Grammarly is an online grammar checker that helps writers to proofread their works. This tool runs hundreds of checks on the text and then notifies the user whether writing issues have been found.
If the checked text is perfect in terms of grammar, the user sees the message "Great job!". This phrase cheers the writer up and motivates him to keep using the tool.
In the tab "All alerts", there are three categories: Correctness, Clarity, and Engagement. If the quality of the text is high enough, then the system notifies the user that his work is "looking good, very clear, and very engaging".
All these words and phrases are the elements of UX writing that are used to humanize user experience. They help users not only to navigate the tool but also to enjoy the process of online proofreading. Using Grammarly, the writer feels like his writing is checked by a friendly teacher or a colleague, not by a robot.
And that's great. It enhances the user experience and encourages the writer to use an online grammar checker on a regular basis.
Menu
According to statistics, it takes about 0.05 seconds for users to form an opinion about the website and make a decision to stay on the page or to leave it. And it challenges companies to create easy-to-look-through websites.
SalesForce is a company that provides a wide range of CRM tools and services. And that's impossible to explain what SalesForce's product is all about within less than in one second. However, that's possible to draw the website visitors' attention to the key benefits of the product and invite them to watch the demo.
Here is how UX writing works. By using a few short sentences (sentences shorter than ten words) and the single CTA button "Watch demo", SalesForce has minimized the distractions and increased the conversion rate.

Clay Global is a UI/UX design and branding agency in San Francisco. To engage the client they should show their awesome works.
Here is how UX writing works. By using a simple and attractive Work page. Clay Global show their awesome works with animation if visitors hover one of their portfolio.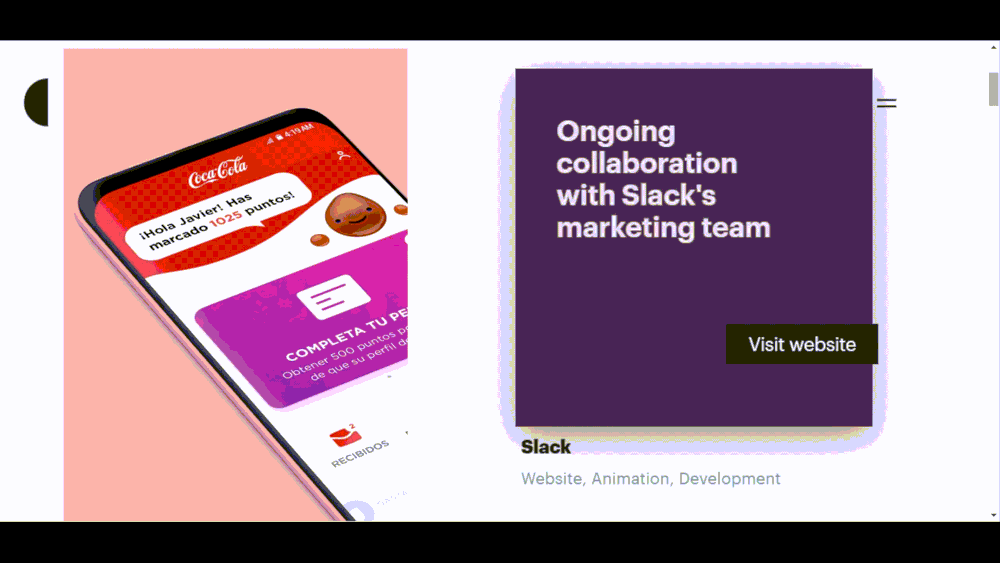 What Do UX Writing And Content Strategy Have In Common?
What does UX writing focus on? It focuses on the words the help users navigate the digital product. What does content strategy focus on? It focuses on the messages that companies are trying to deliver to the buyers to influence their decisions.
Who is in charge of UX writing? UX writers. Who is in charge of content strategy development and execution? Content strategists, content creators, and content managers.
Despite all the differences, UX writing and content strategy have something in common: both require in-depth research of the target audience. The better you understand the behavior of the users and customers, the better the copy you can create.
In fact, you shouldn't consider UX writing and content strategy as mutually exclusive things. You should see UX writing as a part of your content strategy. UX writing can maximize your content marketing efforts by making every ordinary interaction an engaging one and fostering brand engagement and loyalty.
In Conclusion
Now you know the real difference between UX writing and content strategy. We hope that this knowledge will help you to maximize your efforts and get the most from your writing. If you still have some questions, feel free to ask it in the comment below.
About the Author!
Kristin Savage nourishes, sparks and empowers using the magic of a word. Along with pursuing her degree in Creative Writing, Kristin was gaining experience in the publishing industry, with expertise in marketing strategy for publishers and authors. Now she works as a freelance writer at TopEssayWriting and ClassyEssay, Kristin also does some editing work at BeGraded.