50 Free Responsive WordPress Portfolio Themes
If you are a Photographer, Graphic or Web Designer, a portfolio website online to showcase your creative works is a must. Since it can help you to get more clients or make more sales if you also create a crative digital products. And I recommend you to use WordPress as a great options since it has the wide selection of quality themes to choose – Free or Premium.
So today, I have collected the ultimate collection of Free Responsive WordPress Portfolio Themes that powerful, easy to use and customizable. I believe you'll find one that suitable your needs.
Recommend: 16 Beautiful Minimal Portfolio Website Templates
Discover Theme

A free wordpress theme that perfectly use for designers and photographers. Discover is gridly based layout with custom post types for the portfolio/slider and an optional free shortcode plugin.
Snaps
A perfect theme to showcasing your portrait images and galleries. Come with responsive design, easy to costumize, translation ready and more…
Mixfolio

The amazing wordpress theme to build your portfolio or your online brand and it's free! Featured with fully responsive, HTML5 portfolio theme, and easy to create image or video gallery using Mixfolio's post format feature.
Mansion
Mansion is free wordpress themes for photobloggers, featured with flexible width thumbnail grid for both images and photo journal entries.
Portafolio

An awesome wordpress theme created with portfolio sites in mind but can be use too for business theme or simple blogging theme. Come with super minimalist and fully responsive layout.
Adapt 2.0
A clean and elegant free wordpress theme that perfectly for small business, agencies, portfolio, blogging and more. Very easy to use and setup theme with built-in post types for your portfolio, homepage highlights and homepage slider.
Pytheas

A great theme that built without clutter and minimal design, perfectly solution for corporate, business, portfolio style websites. Fully responsive, custom background and header are some of Pytheas theme features.
Photo
A perfect theme for photography, web designs, graphic art, or any other collection of projects that you'd like to share with the world. Also the sleek and clean layout brings visitor's attention to your work, and the bold header emphasizes your logo or brand.
Slider Responsive Theme

An elegant and mobile friendly theme featured with custom background and modern design great theme to showcase your portfolio.
Art Works Responsive Theme
Come with infinite scroll feature, super clean and appealing layout make Art Works theme can be a great solution for your portfolio website.
Grid Theme Responsive

A perfect WordPress theme for creative people that want to showcase their portfolio online. Fully responsive and featuring infinite scroll.
Architekt Theme Responsive
Created especially to showcase your architectural portfolio. With clean and simple layout also fully responsive.
Classic Photography Theme

A simple wordpress theme with loads of features make Classic photography is a perfect choice for photographers who need their visitors focus on their portfolio. Easy to change the color, fully responsive and you can create unlimited numeber of galleries and add as many photos as you like.
Auto Focus Photography Theme
A theme that created with photographers in mind, so auto focus allows photographers to have a quality website without the cost of a custom design, and even without the cost of purchasing a template. Come with fully responsive, 5 custom colors, unlimited photographs can be created and more.
Calestino – Clean and Creative Portfolio Theme

Calestino is clean, easy to use, fully responsive, powerful and versatile wordpress theme, a great solution for corporate and portfolio websites.
Stendhal – Clean Portfolio Theme
If you're looking for a easy to use and customizable with a lot portfolio features and unlimited design options, Stendhal is the best solution for you.
Libra – Corporate and Portfolio WP Theme

A strong and powerful theme with clean and large layout but fully responsive. The best theme for corporate, business and personal portfolio websites.
Pink Rio – Responsive Multi-Purpose Theme
A really suitable for a corporate/brandable site and also for personal portfolios and blogs. With the extensive theme option panel and the shortcode manager you can easily customize it and create a lot of different design options.
Sheeva – Multipurpose WP Theme

Featured with six sliders, seven advanced skins and 200+ fonts so that you can create unlimited different skins for your website! Make Sheeva is a powerful theme and completely suitable for every kind of corporate and business websites.
Di'verso – A Flexible WP Theme
An easy to setup and customize wordpress theme, di'verso is fully suitable for your corporate, portfolio, business or your personal website. Also fully responsive so it works fine in your mobile devices.
Impero – Minimalistic WP Theme

Impero is your best solution for corporate or portfolio website, come with 5 different sliders, fully responsive and unlimited layout options.
Adament
A theme that build based on Bootstrap 3 framework, an ideal theme for photographers. Come with so many options to customize and the color scheme of the theme is also customizable.
Wembley

A theme that very extensible since build on Bootstrap 3 framework. Make Wembley is your best solution for your portfolio websites.
Revera
Comes with features like, custom menu, featured images, custom homepage template, portfolio page template , widgetized sidebar and footer, custom widgets on homepage, theme option page etc. A perfect theme for your portfolio website, it's free!
Enclosed – Showcase WordPress Theme

A perfect theme for bloggers and photographers since Enclosed come with a lot portfolio features made to be highly readable and appealing theme.
Illustrious
A theme that very clean and well-organized, created for creative people that need to showcase their portfolio in a visual and striking way.
Panoramica Portfolio WordPress Theme

A customizable and has extensive options panel, created with the intent to be visually striking and at the same time modern & professional make panoramica is ideal for your portfolio websites.
Gridly Folio WordPress Theme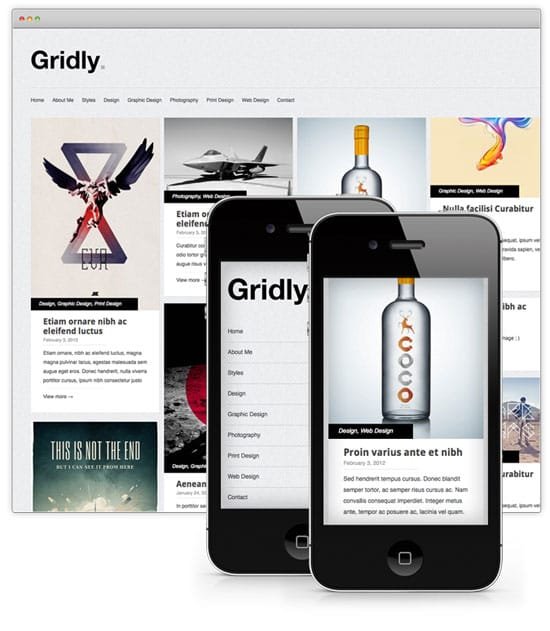 An ideal theme for graphic designers and photographers, gridly come with tons of features like responsive design, 2 color schemes, minimal, jQuery masonry, etc.
Pinboard

Do you interested to showcase your portfolio in a beautiful grid? So Pinboard is your best solution. Designed with showcasing content in mind and comes with tons features.
Chun
A responsive CSS3 and HTML5 blogging and portfolio theme. It supports all post formats and has layout, font, and color options built into the theme customizer. It's free!
Designfolio

A theme that designed for creatives to showcase their portfolio. Also has tons of features like customizable, fully responsive, flex slider included, filterable portfolio, helpful support and more.
Classica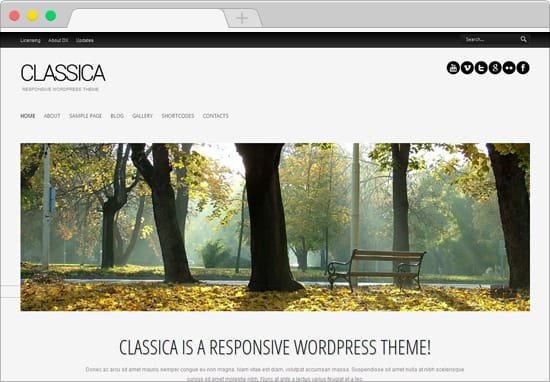 A powerful and professional WordPress theme based on TurboFrameworks 3 page composer, the best solution for portfolio or personal blog websites. You may use this theme both for your personal or commercial project, for your customers websites and for commercial WordPress themes/templates.
Celsium

Celsium is a free wordpress theme for artists, photographers and other creative people. Come with simple yet powerful admin interface with lots of useful options, responsive layout and WYSIWYG page composer. And you can use it both for your personal or commercial project.
Ice Fresh
A responsive and multipurpose WordPress theme that built on Twitter Bootstrap framework, make your website adaptable with mobile devices. The perfect theme for your portfolio websites.
Luminus

A beautiful WordPress theme with fully responsive, retina ready, 3 page templates and more features. Free download and use it for your portfolio websites.
Inkness
A modern design theme with absolutely latest technologies and is compatible with all Modern Devices which include the Latest iOS 7 tablets, phones & the ultra high resolution Macs. Very suitable for any kind of blog, whether its movies, technology, business, portfolio, etc.
Pieces

Pieces is a grid based clean and minimalist WordPress theme designed to showcase your artwork. Fully responsive to support various devices from smartphone, tablet to desktop.
Bearded
A responsive CSS3 and HTML5 blogging and portfolio theme. It supports all post formats and has layout, and color options built into the theme customizer. The theme also supports the Custom Content Portfolio plugin, giving artists and other creative people the ability to share their work.
ButterBelly

The ButterBelly Theme for WordPress is simple and beautiful with lots of customization options that can tweaked by Theme Options Panel like logos, intro texts and background. A perfect theme to showcase your portfolio.
Codium Grid
A clean wordpress theme 3.7+ based on grid and fully responsive
Virtue Theme

A theme that not only for portfolio websites but it's fully WooCommerce ready with all the tools you need to design an awesome online store. It's free!
Spun
Spun is a clean, lightweight, responsive theme that steps out of the way to put the focus on your content.
The theme's navigation is hidden — hover anywhere to the far left or right of your screen to see links to previous and next pages or posts.
Tempera

A theme that come with tons of features like 8 layouts including magazine style and blog, powered 40+ social icons, translation ready and more. The very suitable theme for creative people.
Portfolio Press
Portfolio Press is a responsive WordPress theme for showcasing your photography, art, web sites, or other projects. It also works nicely as a regular blog site. An options panel is available for uploading logos and changing the layout. There's also support for various post formats and menus.
Workality Lite version

A fully responsive portfolio theme for creative people and agencies. It's great way to display your portfolio through 4 different thumbnail size types and responsive layout. And it's completely free!
Folder
Folder is a sleek and responsive wordpress theme that perfect for portfolio, product showcase and business comes with custom work posts to display your projects.
Doke Doke

Designed to showcase your work, perfect for creative agencies and freelancers. Filled with all the necessary features to deliver the professional presence you need.
Flozo
Budding entrepreneurs and long-established organisations can now take advantage of FloZo, an easy to use, free WordPress template from Flyerzone.
SimpleCorp

A clean, simple also fully responsive WordPress theme that created for Corporate and Portfolio websites.
Asteria Lite version
Asteria Lite is a clean responsive theme with a beautiful slider, Narrow and Wide Layout Option, 10 Social Icons and 3 page templates – Full width page, Left sidebar page and a Blog page Template. The theme also allows you to design your site logo with 600+ fonts. A theme that suitable for any types of website – Corporate, Portfolio, Business, Blog.
Conclusion
Hopefully you'll enjoy this collection to find the best WordPress themes for your Portfolio websites or you'll get some inspiration in designing your own.
Enjoy!