12 Great Coming Soon Page Templates for Winning Product Launch
Are you in working to launch your great product? It can ebook, web application, services, themes, psd designs, online store or the other. And the first step in promoting your product is by writing an introduction's article. You can tell the benefit, the features and when your product will launch, then send the readers to your product coming soon page. And with brilliant and attractive coming soon page, it can help you gain visitors impression.
Today, we have 12 great coming soon page templates. We hope this collection can help you in building your page without investing too much time and energy on it, so let's see what we have for you!
Coming Soon Page – WordPress Theme
Deploy WordPress Theme


by mikemcalister
Deploy is an all-in-one landing page WordPress theme integrated with Twitter, MailChimp, and Contact Form 7. Post updates to the blog and count down to your launch with the nifty clock!
Collect emails for your campaign with MailChimp. Deploy is customized and styled to accomodate the MailChimp plugin. Just install the plugin, with the included instructions, and you're ready to go! If you don't have MailChimp, you can also use the WP Opt-In plugin, which has also been integrated into Deploy.
Screenshot

Coming Soon Page – HTML/CSS Themes
Launch Pad – Full Screen Image Under Construction


by ThemeCatcher
Launch Pad is a stylish full screen background under construction template with animated progress bar and countdown timer, perfect for showing off your visual work while your website is being developed. Background switcher controls allow you to cycle through background images, which are preloaded to cut loading time. A Fancybox gallery is included so you can show your work.
Screenshot

Clean & Modern Under Construction / Coming Soon


by itsasquare
A new clean / modern countdown page that lets your visitors know when you will launch. Includes a fully functional php email ajax form and countdown timer
Very easy to configure and customize.
Screenshot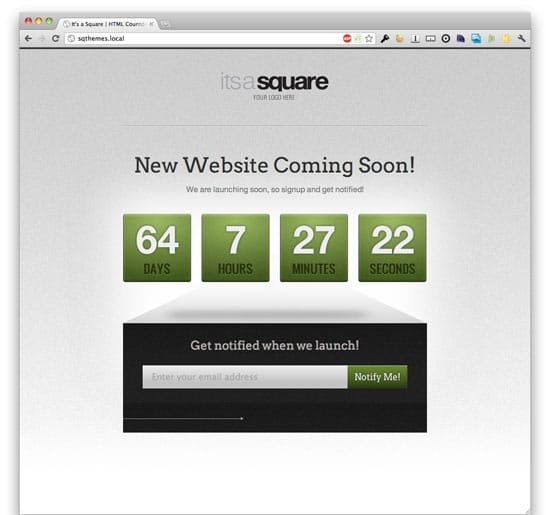 Clean Countdown Timer / Construction Page


by Bebel
This is a clean and stylish "coming soon" / "construction" template. It shows days, hours, minutes and seconds left to a specific event. Show your progress trough a progress bar and give the user feedback about the progress made.
Screenshot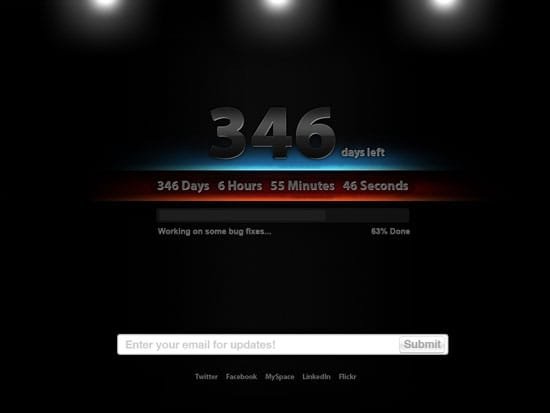 Launch – Coming Soon/Under Construction


by MushinDesign
Launch is a simple but stylish coming soon/under construction page to ensure your site looks brilliant, even when it's down.
Features include:
Easy to modify countdown timer
Working AJAX contact form
Three different colour themes
Twitter Feed integration
Cross browser integration
So easy to use!
Screenshot

Coming Soon


by evoG
Coming Soon project is a under construction or under maintenance page with an admin panel to manage all your notification subcriptions. The project has two folders "cs_public" and "cs_admin"; the first one contains the public template for your visitors who can subscribe to be notified and check out latest Tweets from Twitter. The second one contains an admin panel that allows you to view and delete your subscriptions and export also all members informations in a CSV file.
Screenshot

Minimal Coming Soon


by Equiet
Minimal Coming Soon template is carefully designed with attention to the details. Your visitors will love it. It contains lots of features while keeping its stylish minimal look. Pick only what you want and customize it the any way you want.
Comes with 5 color schemes. You may also set any image as a background. And this template doesn't force you to have a countdown or a progress bar. Pick only what you want.
Screenshot

Coming Soon Under Construction 01 2 Skins


by OXYLUSDESIGN
This is a slick and easy to use placeholder for your website. The logo is easy to change with your own and setting up the countdown timer is a breeze.
There are two separate skins included, a black and a white one.
Quick and easy set-up, you can have your placeholder online in minutes after purchase.
Screenshot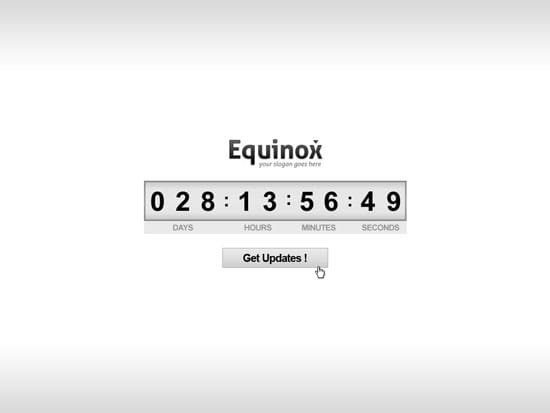 SoonSid – Coming Soon Theme


by MartinStyle
Theme Features:
jQuery Countdown Timer
jQuery Animated Progress Bar
3 Versions Included
BONUS Mobile Version
AJAX Email Subscription Form
Based on 960 Grid System Framework
Twitter script for displaying latest tweets
6 Colour Schemes
Validated as XHTML 1 .0 Transitional
PSD files included
Screenshot

Alchemy – Under Construction Template + WP Theme


by WebDesignPlanet
A new, awesome template with jaw dropping jQuery powered animation will make your visitors smile.
Boasting with features like social media integration and beautiful design Alchemy will keep your visitors coming back just to have it on their screens!
Screenshot

Wood Coming Soon Template


by LayerSky
Wood Coming Soon Template a clean and soft design to show Under Construction / Coming Soon page and to warn your visitor about the development status of your website.
Screenshot

Responsive site launch coming soon


by Ansonika
Theme Features:
Valid and clean HTML5 /CSS3
4 different styles
4 clearly grouped PSD files
Responsive layout: compatible from mobile browsers to netbooks and tablets. Try to resize the browser window to see it in action
Jquery Countdown
Working Ajax PHP newsletter.
Note: in the demo the subscription will be sent to my email account.
Jquery Form validation
PSD files and html version included
Screenshot