Examples of 20 Integrated Appreciating Sliders in Web Design
The slideshow or slider used on web pages to showcase a series of images. Sometimes, these sliders have a text overlay. It has become a latest trend of website designing in order to grab visitors' attention in as possible as manner. These days, few web developers use flash based sliders to make website different and innovative with the help of jQuery slider plug-ins.
At present, slideshow is very popular, it is an effective way to enhance the conversation rates with the help of highlighting multiple important elements without having too much space. From technology point, jQuery has become admirable with easy to implemented great looking slides. Interesting thing is that it is much easier with an open source content management system – WordPress. Modern themes cover various flexible built-in sliders, but it is essential to find good WordPress slider plug-ins, which is easy in installation with just few clicks.
We have highly-creative, inspirational and beautiful collection of websites that having sliders in an effective way to make web page eye-catching and engage more customers. We are going to explain, let's take a look at 20 most innovative examples:
Fox Classics

Although "Fox Classics" has 4 backgrounds with normal featured sliders, where the control is integrated into the page. Throughout the page, great idea is implemented in design.
CSSChopper
Wow, really stunning slider! At the right-hand side of page, there is a vertical strip with 5 symbols, which are amazingly managed with sliders without having too much space. Once you click, the first part of page is changed with a rectangular image. Instantly, visitor can see only one slide. At the left-hand side of page, explore the views about the company. All the things are well-integrated in such a cool and professional manner.
Better Graph

Another excellent approach is used to give a creative slider design. At the left-hand side of page & just below the logo, there are some points with hover effect. As you click on any one of the points, sliders appear with complete information related to the point. Check it out. I love it because I never see since before this site.
Design Royale
This website may not have the basically same slider height that we typically see. A lot of visual effects with image loader make sure to catch attention of visitors towards its slider. We can say, strong and innovative design is used with sliders.
No-Refresh

This is another good website, having slideshow. There are few handmade images at the top of page have navigation. In the mid of page, just below the collage of various pictures, you can click on any four rectangular boxes to see the sliders and these slides also have a navigation effect. Seriously, good work done by designers while making website. Try to check yourself and give an approval on my thoughts.
HTML Panda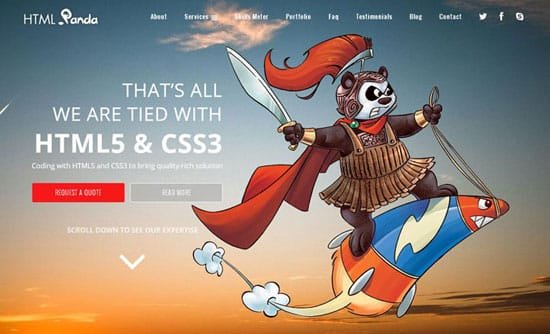 Very simple and clean design is used that ordinary not found with sliders. There is a horizontal slider with a links "Next" and "Prev". Easily visitors can see next and previous images.
Little Black Dress Society

Really impressive slide example that is well-organized into other page elements, means main navigation and logo are beautifully managed. This site has a rounded top border, which is quite well to enter a new scene. The most important thought behind this is – website works very well, means women support.
SparxITSolutions
Sparx technologies have cool sliders in the mid of page with few visually appealing images and quotes that surely desperate visitors to pay more attention and read content of website.
Web Contact

A special slider design is used with slanting bottom border. It also has navigation in the middle position of the page. Elements, cross the bottom, give the out of frame effect.
Logo Designs Studio
The background of web page is very attractive with slider effects. Each slider explains clearly regarding illustration, which stands it away from others. One of the amazing & eye-catching website designs. Browse site and check it yourself.
Relogik

Woh! Awesome clean and appreciative slider design that is perfectly fitted with light color background. The very keen images make website more impressive and eye-catching.
Mark Dearman
This is one of the elegant and finest layout designs with image slider, where two images are connected and simultaneously changes. You need to click at the next and previous symbolic arrows and at the same time both images will change.
Legworkstudio

Really special and incredible one-page design is found at this site that covers one large slider. Navigation with many illustrations is creatively managed to attract prospective customers.
Print Mor
The combination of really neat & clean images with text makes its slider impressive. Few illustrations are well-integrated into the web page of this site without any blur image.
We are Signals

Use of blur images in the design stands out it with cool co-ordination of text. The slider is well fitted into the web page design.
These Are Things
Woh! Cool slider with static images of a girl and boy that you can see on all sliders. Such a pretty navigation based sliders are used in a creative way.
Deluge Studios

The traditional & simple image slider offers unique design, which is equipped with coll navigation buttons, but you need to click on next or previous button to see all sliders. This website offers an exclusive design, while a simple image slider is still equipped with really cool navigation buttons.
Winestore
Another design of slider, but interesting thing is that slider is kept only on the product image of store on any small portion rather than illustration that covers first half of the page. Slider showcases only single product of wine at instant.
Try Soda

Wow! A collection of pretty images with massive & simplistic sliders without having navigation on any portion of page. Check it out.
Escape Module Studio
A very stylish & unique slider design that I have never found. You can see the animated text at the right-side of page, when slides turn. Right, left, up and down navigation arrow points are available for users' convenience. The down arrow leads to the clients' overview.
About the Author!
David Mayer is an experienced web designer, who is working at quality-rich service provider company – Webgranth. He has shared the huge number of public blogs and articles to teach and design a marvelous and innovative website.