28 Best Brand Design and Business Tips Articles of November 2011
This is our monthly series were we share useful brand and business tips articles all from the previous month. We hope this series can help you to strengthen your brand identity and growing your business.
If you would like to be kept up to date with brand and business resources, you can follow us on Twitter or by subscribing to our RSS feed.
Interview: James Waldner & His Incredible Logo Designs


by Tara Hornor
James was nice enough to grant us an interview. We like getting into the heads of designers, especially those who have had success, to see what kind of process they have and how they approach their art.
How A good Logo Will Bring Potential Customers To Your Business

by Sarah James
Logo design plays crucial role in marketing and brand positioning of a company. This visual identity is widely used in different promotional items ranging from billboards to corporate gifts, office stationery to website. Given its versatile nature, wide adaptability, there are several areas where logo design can be used to attract potential customers in your business.
8 Smart Trends in Web Logo Design – Follow the Online World!


by Nora Reed
A logo design is, indisputably, the most essential component of a brand identity. Since the medium of display for web companies is mainly online, it is vital to create an appealing logo that can attract visitors to the online business. Today, I shall discuss the top 8 logo design trends that are being followed by web-based companies.
Logo Design Tips You Can Learn From World's Biggest Brands

by Skyje
Observing and learning from logo design of these leading brands can be a rewarding and interesting experience. Let us have a brief look at logos of some big brands and then find out what are common elements in their design.
Now it's Cool for you If you are Going to Rebranding your Logo


by Tutorial Lounge
If we talk about rebranding your logo but here I explain you about the possible meanings of this word. Rebranding can be whatever as of updating your company expression, to transform the name as well as transforming the services or products providing. We can say that it's trying a new touch to release better or more improved for your company. So, below you can see more detail about this article:
10 Silly Mistakes Logo Designers make

by Logo Design Guru
When participating in projects, logo designers sometimes end up making small but noticeable design mistakes. Now, whether you blame this on looming deadlines or technical issues, truth is that these design mistakes can cost you a project. So in order to help my designer friends overcome these issues I have compiled a list of ten of the most common silly mistakes that logo designs should avoid making at all costs.
6 Techniques to Maintain Logo Design Clients – Upholding Loyalty!


by Nora Reed
Most logo designers focus on short-term relationship with their clients. Hence, designers must learn how to retain their existing clientele and reap benefits from it. Here are some ways that will help you in maintaining cordial relations with your clients:
Do you (or does your client) really need a logo?

by Grace Oris
This may sound a bit strange coming from me, a logo designer. But really, not every business, website, blog or person needs a logo. Some points to consider:
8 Ways for Logo Designers to avoid Logo Design Disappointment


by Nora Reed
There is a time in every logo designer's career when they have got to face certain regret and disappointment over their mistakes. There are some blunders that make you lament and sometimes you wonder "Why didn't I just refuse the logo design project?" Regret is not the only repercussion that you encounter as these disappointments also leave a dent on your logo design portfolio.
How Logo Design is Valuable for Reaching Target Audience?

by Pixel Crayons
A logo isn't just a few texts and images put graphically, but it represents your brand and speaks a lot about it. There are a lot of factors which you have to keep in mind while designing a logo.
5 Useful Tips in Designing Brand Identity


by Eko S
Brand identity defines who you are, who people should perceive you to be and who you want to be.
And here, we will share 5 useful tips that will help you in designing brand identity.
How to Manage a Rebrand

by Lauren Drell
So, you've launched a company, but you want to go in a different direction regarding the logo, name and maybe even some product features. A full relaunch is not easy, but it could be the "X factor" that drives your startup to success.
3 Ways Digital Innovation Can Make Luxury Brands Exclusive Again


by Duke Greenhill
Luxury brand marketing must preserve exclusivity — on that we can agree. But successful luxury brand marketing today must also put the "e" in experience. And here are three cutting-edge digital technologies that can help save the luxury brand experience.
Factors to Consider in Optimizing your Brand

by Eko S
Branding, as is our conviction, is more than just a marketing responsibility. A brand strategy is significant as it sets the base for all the activities of other brands. It sets up a focused understanding which is agreed upon at upper levels of the organization. It also provides an important contribution to align innovative and management processes.
4 Pillars of Digital Marketing for Luxury Brands


by Duke Greenhill
Successful luxury brand marketing demands substantially different considerations, specifically the four E's: experience, exclusivity, engagement and emotion.
Here's a closer look at each of them and why they're important.
Branding and the importance of consistent design

by Kendra Gaines
In some instances and with some clients, you don't even have to make a 'great' design, however, you are expected to make something that would be well received by the company and their audience.
Being aware of this is being aware of the branding of a company.
5 Must Have Tools for Creating Your Personal Brand Online


by Lior Levin
Developing a personal brand takes thoughtful consideration, and once you've decided on the direction of your brand, it's time to pull it together seamlessly using online tools.
5 Ways to Turn Social Customers Into Brand Ambassadors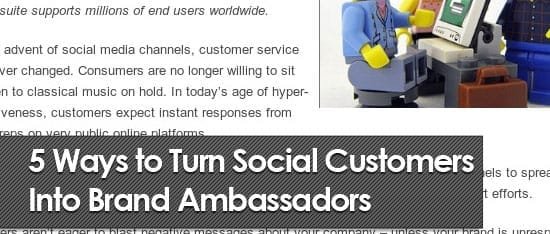 by Duke Chung
Satisfied customers can become your most influential brand ambassadors. They'll help to answer customer service questions posted online and also tout their own positive experiences with your business.
Here are the five best ways to turn customers into brand ambassadors through customer service.
Essentials Tools for Tracking your Brand on Social Media


by Lior Levin
Social media provides a powerful outreach tool for your brand among customers, but while it can be used to spread good news, it can just as easily be used to alert potential customers of a failure on your part.
Here are some ways you can maximize your brand tracking on social media:
How 5 Top Brands Crafted Their Social Media Voices

by Lauren Indvik
Social networks are platforms for personal connection and dialogue, a reality that has proved challenging for many companies that are not used to speaking to their customers in conversational tones. As companies have established profiles on Facebook, Twitter and other social channels, many have had to develop their brand voices anew. Here's how they've accomplished it
Why Brands Need Friends – Not Fans – on Facebook


by Clyde McKendrick
Facebook offers brands access to its vast audience with no apparent cost of entry. Therefore, one would presume that brands would develop strategic and forward-thinking campaigns to maximize their reach. Not so.
6 Best Practices For Small Business YouTube Marketing

by Todd Wasserman
Below are some tips from entrepreneurs who have thrived on YouTube, plus some from Lane Shackleton, product manager for YouTube and, yes, a distant relative of polar explorer Ernest Shackleton.
5 Tips for Marketing to Sports Fans on Facebook


by Lauren Drell
To learn about how to best market to these fans, Mashable spoke with reps from the professional world of sports marketing, including:
Below, you'll find their tips and best practices for promoting your sports team and athletic events.
5 Ways to Make Your Business Card Stand Out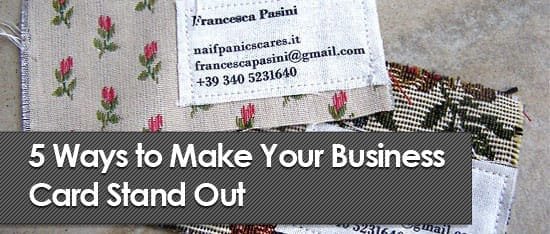 by Matt Tomasino
However, interestingly, business cards have survived our digital world offering some unique things you can do with one to catch the eye of potential clients. Plus, in some cases, there is no longer the need to hire a printer as designing such unique business cards online is fast and easy.
4 Tips for Optimizing Your Resume with Social Media


by Gerrit Hall
Thanks to Facebook, Twitter, LinkedIn and a slew of other social media platforms, job seekers are closer than ever to the decision-makers at their target companies. Follow these four tips to optimize your resume with social media.
5 Worst Logos of The World's Biggest Companies

by Tim Martinez
We show you 5 logos which are from major teams that should pay more attention to their logotypes. So, here are the 5 worst logos ever and why they're so horrible.
Origins of 8 Famous Logos – Funny Brand Evolutions!


by Sam Anderson
Today I bring you my version of how famous logos might have evolved. Some of these include funny origins of top ranked UK brands like Barclays, British Petroleum and Orange. Through this amusing and entertaining post, I intend to create a 'what-if' scenario to show my readers some funny events that might have lead to the origin of these renowned logos.
I hope you enjoy these funny evolution portrayals of 9 famous logos:
Funny Evolutions of 10 Famous Logos – Crazy Origins!

by Nora Reed
Let me clarify my readers that this post is not intended at distorting the real origins of famous logos. Rather, it is just a food for thought that I have presented for entertainment and amusement purpose. Have a look at these 10 funny and crazy logo evolutions. Hope you enjoy them.