14 Amazing Portfolio Website Templates with 3D Slider
How to get the users attention and increasing the traffic of your portfolio website? One of the best way is put 3D slider within your homepage or the other pages to showcase your portfolio or best contents. This slider will displays images with 3D slice effects, makes your slideshows visually and interactively stunning, also delivers a unique 3D user experience.
And to help you find the best website template for your portfolio, here we have collected 14 amazing templates with 3D slider included. These templates will perfect for your portfolio, corporate and business. Enjoy!
[afiliasitn3gallery]
3D Slider – Drupal Theme
Creative – The Premium Portfolio Theme


by themesmania
"Creative" is again a simple yet Powerful Premium Drupal theme. It comes with an impressive fully customizable jQuery/kwicks/3d Flash homepage slider with more than 10 different jQuery effects (only in jquery slider) together with fixed/fluid Layout Options, 1, 2, 3 Column Layout Options on a click together with newly added Unlimited Color Options.
Screenshot

3D Slider – Joomla Themes
Anne – Business Joomla Template


by marbol2
A beautiful joomla theme, with 3 homepage sliders (Coin Slider, 3D Slider, Article Slider) and 19 Color options (Light and Dark styles).
Screenshot

Activity – Premium Joomla Template


by marbol2
Features:
Unlimited Color Skins
K2 Included
3D Slider
Content Slider
Image Slider
Quickstart Package
Template Bundle Package
Gallery Plugin
Video Tutorials
Support Forum
…and much more
Screenshot

3D Slider – WordPress Themes
Rising – Fully Responsive WordPress Theme


by der
Rising is a WordPress theme built from the ground up to be sexy and compatible with mobile devices. It is Fully Responsive, which means that the layout will adapt depending on the device's viewport or screen size.
Screenshot

Corona – Business & Portfolio Theme


by Kriesi
Corona is an elegant and flexible WordPress Theme, suited for users with no coding knowledge as well as developers. The theme comes with a plethora of options so you can modify layout, styling, colors and fonts directly from within the backend. 6 Slideshows, multiple skin, font and color options as well as dynamic template builder will help you create the Website you need in no time.
Screenshot

Minimalistic Studio – Premium WordPress Theme


by wpstall
Minimalistic Studio is a minimal and very clean wordpress theme. It comes with an impressive fully customizable 3D slider, has a jquery tab on the sidebar and it has a 15 color style variation. The main menu has smooth drop down powered by jquery, ajax contact form is ready to use and functional. This wordpress theme is fully customizable and well documented. Whether you're a WordPress pro or just a beginner, this theme has you covered. With a huge custom back end area you have complete control over the look and style of your theme. Add images to your homepage slider.
Screenshot

Sparky – Creative Blog & Portfolio WordPress Theme


by Flower
Sparky is a clean, modern and ultra-readable premium WordPress Theme. It can be used as personal portfolio, blog or business website!
Screenshot

BrightBox – Business & Portfolio WordPress Theme


by Kriesi
BrightBox is a modern business and portfolio Theme, built on one of the most flexible WordPress Themes on Themeforest. With the help of a dynamic Template Builder you can create stunning page layouts without any coding knowledge. Yet if you are a developer eager to create your own PHP files the theme supports you as well with a very structured folder and file system. It has a unqiue built in 3D slideshow manager (no plugins needed), supports both self hosted videos as well as vimeo, youtube, etc and comes with a content importer for faster setup.
Screenshot

DISCOVERY – WORDPRESS


by grubforce
Discovery WordPress theme is a full website for every web design studio, photographer, fashion company or even for a corporate website.
Further more it features a wide variety of featured and design capability's. And a custom WordPress admin panel
Screenshot

3D Slider – HTML/CSS Themes
Display 3 in 1 – Business & Portfolio HTML Theme


by Kriesi
DISPLAY is a HTML Template, best suited for Business and Portfolio sites. It comes with a fantastic 3D Image slideshow that is easily editable with a simple text file
Screenshot

93VISIONS – 4 in 1 Modern & Professional HTML Template


by vesthar
Features:
4 ready colors range (Fire, Sky, Night, Day)
* 2 home page slider/banner variations – Flash 3D and jQuery slider * 7 page templates (Home, About, Portfolio/Gallery, Blog, Contact Form, 404 Error, Contact Form Confirm Page)
Grid based design (960.gs)
jQuery or Flash 3D multiple banner sliders
jQuery Form Validation
jQuery Portfolio/Gallery filtering system
jQuery Gallery / Product Lightbox
jQuery Superfish Dropdown Menu
IE6 Transparency JS Fix implemented
… and much more
Screenshot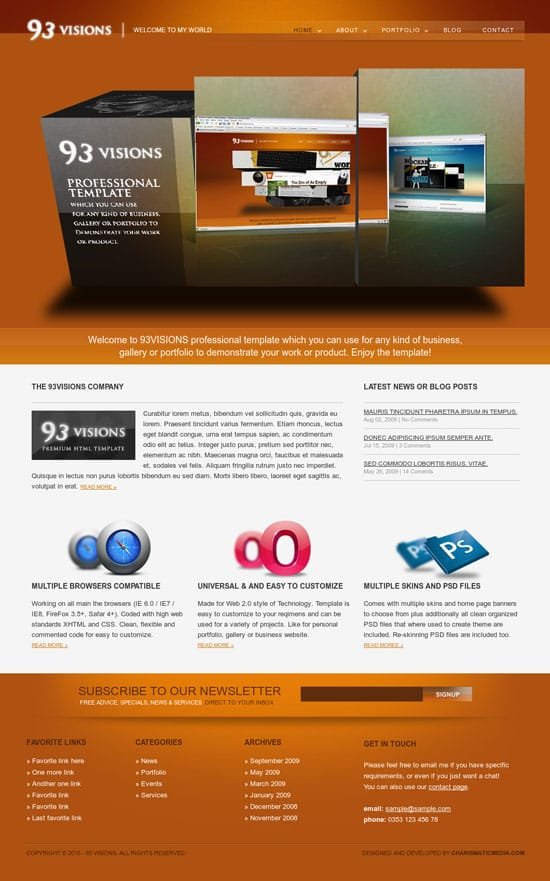 QualiFire Site Template


by internq7
Search Engine Optimization has been made a priority when designing the QualiFire theme. In the code hierarchy, the main content block is placed before the sidebar regardless of the sidebar position, so it is crawled first by search engines.
Screenshot

Accentuate Premium HTML Theme / Business Portfolio


by timymc
Accentuate is a new complete HTML professional business / portfolio theme, jam-packed with an abundance of styles and layouts. The theme comes with 3 homepage slider options to bring out the most in your image. Accentuate utilizes many awesome jQuery plug-ins as well as some custom-made fancy hover effects on the portfolio. There is a ready to go contact page with a PHP Contact form and validation; just add your email address and upload (everything in the one contact.php file).
Screenshot

Durable Business & Portfolio Html Template


by system32
Main Features:
The home page includes custom 3d style slider that allows you to change the slides using different transitions which can be editable via config.xml file.
Highly customized About Page, Blog Page, Portfolio Page and Services Page, you are able to edit each block as i have well commented each code.
Multilevel Dropdown Menu by Superfish.
Portfolio page with fancy box grouped order.
PSD file with perfectly layered and named
… and much more
Screenshot