45 Beautiful Food and Drink Email Newsletters

To stay contact with your audiences, customers or subscribers, email newsletters are great way to do that. It allows your site visitors to be constantly kept in the loop with whats new and whats to come in the future. All of this helps you build a unique relationship with them, keeping them coming back to your site.
Below we've collected some beautiful food and drink email newsletter designs, and hope you'll get the inspiration.
Vosges

Applebee's
Blynk Organic

Charles Chocolates


Outback

Cheese Cake Factory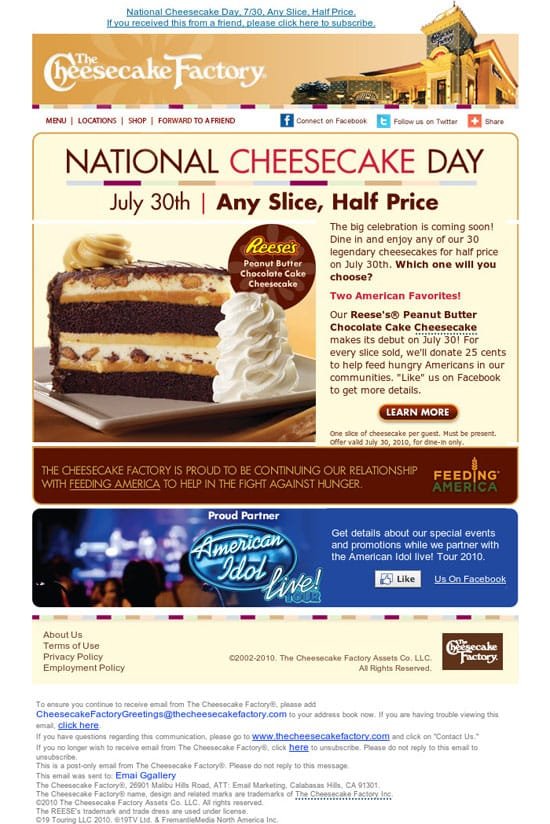 Chick Fil A

Chick Fil A
Chilis

Cold Stone
Crumbs

eROI
Fifty Coins Restaurant

Godiva
Godiva

Jacques Torres Chocolate
Emeril's Red Marble Steaks

Martha Stewart
Pillsbury

Pinkberry
Pizza Hut Greece

Pizza
Pong

Quiznos
Quiznos

Sprinkles Cupcakes
Tasting table

TGIF
Triple Dip

Buitoni
Cafe Britt

Coke
Starbucks

Americanwinery Collective
Mountain Dew

Red Bull
Segue Cellars

Bella Domicile
Dominik's

Epicurious
Cauldron

California Walnuts
Wicked New Restaurant Website Launches

Real Cream
Crate & Barell

We hope this inspiration will help you to come up with some excellent ideas for your next email campaign. Let us know what you think, and share your favorites in the comments! Thanks for reading