22 Best Brand and Business Tips Articles of May 2011
Introduce a new monthly series of articles on iBrandStudio. Start from June 2011, at the beginning of each month we'll share new and useful brand and business tips articles in the previous month. We hope this resources can help you in building your brand and growing your business.
If you would like to be kept up to date with every day brand and business resources, you can follow us on Twitter or by subscribing to our RSS.
10 Ways For Entrepreneurs To Build Brands Online


by Benjamin Lang
Building your online brand in a meaningful way is no easy task, and there are many tools available to get you on the right path. Below, we've picked 10 tested methods and highlighted some of the best web tools to help your brand gain momentum in a crowded online marketplace.
Why Freelancers Need a Brand and How to Create One

by Tara Hornor
In this post, I'll explain why it's important to have a brand and how to create the brand that you need for your freelancing business.
5 Tips for Building Vibrant Branded Online Communities


by Justin Fogarty
This isn't just about creating better Facebook ads, or even in getting more "Likes." The bigger question is, what can our brand communities take away from the success of Facebook's platform?
How to Pick the Right Colors for Your (Personal) Brand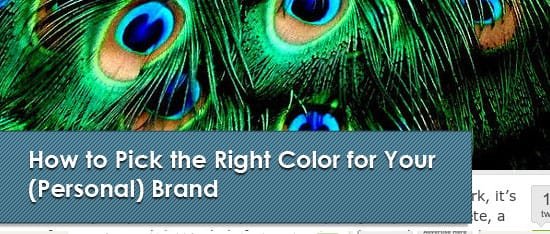 by Sonia Mansfield
As such, when creating an identity for your freelance business, care must be taken to create a logo and brand that portray your unique business mission. While all elements of your business's design must be chosen with care, few are more important than the colors you use. Here are six tips for choosing the best colors for your business' identity.
Establishing a Brand Identity


by Zac Kenni
The objective of a branding strategy is to develop clear, compelling, consistent messages that are easily conveyed. A good brand contains messages that can speak to multiple audiences, including current customers, potential patrons and people who hold misconceptions. Yet, this needs to be delivered in a short, simple way.
Why Some Brands May Need To Rethink Their Social Media Strategy

by Arron Kallenberg
The idea of engaging socially with a brand (even a humanized brand) is still a very nascent phenomenon in our culture. All of the social networks that currently exist were built to connect people with people — not people with brands.
As a result, the ability to form a relationship with a brand has more or less been tacked onto social networks as an afterthought.
8 Brands That Have Found Success on Facebook & What We Can Learn


by Dave Kerpen
Below, find eight brands that have found success on Facebook, including some takeaways on what they did right and how you can emulate their success.
5 Best Practices for Travel & Tourism Brands on Facebook

by Lauren Drell
Here are some best practices for travel and tourism brands on Facebook — borrowed from the big players in the industry — that will help you attract gadling jetsetters and secure more reservations.
HOW TO: Start Marketing on Facebook


by Lauren Indvik
"Now, that word-of-mouth marketing model is happening online, and Facebook is enabling to happen that at scale. Now [small business owners] aren't just reaching a few customers' friends, but all of their friends, mimicking these long-term behaviors in a way that small businesses can actually control," says Emily White, senior director of local at Facebook.
With these ideas in mind, we've compiled this six-step guide for getting started on Facebook.
Effective Use of Twitter for Designers

by Kareen Liez
Keep on tweeting about your newest projects, share resources on graphic designing or retweet interesting tweets from other designers. There are other ways to help you make a name on the web through Twitter. Check this out.
How to Make the Best Use of Twitter for Your Business


by Arfa Mirza
Any website can be confusing at the beginning and for a newbie Twitter would appear to be confusing as well. We will discuss every small detail related to Twitter so that new users and users who are already on Twitter can take the full advantage of the website.
11 Essential Tips on How to Choose a Domain Name that Works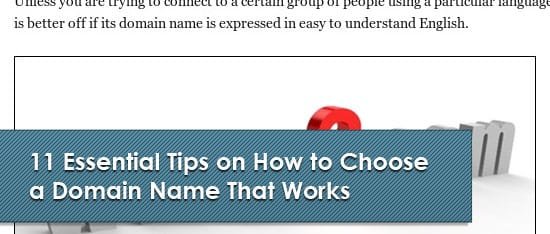 by Sonny
In this post, we will give you some essential tips on what exactly are the things to consider in choosing the right domain for that purpose. These things really matter if you want to get the most out of your website building efforts. So, to have that effective and downright cool domain, that simply gives your business the attention and audience it deserves, the things that we recommend you to do are.
3 Reasons Logo Design Clients Suck (and How to Respond)


by Joshua Johnson
Today we're going to discuss what types of problems typically arise in logo design and how you can prepare for them.
11 Mistakes Customers Make When Getting a Logo

by Alex
In this article we're going to cover the common mistakes companies and small business owners make when having their logo design and brand identity created. These mistakes range from what you would think are obvious to some things you may have not thought about.
2011 Logo Design Trends


by Jacob Cass
Do these identity / branding trends effect you or your process? Do you agree with these suggestions? Have you noticed any other trends?
Budding Logo Design Trends for 2011

by Jake Rocheleau
Below I've gone into a few great examples for amazing logo designs in 2011. We have seen some great releases and updates over the past few months which are sure to inspire any digital artist.
Creative Brainstorming: 50 Examples of The Logo Design Process


by Aquil Akhter
In this post, we've compiled a list of businesses that have shared a peek inside their fascinating logo design process with the public. We hope it will get you started on your own.
7 Great Ways to Get Your Resume Noticed

by Michael
In this post, however, I'm giving some pointers for those who are more comfortable with the 'traditional' kind of resumes where the unspoken rule is to look professional. Even so, there are still ways to tweak and tune your resumes to make it unique and secure you that follow-up interview.
HOW TO: Set Up an Online Resume


by Erica Swallow
If you're looking for ways to make your resume stand out — whether that's on your personal website, video hubs, document-sharing websites or LinkedIn — here are some ideas to get you started, along with examples for each format.
10 Tips in Designing Effective Business Cards

by Ronald Bien
Business cards are used to introduce a business or a skilled person. It is an effective way of letting others keep information about you without seeing you. But there are things you need to consider in making business cards in order for it to serve its purpose. Here are 10 tips for designing business cards.
Tips On Business Card Typeface


by Marsha Jones
Typeface is a term we generally think of for a set of fonts—a combination of the type, style, and size for professional computerized lettering. When considering a typeface for your custom or business card template design at businesscards, it is important to understand some common attributes associated with type and some common categories of type.
5 Strategies for Maximizing Your Website's Conversion Rate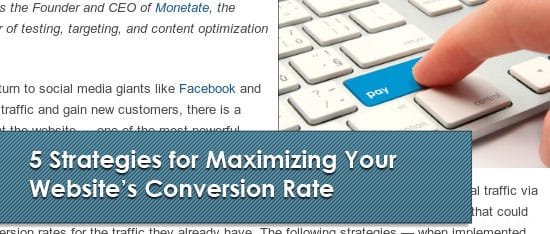 by David Brussin
The following strategies — when implemented correctly — will not only lead to an increase in conversion rates and revenue from mobile and social media channels but will also help drive companies toward an important cultural transformation, one that can elevate them above competitors and help them stay there.