13 Best Corporate Website Templates
In order to to attain a solid and lasting impression to users, a corporate website design must capture the feel of the company and its purpose to the users in the most direct, clean and usable manner. Today by using a website template is the fastest and efissien way to build our corporate website.
And to help you find a template which is best? In this post we've collected 13 corporate website templates with elegant and exceptional designs.
Corporate Website – WordPress Themes
Suco WordPress Themes


by Themify
Suco offers a stunning homepage design with a customizable slider, highlighted services/products, call-to-action text, and optional widgets. It is our first business theme that offers custom WordPress post formats and responsive layout (see demo and resize browser window).
Suco is a perfect theme that can be used as a business site, Tumblr-like blog, or just a static general site.
Screenshot

Striking Premium Corporate & Portfolio WP Theme


by kaptinlin
Striking is an extremely powerful and flexible wordpress theme – actually a "Super Premium" theme as it has extraordinary features and coding that are not found in the normal premium WP theme.
The superb flexibility of its framework allows it to be tailored to a Blog, Portfolio, Creative, Business or almost any other kind of website one can imagine.
Screenshot

U-Design WordPress Theme


by internq7
U-Design is a very powerful theme which suits both, users with no programming background as well as advanced developers. It will help you build your site in no time to your liking with minimal effort. It empowers you to set any color to elements such as backgrounds, links, text, menu links, etc. You can completely change the look and feel of your site in seconds.
Screenshot

Unite – WordPress Business, Magazine Theme


by Parallelus
Unite is a merger of crisp design and powerful communication. It takes a clean, organized approach to presenting content so it's easier to find what you want.
Screenshot

Bizco WordPress Theme


by Themeify
Bizco is a professional theme targeted at business and product based websites. This theme is great for showcasing features of your service or product to your readers. With the custom page template you can change the display of your pages and posts easily with our visual custom panel.
Screenshot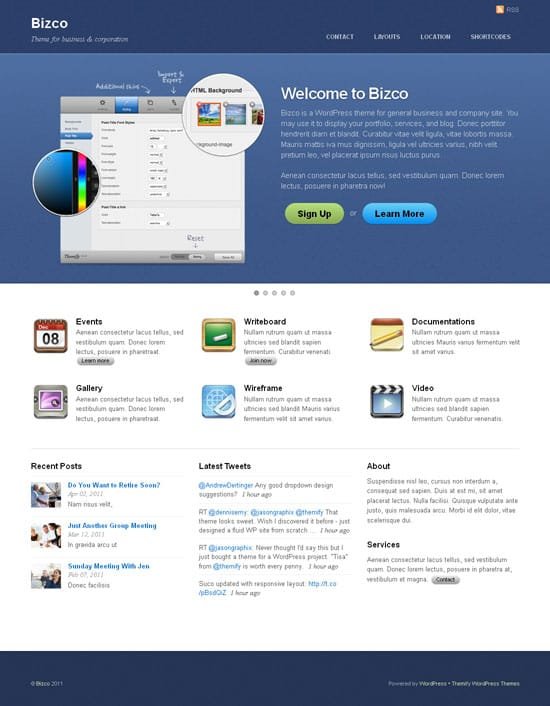 PureVISION WordPress Theme


by internq7
PureVISION is a very powerful theme which suits both, users with no programming background as well as advanced developers. It will help you build your site in no time to your liking with minimal effort.
SEO (Search Engine Optimization) has been made a priority when designing the PureVISION theme.
Screenshot

Showtime – Business and Portfolio WordPress Theme


by freshface
Showtime is a powerful WordPress theme made for your Business, Portfolio or almost any other kind of website. Showtime offers you a good amount of options. Front Page can be customized via unlimited widget areas, both body and footer. Sliders and Colors can be easily switched via my custom built FreshPanel. And much much more…
Screenshot

Clear Theme – Multipurpose WordPress Theme


by InventGroup
Clear Theme is a clean, minimalist and modern wordpress theme suitable for any kind of website such as portfolio, business, blog, photography or gallery. The great combination of light color schemes creates an elegant and high visual impact experience eighter you use this for photography, commercial business or small informational websites.
Screenshot

Corporate Website – HTML/CSS Templates
ECOBIZ – Corporate and Business HTML Template


by imediapixel
ECOBIZ is clean,elegant and modern corporate and business html template that can be switched as eco/green business and portfolio template. There's many page templates available,6 pre-defined skins, unlimited colors, 3 slideshow types and more…
Screenshot

Solid Business Solution – HTML/CSS Template


by bitpub
Solid is an HTML + CSS template with a clean design, suitable for any kind of corporate / business website.
Screenshot

Polyon – Modern and Futuristic HTML Template


by RuvenThemes
olyon is truly a HTML Template of the next generation. It is extremly customizable, it supports unlimited colors and the whole Google Web Font Directory plus integrated fonts. The possibilities are endless. You can transform the template till it fits your needs exactly.
Polyon is based on a rock-solid HTML5 /CSS foundation and enhanced with CSS3 features to make it future proof. It also supports rounded corners, support for flash videos and it looks great on the iPhone and iPad.
Screenshot

Executive Business Solution – Html Template + more


by bitpub
Executive is an HTML + CSS template with a clear and clean design, intended for corporate / business websites but which can also be successfully used as a personal / portfolio etc website. It comes bundled with a matching corporate identity as well as two html newsletters, making it a wel rounded package and complete business solution.
Screenshot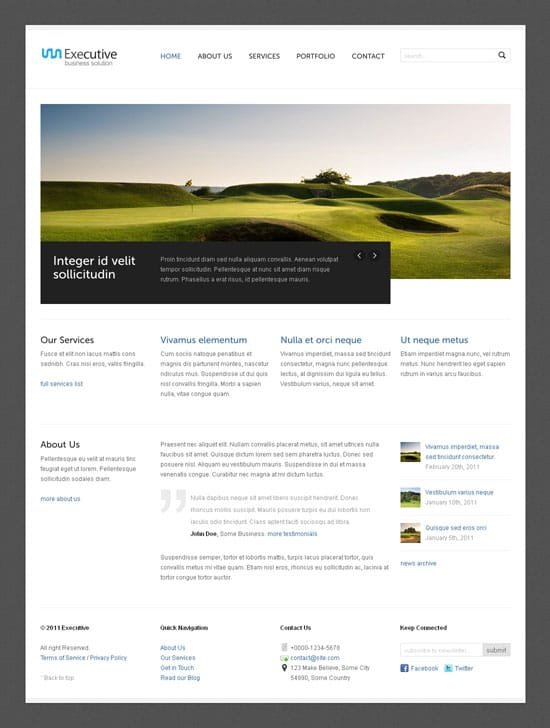 Genesis – Business and Portfolio HTML Template


by templatesquare
Genesis is a modern web 2.0 html template suitable for business and portfolio sites. This theme comes with six color variations.
Screenshot