15 Best Premium UI Kits for Your Own Infographic Design
Infographic or Data Visualization make us faster and easier to understand complicated concepts and information. It's a great method to represent your finding of data and show them to your target audience. However, as a graphic designers and web designers it can be a tedious and time consuming task when you designing infographics from the scratch, like draw charts, graphs and diagram along with icons and symbols. But if you have some basic elements of infographic design ready in hand, you can save loads of your time.
Below we have collected 15 Best Premium UI Kits and Data Visualization Tools to help you in designing your own infographics. Enjoy!
Crooked Stats Infographic Kit


A stats infographic kit that will enable you to use visual representations of information and data to present complex information quickly and clearly. It comes in dark and light variations totaling 400+ vector elements across the board ready to help you with your next presentation. Check out some highlights of this stunning infographic design kit
Magnolia – Infographics & Data Visualization Elements Pack
This infographic template (PSD) pack contains graphs, charts, diagrams, lines, tables, shapes, icons, arrows, text and more.
With this set of elements, you can easily create presentations, reports, websites, ads, brochures, posters or any other type of data visualization. Made for designers, this pack is easy to use and could also benefit analysts, managers, developers and other people working with data, information or statistics.
Infographic Elements Template Pack 05

This is a huge template pack of infographic elements: charts, graphics, shapes, icons etc..
The file is created in order to be used by everyone, with just a basic knowledge of the software.
It contains:
2 Illustrator CS files (1 .Ai, 1 .EPS)
100% Vector Shapes
100% Editable: colors, texts, shapes, numbers, datas etc.
All the elements are grouped
.PDF documentation
Font used for the preview is DINpro but can be easily replaced with all the fonts you like.
3D – 2D Infographic Elements Kit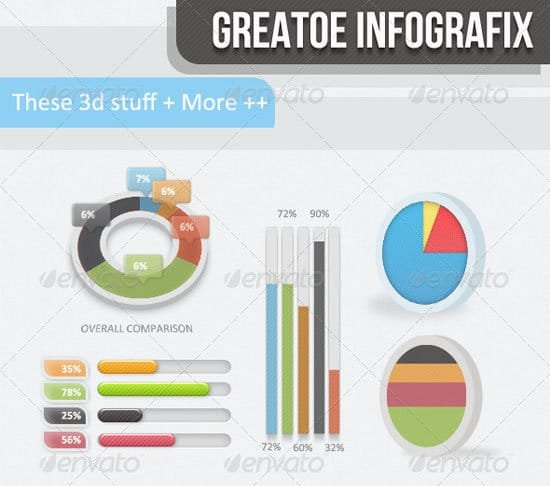 Features:
Very easy to edit and customize to match your data
Comes under 5 themes but can be used in any of the each theme
Vector shapes that can be scaled for your requirements (You can create from the sizes of stamps to large bill boards)
Highly organized
All the most important info graphic elements are provided
Comes in clean attractive colors suitable for info graphics but can be easily changed for your requirement
Infographics Tools Set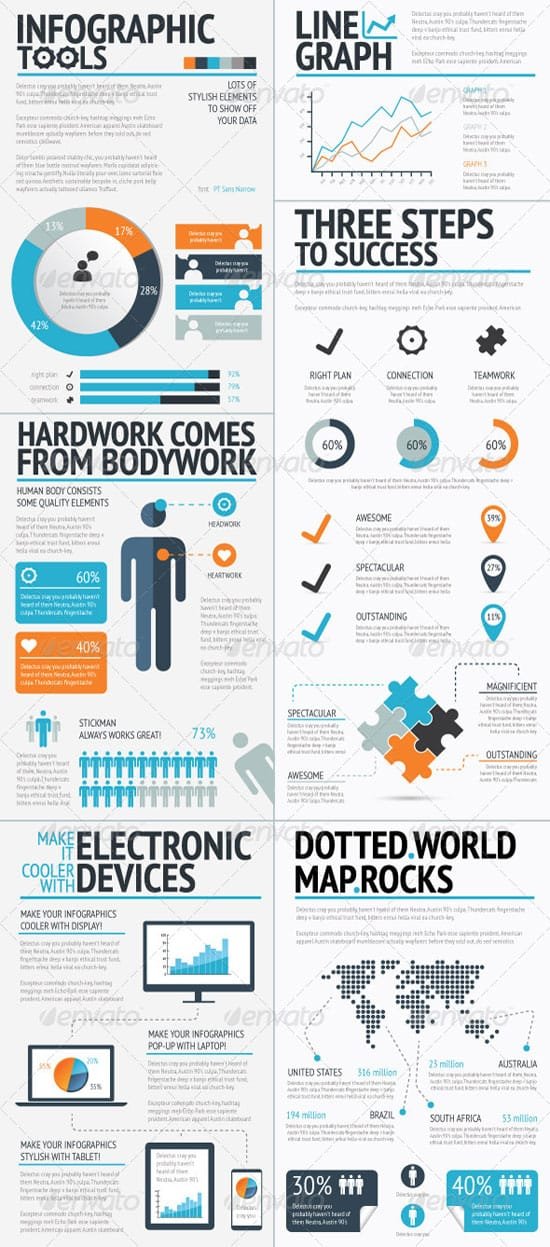 Infographic business and web icons and elements. Fully editable vector file saved as EPS-10 and AI CS6, objects contains transparencies. Rescale to any size. All elements shown in preview are included in download.
Infographic Elements Pack

This PSD file includes a variety of elements that can be used to create your own custom infographics. You'll get bar graph elements, line graph elements, pie graph elements, and more.
Cloud Technologies Infographics Elements
A set of elements for creating infographics or presentations on the subject of cloud computing and cloud technologies. Zip invcluded EPS CS (Text to curves), AI CS , AI CS5 files. 100% Vector Shapes.
Abstract Paper Infografics in a Circle Shape

A beautiful abstract paper infographics in a circle shape
Business Graphics Vectors V.04
Set of many business vectors, icons, graphs, texts, banners etc… Full vectors in CMYK, these elements can be resized and colors can be changed to fit in your project. All of elements are grouped by objects or sections. The fonts are in a download file in the package.
Infographics Design Elements

Infographics design elements in isometric style. Fully editable vector file saved as EPS-10, file contains objects with transparency, gradients, blends, gradient mesh. All objects are well organized and placed in appropriate layers. All elements shown in preview are included in download.
Vintage Infographic Vector Kit
Show off your data in style with this fully scalable vector infographic kit
For anyone who's tried to design detailed infographics in Photoshop you'll know how much of a chore it is – and it takes all the fun out the data and maths! but with Illustrator and this vector set its as simple as dragging and dropping and you even enter data variables to dynamically update the basic graphs & charts.
Abstract Paper Infografics

Another unique infographic element in abstract paper style
Vector Infographic Elements

Infographics are incredibly useful design kits that include data related graphics. Laying out charts and graphs can be an unwelcome chore for some designers, but with a handy vector infographic kit it can be easy and effortless.
Infographic Elements and Communication Concept
Infographic Elements and Communication Concept. Vector Design Symbol.
Infographic Elements 11

A set of conceptual elements to create your infographics. Includes 29 icons VPN (Virtual Private Network).
EPS, AI, CDR (9 or up), JPG 100% vector shapes! Texts and curves versions!
[afiliasipixelkit]