10 Best WordPress Themes for Directory and Listings Websites
WordPress is not only the perfect platform for blogging but also for any website types, like magazine, education, eCommerce, portfolio, corporate and of course the online directory.
As you know, many of websites today are powered by directories, like job board, car dealership, real estate, website, business, service and other directly listing websites.
From listings for local parks and playgrounds to collections of the best contractors in town, WordPress directory listing themes provide the tools you need to generate a solid directory and either give away that space for free or charge people for premium listings.
Why these websites become succesful? They exist because people are willing to find the best possible service and business owners want to promote their business and get the maximum exposure.
But the problem is, most of those sites while highly functional, is that many of them aren't very pretty.
So, here we have collected 10 Beautiful Directory and Listings WordPress Themes from responsiveness to easy navigation and filtering, Google Maps integration, front end submission forms for accepting user generated content, and plenty of monetization options.
Best WordPress Themes
#1. Directory Portal WordPress Theme
by ait | Price: $64
Directory+ is the best directory theme on the market. Featured with fully responsive and modern design, drag & drop page builder with over 30 elements to build your website, woocommerce designed, geolocation in km and miles, unlimited customization options, and more.
Gives you even more smarter ways to create your own business. Now you can easily set up your very own online directory portal.

#2. Listify – WordPress Directory Theme
by astoundify | Price: $64
With Listify WordPress Theme you have more than you could ever want or need to build directory website like, real estate sites, car show sites, ratings sites, reservation or travel book sites.
The potential is limitless, simply based on what you can imagine.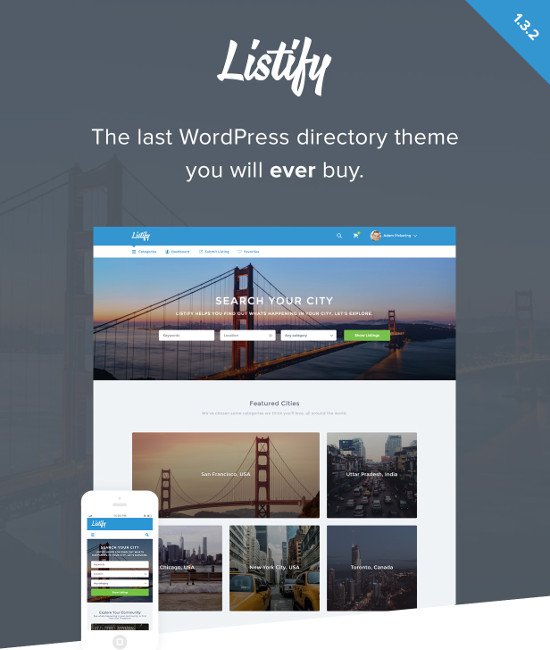 #3. Javo Directory WordPress Theme
by javothemes | Price: $59
The best directory theme in Envato's theme contest. Javo directory theme is come with 100% fully responsive, advanced Google Map, Visual Composer Support, Paypal integration, many options for admin, Mailchimp support and more.

#4. Directory | Multi-purpose WordPress Theme
by chimpstudio | Price: $49
Directory the Multipurpose WordPress Theme is an absolutely unique premium WordPress theme. This theme is built in cooperation with you! Your users will never have access to the WordPress dashboard, everything is done at front-end. You can, register, login, edit your profile, submit listings and Filtering and sorting search results so much more from the front-end without having to visit the WordPress dashboard.
With this single wordpress theme you can build:
Business Directory Listing theme
classified ads listing theme
Automobiles Listing wordpress theme
Marketplace Listing
job board wordpress theme
Online study Portal
Hotel & Reservation
#5. LISTABLE – A Friendly Directory WordPress Theme
by pixelgrade | Price: $64
Listable is a listing directory WordPress theme that will help you create, manage and monetize a local or global directory site. Feel free to set your own goal and get your favourite spots listed online!
This is what LISTABLE is all about: offering the right thing, in the right place, right when you need it!

#6. Point Finder – Directory WordPress Theme
by webbu | Price: $59
Point Finder Directory WordPress Theme was designed to allow you to create a listing & directory website as you wish. You can create your own customized system within minutes thanks to its customizable fields and search system. Point Finder offers you a lot of control over Google Map, and it is unique with its superior features. The websites you can create with Point Finder is only limited by your imagination…
#7. DirectoryS – Listing WordPress Theme
by holobest | Price: $49
DirectoryS – Listing WordPress Theme is the most complete directory theme ever created. The theme featured with 100% fully responsive, connection to Paypal, geolocation support, interactive ajax search, revolution slider included, ads spaces and more.
The most feature rich theme on the market today!

#8. Superlist – Directory WordPress Theme
by aviators | Price: $49
Superlist – Directory WordPress Theme is trying to offer best directory experience with all out of the box bundled plugins. With the Superlist you have complete directory solution.
Plugins bundled in theme: Claims, Coupons, Currencies, Directions, FAQ, Favorites, Fields, Google Map, Google Places, Invoices, Listing Slider, Mail Templates, Notifications, Packages, Partners, PayPal, Pricing, Properties, Reviews, Shop, Statistics, Stripe, Testimonials, Watchdogs
Theme has strong focus on code quality. Everything has its own plugin and proper documentation. It is quite easy to modify theme or the plugin from the child theme because everything is properly wrapped in action or filter hook. Experienced developers will be happy to use the theme. With the good code is easier to create a great and maintable product.
#9. Globo – Directory Listings WordPress Theme
by uouapps | Price: $59
Globo is a Directory & Listings WordPress Theme that has the particularity of offering super fast data filtering options within a top notch Design, that helps users identify instantly the category / sub-category that they are looking for.
The Listing page includes a wide variety of options that gives rich content-driven facilities for members to promote their company this includes portfolio, blog, deals… as well as custom tabs which allows including any kind of content using shorcodes.

#10. Javo Spot – Multi Purpose Directory WordPress Theme
by javothemes | Price: $59
Javo Spot WordPress Theme is the most powerful directory theme ever! It's based on Visual Composer Drag & Drop + Extra Shortcodes ( Ultimate Addons ) + Javo Shortcodes! Addons with woocommerce and lava directory manager. Ajax easy searching. Various useful shortcodes for listings. And more.
Your turn now
Which one from the themes above you like the most? If you need more options, you can visit the most popular and top sell Directory and Listing WordPress Themes on ThemeForest.