A Collection of 38 Creative Pink Business Cards
Pink a related color for girls, but it's also one of the most attention-getting color. The outcome of mixing white and red colors looks so bright that it can make you stand out from the crowd. With the uniqueness and advantages many business man are also incorporating pink in their business card design.
Below, we have collected 38 Creative Pink Business Cards that used by various business fields for your inspiration. Enjoy!
Krealiz

Ski school business card
Bright Bobbin Marketing business card

Business Card Design 65 | $6
The Gamut business card

Kero Tudo Business Cards
Young box business cards

ADC Festival Identity
Elegant Floral Business Card | $6

Pink Whale Business Card
The Shoppe

Creative Business Card
Mind Your Business

Business Card Design 89 | $6
Bright Pink Business Cards

Staci Photography Business Card
Tuna Heart Business Card

Pink Letterpress
Shi Shi Business Card

Beauty Salon Business Card | $6
Lissy Business Card

Mojatrgovina Business card
Creative Design Business card

Nightclub Business Card
Epigraphic Business Card

13Pixels.be Business Card
Micross Creative Identity

Kensey Lu
miikka Pink Business Card

flora Cool Business Card
Limelight Business Cards

Rebecca Honeywell
Blinkers

Lily of the Valley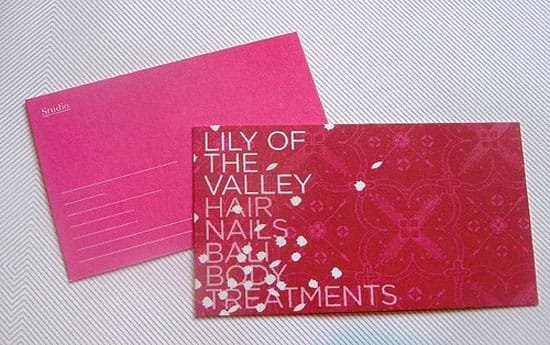 Struck Business Card

Rythm Kitchen
Business Card Design 16 | $6

Depux Business Card